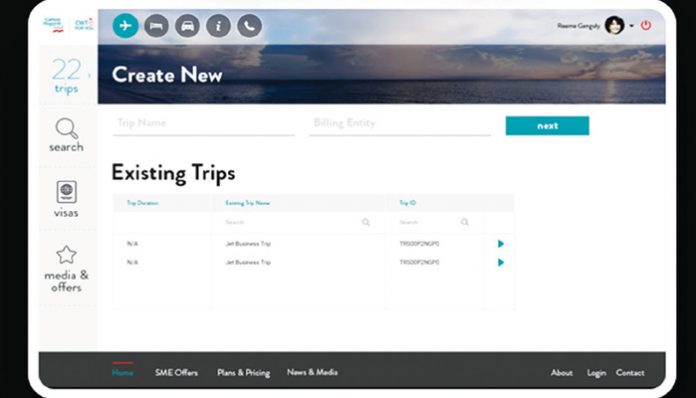 Carlson Wagonlit Travel (CWT) has launched CWT for You in India, a state-of-the-art business travel solution specifically designed for small and medium enterprises (SMEs)
It is estimated that India has close to 50 million SMEs, accounting for nearly 40 per cent of the gross domestic product, informs Geeta Jain, Chief Executive Officer-India, Carlson Wagonlit Travel (CWT). CWT is offering a level playing field to these SMEs catering to business travel, with large corporations with their newly launched product-CWT for You.
APT SOLUTION
Jain explains that Indian SMEs and start-ups have seen tremendous growth in recent years, with many expanding nationwide and some even venturing into international markets. However, most of these companies have very little control over what they spend on business travel which usually amounts to a significant share of their total spend. "With no minimum spending threshold or applicable transaction fees, this new service is available through a simple web-based registration and is focused on giving the growing business access to some of the benefits of managed travel that larger corporations enjoy. CWT for You offers SMEs a highly user-friendly, intuitive, cost-effective and self-servicing solution for their business travel needs. It includes essential components of managed travel, without certain added services required by organisations with global travel programs or high travel volumes. This has allowed us to give these growing businesses unprecedented access to our global negotiating and buying power along with our products and services," she says.
ADDED BENEFITS
The product offers SMEs access to CWT's specially negotiated airfares and hotel rates, as well as added benefits like in-flight meals, preferred seat selection, flight changes and cancellations at no extra charge on various low-cost carriers. Typically, these benefits can add up to close to 35-40 per cent of the ticket price, adds Jain. The tool also saves time and effort as it indicates the lowest airfares and hotel rates with a single click. The product is available as a mobile app and online booking tool (OBT) which is also instrumental in saving time spent searching for visas and travel insurance by reflecting them to the appropriate websites. The portal also offers web-chat or phone support to travellers who book complex itineraries with multiple destinations. Jain further elaborates that an added benefit of this tool is that SMEs who use this solution will also have access to CWT AnalyIQs business intelligence tool. CWT AnalyIQs provides real time data allowing companies to monitor their overall travel spend and discover savings opportunities. The tool also enables companies to track all their travellers who are on the road, making it easier to reach them in case of an emergency.