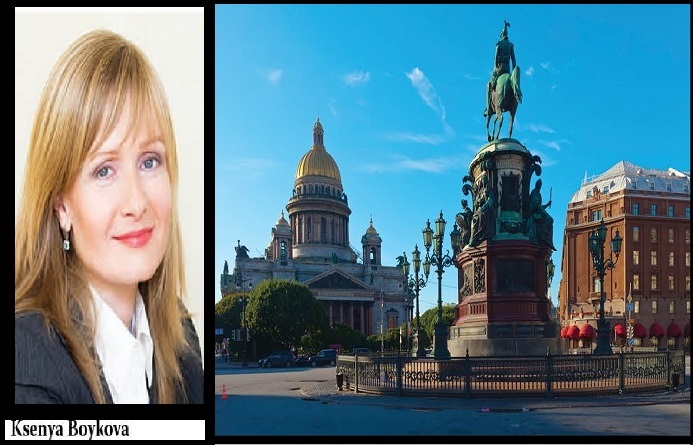 We had to rethink our promotional strategies, says Ksenya Boykova, Head of International Affairs & MICE, Moscow Project Office for Tourism and Hospitality Development
Nisha Verma
The Moscow City Tourism Committee recently held the Discover Moscow Digital Roadshow in India. Claiming that India is a priority inbound tourism market for Moscow, Ksenya Boykova said, "The number of tourists from India to Moscow has almost doubled over the past 10 years, reaching 89,000 in 2019.
In the year 2019, India ranked third in the Asia Pacific region, excluding China, in terms of the number of foreign tourists in Moscow. Before the pandemic, the number of tourists coming from India to Russia had been growing by 18-20 per cent annually, and in terms of growth rates, India ranked fifth, leaving even China behind."
When asked about the aim behind organising the digital roadshow, she revealed, "The current situation allowed us to rethink Moscow's promotional strategies and create new digital products. We have launched several interesting projects which, we are confident, have aroused the interest of the Indian professional audience.
In the new reality, we saw great potential in online tools, including digital roadshows, in terms of presenting the tourism potential and Moscow's newest tourist products, as well as establishing direct business contacts with Indian companies. Hence, we decided to hold the first digital roadshow in India that actually covered all the regions of India (which would be challenging for an offline roadshow)."
The four-day event hosted not only companies from Moscow (tour operators and hotels), 25 of which introduced themselves and their products at online meetings, and more than 10 companies that took part in the virtual exhibition remotely, but also over 600 representatives of the Indian tourism industry.
Boykova further revealed, "Indian companies took part in webinars presenting the tourism potential of Moscow and new projects of the Moscow City Tourism Committee, and as a result of the event, they held over 1,500 online negotiations with Moscow companies. We received positive feedback from our Indian colleagues, which reinforces the value of the digital roadshow format during this challenging time." Moscow offers opportunities for cultural tourism as well as business and educational tourism.
E-visas for Indian tourists
From January 2021, tourists from India will be able to apply for electronic visas. Three out of the 29 entry points where the visa procedure will be simplified to enter Russia are located in Moscow, at the largest Russian airports, Sheremetyevo, Domodedovo and Vnukovo. Besides becoming a more comfortable urban environment, new attractions for tourists in Moscow have also emerged, including Zaryadye Park, VDNH, Moskvarium, the Dream Island amusement park and the Moscow Cable Car.
QUICK BYTE The number of tourists from India to Moscow has almost doubled over the past 10 years
GETTING E-VISAS
From January 2021, tourists from India will be able to apply for e-visas. Three out of the 29 entry points where the visa procedure will be simplified to enter Russia are located in Moscow, at the largest Russian airports, Sheremetyevo, Domodedovo and Vnukovo