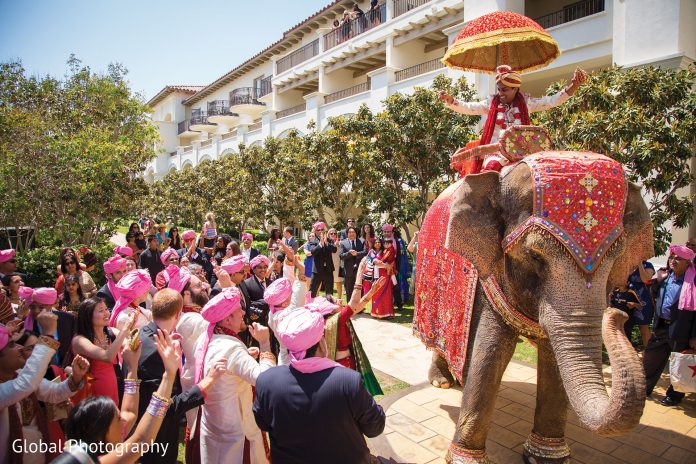 Hotels are looking at the weddings segment, not just as a revenue earner but also as a way to win over guest loyalty by ensuring that the W-Day is emotionally satisfying. To achieve this, more and more hotels are investing in skilled personnel and upgraded venues for big ticket events.
Hazel Jain
Planning a wedding is no longer a generic event for hotels that can be clubbed with MICE. It requires specialised and delicate treatment in order to ensure that the wedding planner as well as the clients is won over by a perfectly-orchestrated happy ending. Take for example the Taj Wedding Studio that was launched recently just in time for this wedding season. This initiative was in direct response to a call for a specialised team that can completely devote itself to the clients' needs. Its like the Taj's special team that guides planners and clients on the latest trends, innovations in banqueting, destination planning and wedding curation. What more could one ask for?
Expertise is what is being demanded and expertise is what hotels are now seeking to offer. Chinmai Sharma, Chief Revenue Officer, Taj Hotels Palaces Resorts Safaris, says, "With the Taj Wedding Studio, we will address the growing need for customisation of weddings and live up to the Taj promise of inspiring creativity in every aspect of celebration." Other hotel chains are also investing in this segment. Marriott International unveiled its biggest partnership of the year titled 'Shaadi by Marriott' with lndia's leading designer duo Abu Jani and Sandeep Khosla and strengthened its commitment to creating a superlative wedding experience from ideation to execution.
On this, Sharad Dutta, General Manager, The Westin Mumbai Garden City, says, "The wedding business can only grow in India thanks to the high emotional quotient attached to weddings. Hotels can offer options of all services required to deliver such an experience under one roof and we have taken a lead with 'Shaadi by Marriott'. Other hotel chains are increasingly investing in this segment too. With the increased awareness and willingness to spend, the ease of conducting weddings in quality hotels will be a big draw and should result in double digit growth of this segment year on year." In order to achieve satisfaction, hotels need to be flexible. This is
seconded by Vishal Jamuar, General Manager, Radisson Blu Resort & Spa Alibaug. He says, "Today is an era of customisation which means that we need to be flexible.
There are guests who like to book the rooms and the food part with us but plan the rest of the arrangements like the welcome of the guests, the in-room hampers, decoration, etc. themselves which works fine with us as we are left to focus on what we do best." The hotel recently underwent a huge upgradation of its rooms and other facilities.
These include a complete upgradation of the Spa villas with the Mechanical, Electrical & Plumbing (MEP) service, new bathroom fixtures, a revamped main lobby, and an Olympic-size swimming pool. The hotel has also focused on its F&B offering. While most weddings come through referrals, Radisson Blu Resort & Spa Alibaug does have a dedicated team that handles everything related to the event with a one-point contact for the planner/client.
Venues apart, the themes also need to pack a punch. According to Shamitav Jana, Associate Vice President, Lords Hotels & Resort, weddings these days are being planned around concepts or themes. Some concepts are as elaborate as setting up the wedding venue like a palace and every element, including the utilities and the attendees, must look the part. "Top3 Lords Resort in Bhavnagar has built a reputation for itself as a wedding destination of sorts. We are a premium mid-market chain of hotels which presently is the biggest segment of hotels in the country. We foresee the mid-market segment hotels to remain the preferred choice for events," he says.
Speaking about GST, Jana adds that while it had affected the hotels' wedding business to an extent, they are coping by offering additional services within the standard packages. "Lords Hotels & Resorts, as a chain witnessed a major slowdown in wedding bookings right after GST came into effect in July. However, the wedding season has only begun and we are yet to realise any adverse impact," Jana says.
Meanwhile at Hyatt, weddings are a tailor-made, personalised experience. Over the years, the weddings market has become a significant contributor to the businesses of a number of Hyatt properties in India. Harleen Mehta, Vice President, Sales Operations – India, Hyatt Hotels and Resorts, says that this year too, they have indications of a robust wedding season, especially at some of the Grand Hyatt, Andaz, Park Hyatt, Hyatt and Hyatt Regency branded hotels in key destinations such as Goa, Mumbai, Delhi, Chennai, Gurgaon, Hyderabad and Kolkata. "We
try to dedicate ourselves to designing a wedding. Our professional staff is determined to create a memorable and elegant wedding experience and the highly skilled wedding planners with us are trained to assist guests at every step, from wedding room to tabletop set-up and menu selections. Our different properties in India provide a range of customized wedding packages," Mehta says.
She claims that Hyatt continues to witness an incremental rise in wedding booking in two locations: Mumbai and Goa. "We are therefore planning to launch Grand Hyatt Kochi Bolgatty, a waterfront urban resort which has a large convention centre towards the end of 2017 to make the most of the wedding extravaganza," Mehta adds. In India, wedding ceremonies have always been lavish and are increasingly becoming exclusive, highly experiential events. With a large number of couples valuing experiences, it has been observed that there is an increase in demand for destination weddings at exotic locations.
This rise in the number of destination weddings definitely serves as a growth driver for hospitality chains. Also, more and more people are now planning the entire wedding process at hotels including pre-wedding shoots, photo shoots at different venues, wedding rituals and the final reception. There is also a high degree of personalisation, with people inviting a limited number of guests and spending more on enhancing the individual guest experience.
Speaking on the impact GST has had on the wedding business, Mehta opines, "With the flattening of multiple taxes involved in banqueting post the implementation of GST, we expect wedding bookings for hotel chains to rise across the country. The crème de la crème hotels have been sought-after for their wedding-related expertise in India, even before the introduction of GST and all it entails. The wedding business in India seems to be recession-proof. The Indian weddings business grows in size and grandeur every year and along with it, so do the ancillary businesses— wedding planners, designers, caterers. The weddings are just as grand in the smaller cities of Raipur and Ludhiana like in the big cities of Mumbai and Delhi."
Radisson Blu Resort & Spa Alibaug has a 'Shubhamangalam' package which includes all arrangements with respect to a wedding in addition to room and food. For instance, the hotel will do the guest hampers, welcome the guests with traditional dhol, mehendi, mak-up, etc. The Westin Mumbai Garden City, on the other hand, has packages customised to complement and celebrate the uniqueness of each families, bride and groom.
Lords Hotels & Resort, over the years, has developed a rapport with many of the event planners and works on mutually favourable agreements. The hotel reaches out to event management companies in the business capitals like Mumbai and Ahmedabad through its regional offices. Other recreation activities that are offered as part of the package include swimming pools, spas and beauty salons.