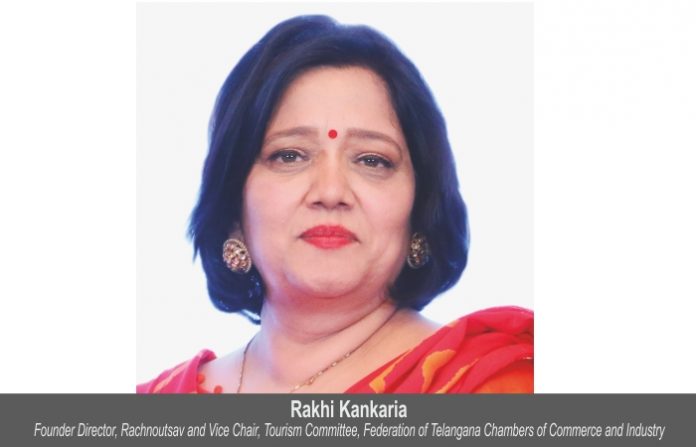 Rakhi Kankaria has won plaudits for her work in education as well as tourism development, both male-dominated sectors, in Telangana.
Nisha Verma
For Rakhi Kankaria, Founder Director, Rachnoutsav and Vice Chair, Tourism Committee, Federation of Telangana Chambers of Commerce and Industry (FTCCI), the journey in events industry started early in 1996. "It has been close to almost three decades and at that time the subject of events was not understood. I learnt early since my father used to throw great parties at our family home. When my husband and I decided to do something different, I embarked on first doing a survey in Delhi, Mumbai and Kolkata for three weeks, and then started my party planning company, which I later termed as an event management company," she said.
Changes
Stating that the industry has changed in the last 30 years, Kankaria pointed out that today, there is a plethora of event managers in every nook and corner. "However, my husband Sanjay and I have been very passionate about our work and never saw anything as a challenge. In fact, we found it interesting to find solutions and receive accolades, appreciation through words and references for future business. That made us grow. Till date, we do not have a marketing department in our company as we have only grown by word-of-mouth," she elaborated. While she thinks it is a man's world even today, Kankaria believes that her skills, and an equal partner in her husband, made her shine in this industry.
"If I would not have my husband with me, I would not have been as successful as I am. Event management has a wide spectrum of subjects," she said.
Tourism in Telangana
This apart, she also dons the cap of Vice Chair of Tourism Committee at FTCCI. A big advocate of Public Private Partnership in tourism, Kankaria said, "Telangana is a treasure trove of tourism spots. The FTCCI Tourism Committee has identified Pocharam as a destination that can be developed under PPP and I have found an investor who is ready to invest. More locations have been identified by the team. Also, the team has identified around eight tourism places in the state, including Ramoji Film City, Charminar and Golconda Fort, where we can have memorabilia and souvenirs."