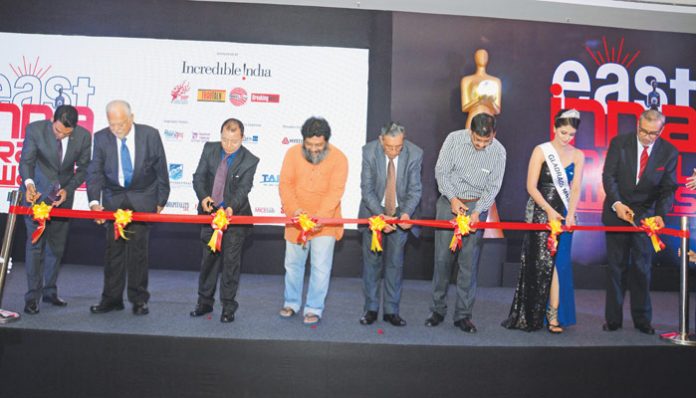 The fourth edition of East India Travel Awards travelled to the North East region of India to celebrate excellence in the tourism fraternity
For the fi rst time in Guwahati, the eff orts of stalwarts in the travel and tourism industry of East India were honoured over an evening of merriment and entertainment at Radisson Blu Hotel Guwahati on July 26, 2017.
Gathering the region's movers and shakers from states of Sikkim, Odisha, West Bengal, Assam, Arunachal Pradesh, Manipur and several others, the event was inaugurated by R Sudhan, Special Secretary (Tourism), Government of Manipur, who was also the Chief Guest for the award ceremony. Speaking about the importance of such events in the region, Sudhan stated, "I sincerely believe such events should happen more often, especially in this part of the country, which does not receive much attention. More such events, more recognition, and the untapped tourism potential should be explored. We are certain that the awards can persuade more entrepreneurs to explore these frontiers."
SanJeet, Mentor, India Travel Awards, added, "Today, tourism is synonymous with progress and development and is echoing around the country. Every small hotel, restaurant, attraction, tourist shop contributes to the growth of this industry but are we doing enough to recognise them? We've instituted these awards for this precise reason. The regional awards recognise those establishments that may not be able to see the day of light on a national level. Th e industry is now growing by leaps and bounds and these small eff orts make a big diff erence."
The awards were divided into four categories that included Personal Awards, Business Awards, Trending Awards, and Partner Awards. Personal Awards were for legends and leaders who have established themselves and for youngsters who deserve encouragement to become future leaders. Business Awards were for those organisations that have done outstanding work in their fi eld and deserve accolades, while Trending Awards were decided on by critics. Finally, Partner Awards were for the partners that made the awards ceremony a grand success. The glitzy night was also graced by the presence of the Guest of Honour, Arni Sapkal, Gladrags Mrs India Mumbai 2017, who, along with R Sudhan, awarded the trophy to the winners. A total of 41 award categories were presented to travel, tourism, and hospitality front runners as a tribute to their contribution. Dilip D Khatau, Chairman, Th e Corbett Foundation and Chairman, Conservation Corporation of India, joined the Gallery of Legends, while Tsering Wange, Managing Director, Himalayan Holidays, was honoured as the DDP Trailblazer. Additionally, Supratim Raj Basu, Founder and Director, Help Tourism, was conferred the DDP Game Changer award.