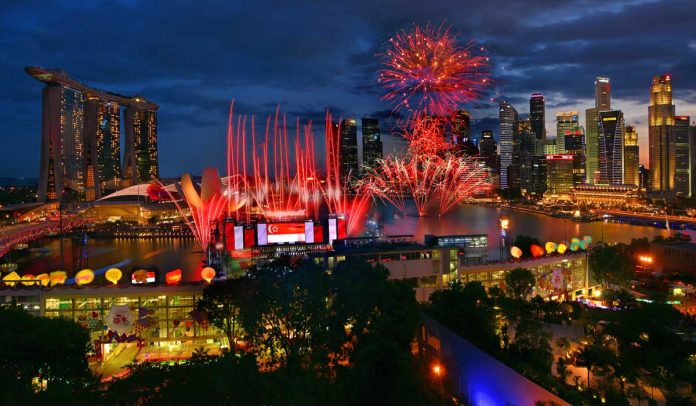 Singapore's international visitor arrivals (IVA) and tourism receipts (TR) reached 330,000 and an estimated $1.9 billion in 2021, respectively. While these numbers represent only a fraction of Singapore's tourism performance prior to the pandemic, there have been encouraging signs of recovery in the tourism sector, with year-on-year growth in the last three quarters of 2021. The introduction of various travel arrangements, such as Vaccinated Travel Lanes (VTLs), has encouraged the gradual return of international travellers. Domestic consumption has also been strong, as the tourism sector pivoted to develop new and innovative experiences for locals.
Keith Tan, Chief Executive, Singapore Tourism Board (STB), says, "While it will take time for tourism numbers to return to pre-pandemic levels, we are encouraged by the resilience of our tourism businesses and their commitment to preserving good jobs, transforming their businesses, and invest in new products and experiences. These efforts will strengthen Singapore's appeal as we prepare to welcome more international visitors. We must anticipate setbacks and challenges even as the tourism industry recovers slowly. But I am confident that the tourism industry has learnt from its experiences and is poised to recapture demand when it returns."
Tourism performance in 2021
Singapore's tourism sector recorded overall year-on-year declines in IVA and TR, largely due to the effect of strong tourism performance in the first two months of 2020. IVA increased by 221 per cent in the last three quarters of 2021 when compared to the same period in 2020. TR increased by 92 per cent between the second and third quarters of 2021 compared to the same period in 2020. Between January and December 2021, 330,000 international visitors arrived in Singapore. China (88,000), India (54,000) and Indonesia (33,000) were the top three visitor source markets in 2021. Between January and September 2021, TR reached $1.2 billion. Visitors from China, Indonesia, and India contributed $432 million, $127 million, and $58 million in TR, respectively (excluding sightseeing, entertainment, and gaming).
Stimulating domestic consumption
During this period, the tourism sector adapted to focus on domestic tourism, supported by STB initiatives such as the SingapoRediscovers campaign and the SingapoRediscovers Vouchers (SRV) scheme, which were both launched in 2020, as well as a range of new partnerships. At the end of the SRV scheme on December 31, 2021, about 1.9 million Singaporeans will have used their vouchers at least once, making about 2.6 million transactions. A total of $300 million in SRV transactions were recorded, comprising close to $180 million in vouchers and about $120 million in out-of-pocket payments for SRV bookings. Key partnerships to support domestic tourism included a collaboration with Mastercard on the "Rediscover Priceless® Singapore" campaign, which leveraged consumer insights, spending behaviour and trends to promote local tourism businesses. As part of our existing three-year partnership with DBS, STB also tapped into DBS's data analytics capabilities to curate itineraries, destination content, and promotions to encourage locals to explore Singapore.
Performance in the key industries
MICE and leisure events: The resumption of MICE events picked up pace in 2021, following the introduction of the Safe Business Events Framework in 2020. In 2021, Singapore hosted more than 200 MICE events with almost 50,000 local and international attendees. These included pilot events to test new protocols, such as the Bloomberg New Economy Forum, Industrial Transformation Asia-Pacific 2021, Milken Institute Asia Summit, and the 50th St. Gallen Symposium. STB will continue to build up the pipeline of significant MICE events for 2022 and beyond, including some multi-year events. Notable ones include FIND – Design Fair Asia (2022–2024), Gastech 2023, Global Health Security Conference 2022, 60th International Young Lawyers' Congress 2022, Seafood Expo 2022, SILMO Singapore (2023–2025), transport logistic and air cargo 2023, World One Health Congress 2022, and the World Congress of Dermatology 2023. Leisure and lifestyle events that STB supported in 2021 included the Dale Chihuly: Glass in Bloom exhibition at Gardens by the Bay and the international premiere of Pop-Up Disney! A Mickey Celebration. STB also supported the Mobile Legends Bang Bang M3 World Championship in December 2021 and the HSBC Women's World Championship at Sentosa—the first international professional golf tournament in Asia and the first to have corporate hospitality suites in Singapore since the start of the pandemic. STB will expand the range and scale of such lifestyle and leisure events in 2022 to meet local demand and ensure that Singapore remains attractive to international visitors. One example will be the upcoming series of ONE Championship events in 2022.
Hotel industry: In 2021, several new hotels with unique lifestyle concepts will open in Singapore, such as The Clan, Maxwell Reserve, and Oasia Resort Sentosa. These additions complement existing hotels that used this period to refresh or rebrand their properties, such as Hilton Singapore (reopening as voco Orchard Singapore in 2022) and Mandarin Orchard (reopening as Hilton Singapore Orchard in 2022). To appeal to the domestic market, other hotels introduced unique staycations and guest experiences. For example, The Ritz-Carlton, Millenia Singapore launched the world's first augmented reality (AR) hotel art tour for visitors to interact virtually with art pieces by globally-renowned artists such as Dale Chihuly and Frank Stella. To cater to the growing demand for sustainability and wellness experiences, Grand Hyatt Singapore also partnered with homegrown sports apparel brand Kydra and local organic food producers for its Recharge Wellness Retreat. From January to December 2021, Singapore's hotel industry registered an average occupancy rate (AOR) of 56.2 per cent. This is a slight decrease of 1.1 percentage points compared to the previous year when AOR was reinforced by strong tourism performance in the first two months of 2020. The average room rate increased by 2.7% to $158, while revenue per available room remained unchanged at $89.
Tour industry: The local tour industry performed well in 2021, with close to 320,000 local participants and strong month-on-month growth for most of the year. STB also launched the Tour Experience Innovation Lab (TEIL) and partnered with other agencies to encourage the growth of new and innovative tour products. Under TEIL, STB partnered with the National Arts Council (NAC) for the Performing Arts Tours Pilot Grant, to help tour operators and arts practitioners develop innovative performing arts tours. Five new tours were borne out of this pilot grant. STB also collaborated with the Sentosa Development Corporation (SDC) and tour operators under TEIL to create SentoSights, a series of sustainability and heritage-themed tours that showcase a different side of Sentosa. SentoSights tours were launched, focusing on heritage, sustainability, marine conservation, and biodiversity.
Attraction industry: The attractions industry has worked hard to create new experiences to attract locals. For example, Wild Wild Wet introduced new concepts, such as its version of a Songkran Festival, while Kidztopia had special unlimited entry passes to drive weekday demand. Singapore also welcomed new attractions such as the Museum of Ice Cream and SkyHelix Sentosa. Existing attractions used this period to refresh their offerings or introduce new ones, which included Haw Par Villa's Hell's Museum, the Brickosaurs World at Singapore Zoo and River Wonders, the ArtScience Museum's new permanent Virtual Reality (VR) gallery, Madame Tussaud's Singapore: Marvel Universe display, the National Orchid Garden's Tropical Montane Orchidetum, and Gardens by the Bay's Orchid Haven. There are also a series of new attractions in the pipeline. For example, the Jewel-rassic Quest, a ticketed AR experience at Jewel Changi Airport's Canopy Park and Shiseido Forest Valley is slated to launch in 2022. Using immersive AR technology, users will be transported 89 million years into the past on a quest where they will complete activities and interact with dinosaurs along the way.
Cruise industry: The cruise industry rebounded strongly following the start of "cruises-to-nowhere" in late 2020. Since then, Singapore's cruise industry has seen over 400,000 domestic passengers set sail on close to 300 cruise sailings. With the implementation of STB's CruiseSafe certification programme and strong support from both Dream Cruises and Royal Caribbean International, there have been no COVID-19 clusters on board the two cruise ships to date.
Looking ahead
STB will continue to ramp up efforts in our key source markets and deepen engagement with our tourism partners to capture growth and inspire travel to Singapore. For example, STB will work with Singapore Airlines and the Changi Airport Group on the "Welcome Back to Singapore" campaign to instill travel confidence among international travellers. The campaign has been launched in Germany and India after VTLs were established in these two markets. It will be progressively launched in more markets, including Australia, the United Kingdom, the United States, and South Korea. In 2021, STB stepped up efforts around the world to strengthen Singapore's mindshare as a top destination in the minds of avid travellers who found themselves unable to travel. In 2022, STB will continue these efforts through in-market partnerships, such as Airbnb Experiences, Studio Dragon, and the SingapoReimagine ULTRAMAN video series. In retail, STB will continue to collaborate with Made With Passion Singapore brands, as well as brands in key markets such as India.
Focus on urban wellness and sustainability: We are heartened to see more tourism businesses adopt sustainable practices, in line with Singapore's aspiration to be a top sustainable and innovative urban destination. In 2021, STB became a member of the Global Sustainable Tourism Council (GSTC), while Resorts World Sentosa became the first tourism business in Southeast Asia to secure GSTC Destination Criteria and Industry Criteria for Hotels certification. Mandai Wildlife Group also introduced its Mandai Environmental Sustainability Strategy and green procurement roadmap. Meanwhile, STB is working closely with the Singapore Hotel Association (SHA) to develop a hotel sustainability roadmap with strategies and targets for the industry, which will be launched later this year. To support our push towards becoming a leading urban wellness haven, we established a 5-year roadmap that identified key strategies and initiatives to develop Singapore's wellness offerings. As part of this roadmap, we are pursuing strategic partnerships with industry stakeholders such as ClassPass, as well as launching an inaugural wellness festival in June 2022 to promote and increase the accessibility of Singapore's wellness offerings.
Ensuring a pipeline of quality tourism workers: Even as we prepare for recovery, STB will focus on preserving good jobs and investing in future tourism growth by building up key manpower capabilities. STB, in collaboration with the National Trades Union Congress (NTUC), the Hospitality and Consumer Business Cluster unions, Workforce Singapore (WSG), and e2i, as well as key trade associations, will launch the Tourism Careers Hub in 2022 to provide training and skill upgrading for tourism workers and businesses, as well as support for individuals interested in pursuing tourism careers. The Tourism Careers Hub will focus on three areas: job matching within the tourism sector; developing industry-specific capabilities to prepare the tourism workforce for recovery; and encouraging technology transformation and business innovation to seize new growth opportunities.