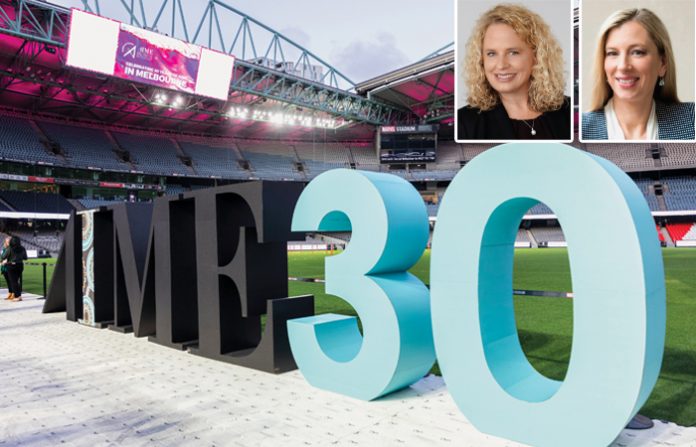 Connecting over 350 exhibitors with 400 hosted buyers along with 3,000 visitors in attendance, 30th anniversary of AIME 2023 heralds exciting era for M!CE & events industries.
Lipla Negi
Kickstarting an eventful year full of possibilities, Asia Pacific Incentives and Meetings Event (AIME) recently celebrated its 30th anniversary in Melbourne, Australia. 25 countries, 33 media representatives, 400 plus hosted buyers, 350 exhibitors, 3,000 visitors and more than 12,000 meetings—the two-day tradeshow packed a punch with great networking opportunities and hive of activity. Going a notch up, the new event features included: The Accor Hosted Buyers Lounge, a Tech area and a Wellness Café, an enormous kangaroo and a special anniversary lanyard featuring First Nations' artwork (sponsored by Business Events Geelong)—giving the event some fabulous touches of Australia.
Overwhelmed with the response received from the buyers and exhibitors, Silke Calder, Event Director, AIME, said, "The event industry has bounced back big time. We had 40 per cent more hosted buyers attending this year than 2022. The 2023 showfloor was also 50 per cent bigger than the previous year." In partnership with the Melbourne Convention Bureau (MCB), the AIME team launched their 30-year celebratory event at the Melbourne Convention and Exhibition Centre.
The success of AIME 2023 is an assuring proof of the fact that virtual is not going to replace face-to-face events. Agreed Julia Swanson, CEO, Melbourne Convention Bureau, "AIME is the perfect example of this. Last year, we went face-to-face as well as online for all those who could not make it. But this year, we just went ahead with in-person events because the demand for online was not there. Feedback from delegates and organisers points towards the viewpoint that people want to get back together to connect and learn again. Technology will continue to play a role in amplifying the reach of an event or conference, but face-to-face will take the lead."
Knowledge programme
AIME is the leading trade event for the meetings and event industry in the Asia Pacific region. It is where industry decision-makers connect, create and do business. So, it was apt for the tradeshow of this scale to kick-off the celebration with a knowledge programme where elements such as wellness, community and culture were brought into sharp focus. The programme also included an address from Australian tennis star, Jelena Dokic and witnessed a mix of industry business leaders and renowned professionals as well as keynote speakers share their knowledge and experience.
The theme of the knowledge programme was Your industry. Your opportunity. Explained Calder, "What is the opportunity for the events industry now? We put together a diverse range of speakers and sessions to create space for us as individuals, and together as an industry, to inspire leadership, creativity and map a better path forward."  The speaker sessions were complemented by EQ (emotional intelligence) and IQ (intelligence) streams, designed to address both the hard and soft skills needed to thrive in the business events industry. In between sessions, the music from SongDivision brought learnings from the day to life.
AIME's first-ever Knowledge Program Advisory Committee was chaired by MC El Kwang with Anna Patterson, Bronwen Largier, Paula Rowntree, Qifen Wang, Robyn Johnson, Shelley Ryan and Tegan Seccombe as members and attendees were both challenged and entertained by keynotes from the likes of futurist Professor Ben Hamer, supported by ICMI Speakers and Entertainers.
Marvel of Melbourne
The spectacular welcome event at Marvel Stadium Melbourne was full of dreamy elements. From music to fireworks, the delegates and guests were in for a series of pleasant surprises. Produced by Peter Jones Special Events, the state-of-the-art pearl theming of the celebration was mirrored in a directional menu curated by Victorian producers, Delaware North, featuring delights such as Akoya Pearl oysters, Gippsland beef empanadas, and crispy pork belly baos.
Speaking on the sidelines of the event, Swanson highlighted the significance of the trade show. "This year is all about creating strong B2B connections on the showfloor. With this event, we wanted to take the lead. Someone had to go first, so we did it and gave others the confidence to move forward. It was all about reconnecting the community and getting the collaborations happening again." Looking back at the 30-year journey of AIME and the growth of the city, she said, "Melbourne is a business event destination. We take one show at a time and focus more on quality."
partnerships
"India is a growing market for Melbourne and Victoria," stated Swanson. Sharing MCB's strategic plans, she added, "We have seen growing interest from the India market for bringing corporate incentive groups to Melbourne. We have good aviation partnership now between Melbourne and India with Air India and Qantas that is higher than what it was. We will continue to work in the Indian market."
Spotlighting indigenous incentive programmes, desire for wellness and sustainability as future trends shaping the event industry, Swanson revealed that a rising number of people are looking for more outdoor spaces, health-based programmes and venues that can deliver events in a more sustainable way. "We have done a lot of work in developing sustainable toolkits and programmes, and really work with our partners in bringing sustainable products to our clients. Also, history, culture and storytelling will be the spirit of events in coming years," Swanson pointed out.