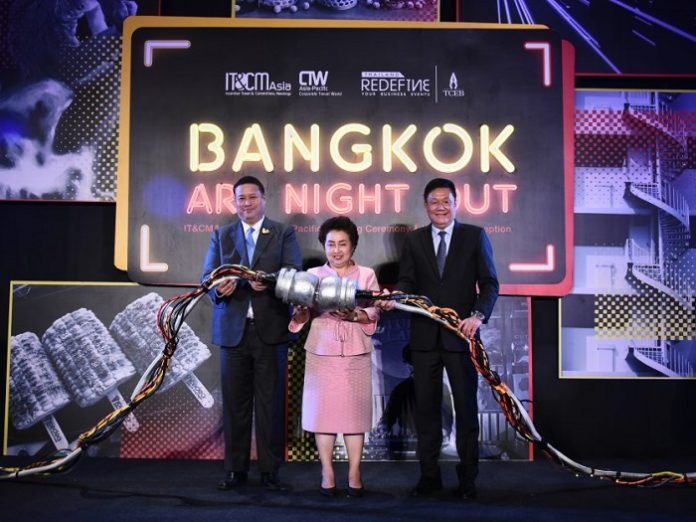 IT&CM Asia and CTW Asia-Pacific 2022 will hold their first hybrid event in Bangkok, Thailand from 20-22 September 2022, before going virtual from 20-28 September 2022. Bringing back in-person business meetings, engagement opportunities, and more, with additional knowledge and networking access only available during the virtual networking event. Following two years of virtual meetings, the hybrid idea brings new and better initiatives such as hybrid business meetings, 3D virtual exhibitions, and scheduled meetings with streaming broadcasts and remote participation.
Lynette Tey, Event Manager, TTG Events, shared, "This year's show aims to deliver a brand new format like never before, differentiating IT&CM Asia and CTW Asia-Pacific 2022 hybrid from any other experience as our industry continues to evolve to stay versatile."
Hybrid business meets: Parallel in-person and virtual appointment tracks offer multiple ways to meet and connect: in-person exhibitor—in-person buyer; in-person exhibitor—remote buyer; remote exhibitor—in-person buyer; and remote exhibitor—remote buyer.
3D virtual exhibition and walk-in meets: All-new 3D mode visuals that promise a more realistic and engaging experience for delegates right from the point of event access, made possible by Official Technology Partner EventsAir.
Scheduled meetings x 24: Optimising business leads between MICE and corporate travel suppliers and procurement professionals. The heart of IT&CM Asia and CTW Asia-Pacific's value proposition returns with a renewed focus on F2F scheduled meet opportunities, both in-person and remotely, for exhibitors and buyers from across the region and the rest of the world.
Hybrid format key features
For the coming IT&CM Asia and CTW Asia-Pacific events, the first hybrid format will be a three-day in-person event and a nine-day virtual networking that extends exposure with on-demand viewing and exclusive virtual-only content. It offers international delegates stronger online and offline platforms for B2B networking, learning, and knowledge sharing. Some of the in-person programme highlights are:
Opening keynote: Join this year's panel in an immersive discussion with poignant perspectives on the industry's future.
Brand engagement: Open to delegates comprising buyers, media, and other industry stakeholders to harness the latest brand highlights and developments, or engage with our featured brands.
Enhanced attendee APP: A full suite of interactive tools for seamless interaction and networking for delegates between online and in-person.
Bonus virtual meets (optional 1630 to 1800 hrs): Held daily during exhibition days, these bonus virtual meeting slots provide dedicated opportunities for in-person delegates to connect with remote attendees at times friendly to those based outside the Asia-Pacific region.
Some features of the virtual networking event are:
On-demand content: Enjoy the best of both worlds by having full access to exclusive virtual event content at any time, such as IT&CMA MICE seminar, which features a panel of industry thought leaders and experts; CTW Asia-Pacific Conference on Corporate Travel hot topics; brand showcase presentations of the latest highlights and developments by participating MICE destinations, suppliers, and corporate brands; and buyer procurement showcases of ready-to-buy business shared by featured and relevant MICE, associations, and corporate buyers.
On-demand networking conversations: Stretch social muscles and ignite conversations with delegates anytime during the virtual networking event in this interactive and engaging feature.
For more information, log on to www.itcma.com | www.corporatetravelworld.com/apac