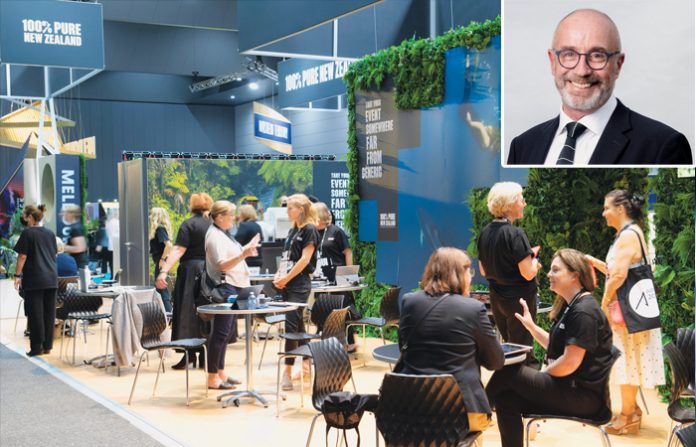 In person events have come back strongly. Hybrid components for many companies will fall away. Weighing physical vs virtual, Matt Pearce throws light on future of events.
MT Bureau
While addressing the media on day one of AIME 2023 at THE LUME Melbourne, Matt Pearce began his welcome speech with "virtual is off our back, thankfully!" — a statement that echoes relief, retrospection, and hope – all at once. With more than 30 years of collective experience in media and events industries, he surely knows the significance and strength of in-person events and how much the industry has suffered in absence of physical events in the past two years. "It is not off our back quite yet, but it will be," he quickly rephrases his statement as we sit down for this conversation.
Physical events
According to Pearce, the hybrid component for mainstream conferences will fall away. But virtual will remain for some education and some professional development. He explained, "We have already seen the strong comeback of in-person events. Some associations and some conferences are still running a virtual component of this. But it is coming at a cost. It is more expensive to run and record everything and put it online.  At the same time, we all are experiencing inflations. So, the costs are going up anyway. Therefore, a time will come when all people say that all our costs have gone up, we cannot do this, so what can we save. I think then the virtual or the hybrid will be the bit that goes on the basis that people still want to meet."
Data interpretation
Sharing his thoughts on technology as an enabler and not a solution always, Pearce puts the spotlight on data integration as a future trend. He opined, "One thing that we must understand is that digital gives you data, which offers you an insight into what people are doing when they are dropping off and what subjects they like and so forth. We also tried to manage our databases when we were not able to meet."
Revenue generation
Putting together an event of this scale is no mean feat, and Pearce credits AIME's eagle-eye focus on generating potential revenue for its exhibitors and buyers over the decades. He highlighted, "We ask ourselves—Will people have an appointment that generates potential revenue for them? So, it is the understanding of what the buyer is looking for. Our buyers have to answer potentially thirty questions about what they are looking for, and likewise, the exhibitor has to answer those thirty questions as well. It is putting that depth of understanding together that would give the best match. So, we spent a lot of time studying data."
Large pool of buyers
India is one of the key markets for several events and exhibition companies. For AIME, the buyer pool from India offers good opportunities of business growth. "We focus on India from the buyer's perspective because we know a lot of buyers are interested in coming out of India," he shared.
Escalated costs
The cost of hosting events has gone up significantly, however Pearce feels that this would help people to identify and invest in best ones only. "As the cost is going up, the poor shows that are not doing well will fall and the strong ones will get stronger. However, this may not mean they will become more profitable, but they will get bigger as they have the ability to ride out the storm."