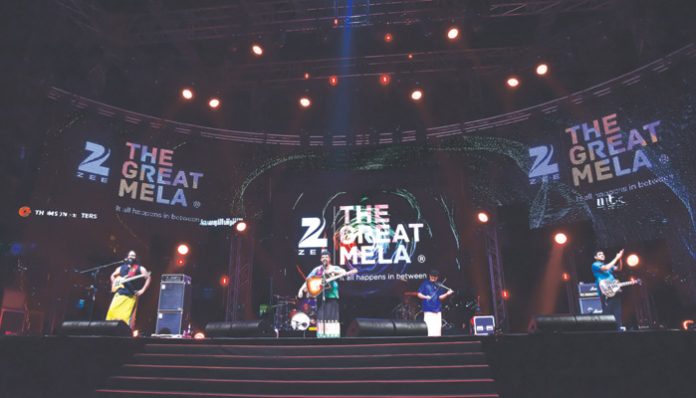 Events nowadays are engaging the audience with tools like event apps, instant polling, in tandem with the current trends
Events today are not a mere occasion, but, in fact they are a celebration. Companies, agencies, organisations, governments, and any other segment in the entire world, which must showcase itself, through events, is now projecting itself and technology at its best. Events nowadays are seen innovating, ideating and implementing contemporary trends to keep in sync with the likes as well as needs of the consumers or the audience.
AT BECK AND MOBILE
The world is evolving and humans now want data in the easiest mode. Event management becomes vital with use of mobile technology. We live in a paperless environment now, so event managers have more responsibility in ensuring, that, it is achieved optimally. Benson Tang, Regional Director, Asia, Association of Corporate Travel Executives (ACTE) says, "Mobile technology is surely the direction for future. Many conferences are paperless, i.e. no printing for agenda, speaker information, and so on. All this information can be displayed by smart phones. This helps to create greener environment, plus all the information can be real time. One more new development is the mobile technology can allow instant polling during the conference, so that polling results can be display immediately during the conference. The use of mobile technology enables seamless execution of an event, right from the initial stages of event planning to the end of the event, says Litesh Jethani, Director and Co-Founder, Trip Navigator.
"Trip Navigator's mobile app offers a one-stop solution for all relevant document management requirements – be it tickets, VISA, travel insurance, itinerary or details about hotels; All the information can be uploaded and shared via the app among all participants. Using the mobile app, clients can tag their current locations and keep the event organisers appraised of their arrival status on a real-time basis, eliminating the need for regular follow-ups to coordinate pickup and reception activities," he says. Kundan Badiwal, Associate Account Director, Shobiz Experiential Communications, feels it is imperative to connect via mobile apps. "In today's world where everyone is connected to mobile, it becomes very important for an event planner to work around the ideas to create an engagement platform for a client and its end customer; such as Mobile App, AR, Photo Op booth, Selfie Kiosk, 360 Degree photo op wall etc," he says. "Mobile technology allows us to engage with the audiences. With the amount of events taking place and big/medium/small companies using events to drive customer engagement and retention, innovation is a must and mobile technology gives us innumerable opportunities to take it to the next step," feels Adnan Oan, Sales Director, Pegasus Events.
BONJOUR SOCIAL MEDIA
Man is a social animal, and it needs social media as its den to interact with its counterparts. Events nowadays post details first on social media than even sending formal invites. "Media helps to create hype, to get the customers or target clients attention before, during and after the events. Moreover, engaging participants during the conference is one of the most important aspects. By promoting selfie posting and providing instant feeling messages posting via the social media, more people can get engaged," says Tang. Being posted even after the event, is what participants look forward to, feels Jethani. "While the event is in progress, all the participants can share their experience and photos, and this feature keeps them better engaged throughout the duration of the event. Unlike other platforms which restricts the number of users in a group, participants here can use the Trip Navigator App to engage with each other more conveniently and stay updated about all the latest happenings. The application stays alive post the event's conclusion so that the delegates can still be in touch and engage with each other on this platform," he says. While Badiwal feels that social media is an important and impactful way to get engage with your audience, Oan says, "With mobile technology, social media promotions help us engage the audiences a lot more and also understand our audiences better. We can fine tune based on social media analytics and the responses we get from our audiences, it most importantly allows us to connect with our audiences who are far and wide apart and create relatability and recall. This is more to do with commercial ticketed events and less with closed door corporate events."
"Opinion Polls, Contests, Social Media Engagement, discussion boards are some of the things we have done and continue to do for B2B and B2C events," adds Oan.
PROCUREMENT OF TECHNOLOGY
The use of technological advancement tools in today's world has enabled event companies to explore the niche products that they can exhibit to engage the audiences during a live session, or inform about the respected event, its venue, etc., all in real time. Says Tang, "In all ACTE conferences, we do utilise mobile apps. In Beijing 2016 conference, for the first time, we made use of the apps to provide multiple choice questions for delegates to answer after each session. Those who got 60 per cent right answers with the accumulation of minimum three sessions, got our certificates." Jethani further elaborates on their only known 'one- of-its-kind portal' for MICE services. "We offer end-to-end planning solutions online. Trip Navigator is the only portal which offers partners an opportunity to throw out exclusive deals in the MICE space – from relevant hotels to team building activity providers, which the clients can then capitalise on as per their requirements."
Say hello to closed door company events, where customers can get to feel the dynamics of event at their fingertips. "App deployment has become a common fixture for many of the events we do. Especially closed door company events, it allows us to get customers to carry the event in their pockets!" exclaims Oan.
PLAYING WITH AUGMENTED REALITY
Augmented Reality is a contemporary term to project how advanced the tools of event management are and how progressive it can achieve to be. "We have tried webinar and broadcasted to the whole world instantly to all members around the world for the Conference Plenary session. Our participants around the world can also ask questions to the speaker to make the conference more interactive," Tang informs. The concept of drones takes away the usual clutter of visual appeal and makes it more expansive with its huge scope of magnified visual effects. Says Jethani, "Drone cameras are a regular feature at most of our events. These cameras make it easier to capture photos and videos during an event, and provide organisers with overarching visibility over the event venue." Drones eases the task of being accessible to the audience, states Oan. "We had used a drone for one of our commercial ticketed event earlier, which helped us with arial shots of the concert and gave audiences a 360 degree view of the venue. But one of the more interesting things we have done is using beacon and linking it with one of the apps we deployed. For our events, which have multiple experiences packed in to one event, it adds to the ease of access that the audience have," he said.
INDIAN CHAPTER
The events and activations industry has grown at 15 per cent annually from INR 2,800 crore in 2011-12 to INR 4,258 crore in 2014-15 according to an EY – EEMA (Event and Entertainment Management Association) report titled 'Making experiences in India: The events and activations industry'. It states that while managed events remain the largest service offering, IP (Intellectual Property) and digital events are growing at a faster rate than managed events. The growing market has scope to provide necessary opportunities. Badiwal says, "In long term, it will give more opportunities for business, employment, innovations." While Oan feels innovation can push the envelope to deliver the best of best. "Government restrictions also tend to limit the experience delivered. If these challenges are met and fine-tuned, the events industry in India has limitless potential," he says.