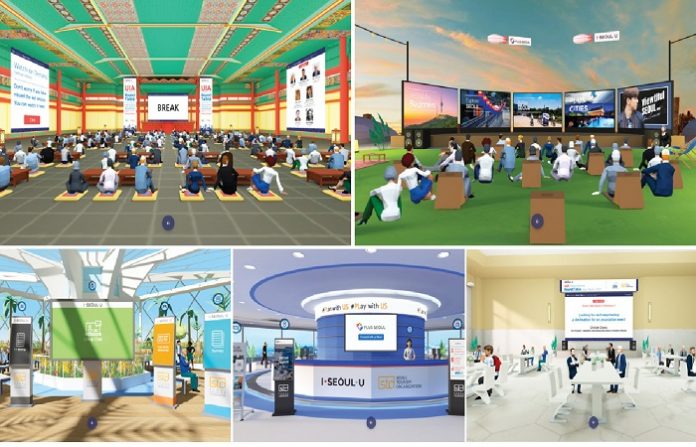 Seoul Convention Bureau has created a Virtual Seoul Platform as an essential source to be used towards holding more M!CE events in the digital world
Seoul Convention Bureau (SCB) has launched an innovative M!CE destination marketing campaign in response to the new era the industry is facing. Instead of holding the marketing activities back, Seoul Convention Bureau decided to take a big step forward. It has created a Virtual Seoul Platform as an essential source to be used towards holding more M!CE events in the digital world. This is the first case in the world in which a destination marketing organisation is presenting a virtual platform upfront in promoting the city as a striking M!CE destination.
The Virtual Seoul Platform is designed to accommodate various types of M!CE events. It portrays the actual Seoul in simpler 3D graphics showing close resemblance in locating the venues and nature. The web-based format allows the highest accessibility and a link is all you need to get in without going through downloading and installing a programme. It works on mobile devices with recent internet web browsers, such as Chrome, Edge and Safari.
There are five venues situated on the platform representing different charms of Seoul – a beautiful traditional palace, a modern cultural complex, an all-time favourite classic landmark tower, artificial islands, and a green space surrounded by the city. They each transform into a conference hall, workshop rooms, a promotional booth, a VR theatre and a lounge area.
Customising the venue to serve different functions according to the specific needs of an event is manageable.
The attractiveness of Seoul's M!CE industry is carefully extracted into well-made VR videos. There are 360˚ VR videos on Seoul's landmarks, unique venues, teambuilding at the VR theatre and they are filmed in the first-person point of view to present them as if one is taking a virtual tour.
Riding a rickshaw to Hanok village, taking a glimpse of a temple stay programme and taking a site inspection of a cruise venue are some of the programmes on the list. The tour is extended to Seoul's partner cities, Gangwon and Gwangju, and an array of special tour videos with an Honorary Seoul Tourism Ambassador, Eunwoo Cha. The well-known Honorary Tourism Ambassador of Seoul – the most popular group in the world – BTS also welcomes the attendees with the official promotional video on the billboard at the lobby.
Jihyun Kim, a director at SCB mentions that the Virtual Seoul Platform is versatile. It has endless possibilities of being improved in the coming years by adding more venues or programmes and becoming a universal source for organising and hosting M!CE events.
Technology The attractiveness of Seoul's M!CE industry is carefully extracted into well-made VR videos
 This is the first case in the world in which a destination marketing organization is presenting a virtual platform