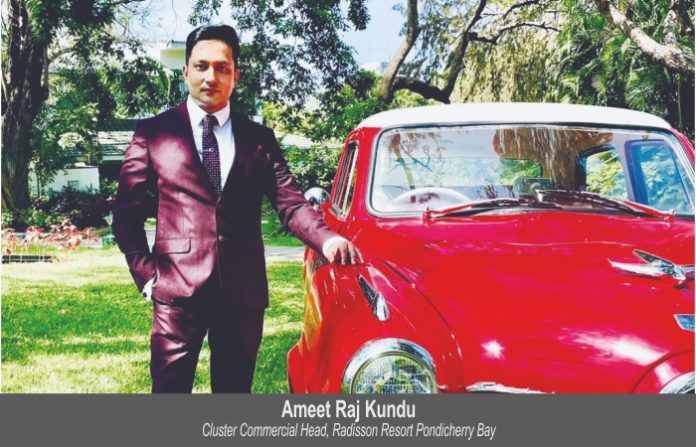 Radisson Resort Pondicherry Bay which is located on Coromandel coast is ideal to organise meetings or have unforgettable wedding in scenic backdrop.
MT Bureau
Situated in the Arikamedu archaeological site, at Puducherry on the southern coast of India. The Radisson Resort Pondicherry Bay is nestled between a lagoon and the popular Blue Flag-Eden Beach and is rated among the top 10 beaches of India.
With a beautiful landscape and a breathtaking view of the sea, lagoon and tall coconut trees, the resort is the perfect location for a relaxing getaway, vacation or staycation, with indoor and outdoor venues for meetings and events, including conferences, weddings, as well as performances.
The Banquet Hall is a pillar-less space spread over 1,200 sq. ft., on the first floor promising a marvellous view. The Boardroom is a compact 1,000 sq.ft., space is apt for intimate gatherings and meetings or corporate gatherings.
It is situated in the resorts' luminous gardens, guests can enjoy an alfresco event in a relaxed atmosphere, surrounded by well-tended lawns and plants.
Sunset Deck overlooks the west by the lagoon. The picturesque sunset views from here, makes it a perfect spot for intimate events. Sands has an unfiltered view of the lagoon, this is perfect for relaxed evening events such as barbecues, concerts, and performances.
Ameet Raj Kundu, Cluster Commercial Head, Radisson Resort Pondicherry Bay said that the resort is located on the Coromandel coast, south of Chennai. The resort is situated 150 km from Chennai International Airport and travellers can reach here in around three hours by car. Pondicherry Railway Station and Pondicherry Bus Station are around 20 minutes away from the hotel.
Weddings
Guests can enjoy an unforgettable wedding at the Radisson Resort Pondicherry Bay. "Our dedicated events team and wedding planner will be help you plan your dream wedding, with the beautiful surroundings of Pondicherry Bay, as a magical, scenic backdrop, which is a unit of GRT Hotels & Resorts,"Kundu said.
Some of the world-class facilities at the resort include Salt Splash, spread more than 2,400 sq. ft., is a Moroccan themed saltwater pool with hydrotherapy, is perfect to detox and refresh.
L'enfant is a dedicated indoor kids play area with arcade games, puzzles and games for children of all ages. Bodhi Spa is designed to relax and rejuvenate you, perfect the entire resort experience. Le Jardin is a serene garden in the middle of the property.
Maintain your workout routine in Muscles Fitness Centre with modern equipment, and professional trainers for personalised attention.  The hotel rooms are designed in the classic Franco-Tamil style of Puducherry, with wide balconies and verandahs decorated in earthy colours. With four chalet types, the guests can choose between a balcony and veranda as well as the choice of luxurious private villas with a garden and a pool.