Gearing up to welcome 500 delegates for the annual Travel Agents Association of India (TAAI) convention, Jammu and Kashmir will showcase its best MiCE facilities
Ankita Saxena
With an aim to promote India and acknowledge the importance of tourism, TAAI Convention 2018 will be held in Srinagar from March 27-29. The association plans to make this convention a limited-edition event with around 500 delegates. Sher-i-Kashmir International Conference Centre (SKICC) will be the venue for the convention and exhibition. Mahmood Ahmad Shah, Director, Tourism Kashmir, further added, "TAAI has been no stranger to the state of Jammu and Kashmir. The SKICC Convention Centre was inaugurated by one of the TAAI Conventions and this year is more of a homecoming for the association. We are going to host this event after 31 years and we hope that it ushers in a new dawn for tourism in Jammu and Kashmir." Sunil Kumar, President, TAAI, informs, "We are delighted that our focus this year for a convention is in India. TAAI has been a nodal body for the tourism and hospitality industry and we are very active in the aviation, hospitality and MiCE industry." Welcoming TAAI to the beautiful state, Priya Sethi, Minister of State for Education, Culture, Tourism, Horticulture, Floriculture and Parks, Government of Jammu & Kashmir, says, "I would want each delegate to explore the state and be our tourism ambassador." Sarmad Hafeez, Secretary—Tourism, Government of Jammu and Kashmir, adds, "The TAAI convention is an important event where we will try to showcase the state to the travel agents and gather their support to promote it better and aggressively." The chosen hotels in Srinagar include The Lalit Grand Palace, Vivanta by Taj – Dal View, ITC Fortune Resort Heevan, Four Points by Sheraton, Radisson Srinagar and RK Sarovar Portico.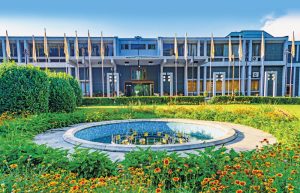 BEYOND THE TAAI CONVENTION
The Central Government has sanctioned funds to the tune of Rs2000 crore for tourism alone to develop and upgrade infrastructural facilities. With projects underway, Jammu and Kashmir is going all guns to market itself nationally and internationally. The government is also very keen to attract the corporate and MiCE travellers promising a refreshing break from the usual city life. "We are hosting several conventions in the state this year and are promoting MiCE tourism in a big way. The SKICC in Srinagar is one of the finest convention centres which offer not only meeting space with state-of- the-art facilities but also open spaces to host various events. We have also opened a new convention centre in Pahalgam inside the Pahalgam Club with a capacity of 350 pax. On the hospitality front, many national and international hotel chains are coming to the state and it is heartening to see that the industry is gathering confidence to return to Jammu and Kashmir," adds Hafeez.
SAFETY CONCERNS
'Our biggest challenge in marketing the state of Jammu and Kashmir has been the myth of the state being unsafe. The National Crime Bureau Report states that in the past two years, there has been no crime committed against a tourist in Jammu and Kashmir. I don't know about many places that can boast about this tourist-friendly environment at a destination. In fact, it is a very safe place to travel for women. The kind of positive feedback we have received from solo women travellers is tremendous. I don't see why travellers should not visit Jammu and Kashmir," says Hafeez.
SKICC
Located on the banks of picturesque Dal Lake, Sher-i-Kashmir International Conference Centre is a state managed convention facility. This multifunctional venue offers a variety of conference halls and exhibition spaces with indoor and outdoor facilities. The auditorium being its main attraction offers simultaneous interpretation facility into six languages and can accommodate 700 delegates at a time.