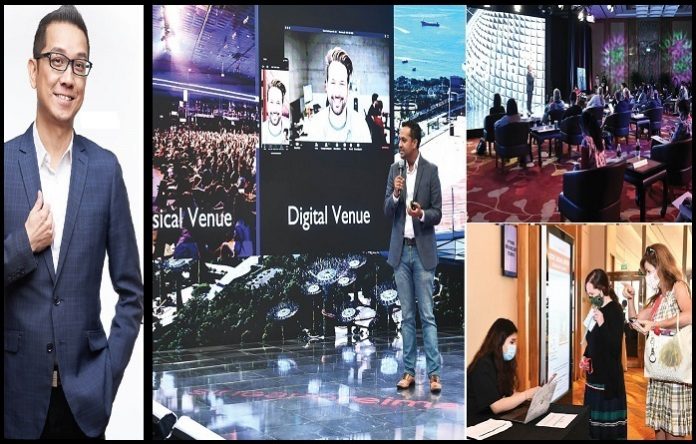 Singapore's TravelRevive hybrid event gave us a glimpse of how M!CE events will look like in a post-COVID world. Andrew Phua, Executive Director (Exhibitions & Conferences), STB shares more details.
Hazel Jain
Has Singapore started conducting physical M!CE events since it opened officially to events?
Singapore has made steady progress in the resumption of business events under STB's Safe Business Event Framework (SBE), which requires event organizers to implement Safe Management Measures to meet a set of health and safety outcomes. In July 2020, STB started accepting applications for business events with a capacity of up to 50 physical attendees. Building upon the successful trial of this framework in a pilot hybrid event in August 2020, further relaxation was announced in September to trial events with up to 250 attendees.
Tell us more about this pilot hybrid event.
TravelRevive was Asia- Pacific's first international travel tradeshow to take place physically during COVID-19 on November 25-26, 2020. Powered by ITB Asia and the Singapore Tourism Board, the event attracted close to 1,000 attendees onsite, of which 65 were foreign delegates from over 14 countries in Asia, Middle East and Europe. With 36 exhibiting companies, TravelRevive had close to 600 scheduled buyer/seller meeting appointments on site.
Are there any international events coming to Singapore in 2021?
TravelRevive reinforced Singapore's position as a top marketplace of ideas in the Asia Pacific and as a safe and trusted Global-Asia node for M!CE and business. Its successful execution has demonstrated how the tradeshow experience can be made safe yet fruitful for attendees – with the degree of interaction that they were used to before COVID-19. At TravelRevive, two MoUs were also inked to anchor the ASEAN Regional Headquarters of new entrants – Messe Munich and Fiera Milano, signifying their confidence in Singapore as a regional M!CE hub. In addition, the Infocomm Media Development Authority and STB signed a one year MoU with B2B event organiser Informa Tech to launch a new international technology event in Singapore slated for the second half of 2021.
Are there any new incentives for M!CE groups from India?
India is one of the key sources of business traffic to Singapore, particularly for the M!CE segment. There are four programmes which are customised to meet the needs of corporates, events planners and the delegates, for different group sizes. These schemes are catered specifically to help them to plan better and pitch more confidently should Singapore be a destination of choice.
One point to note is that these support schemes are offered before the decision on destination selection is made, typically during the bidding stage. We aim to influence the decision so that the schemes can be effective.
INSPIRE (In Singapore Incentives & Rewards) is a scheme which supports small groups (group size between 20 to 250 pax) & offers more than 60 precurated experiences to choose from.
BEiS (Business Events in Singapore) is a financial support scheme targeted at large groups which offers corporates a financial grant to help them enhance the quality of their travel program. • SMAP (Singapore MICE Advantage Program) is a bundle of benefits that various Singapore stakeholders offer to the delegates.
STARS (Special Travel Agent Rewards Singapore) is a reward program to reward M!CE agents and event planners for securing groups to Singapore. These schemes are being reviewed regularly. In fact, we have just made enhancements to the schemes in light of the COVID-19 situation to ensure that they are able to meet the changing needs of the corporates, M!CE agents and event planners and to keep Singapore competitive as a top-of-mind M!CE destination for the Indian market.
What learnings do destinations, event planners & convention centres take away from the past year?
The industry is currently experiencing an accelerated digital transformation, and traditional event set-ups may no longer serve the needs of event planners in this new environment. Digitisation, flexibility of venue spaces as well as health and safety protocols will be event planners' key priorities following the resumption of the industry.
Social distancing will also shape how various aspects of social and business activities will be conducted in a post-COVID world. The M!CE industry is rethinking on how business events will be organised and deliver new value. It has been observed that various alternative meeting formats that allow people to meet and interact remotely have emerged. COVID-19 has certainly pushed the fast-forward button and accelerated digital transformation and adoption across the world.
Today, consumers use screens and live virtual experiences more than ever, and that's exactly how the space will would be redefined – a consumercentric offering that is digital-enabled and data-empowered. Public spaces are being redesigned to provide safe distancing, touchless solutions and hygiene practices for delegates and employees' safety assurance. Virtual spaces are being transformed to augment physical meetings.
Do you think hybrid events will be the future for this industry?
Hybrid event formats have become increasingly significant, where content is delivered virtually, while ensuring that the digital aspects complement inperson events. We will certainly see more hybrid events as the industry evolves its landscape and experiences.
"COVID-19 haspushed the fastforward button & accelerated digital transformation and adoption across the world"
quick byTe TravelRevive reinforced Singapore's position as a safe
Global-Asia node for M!CE