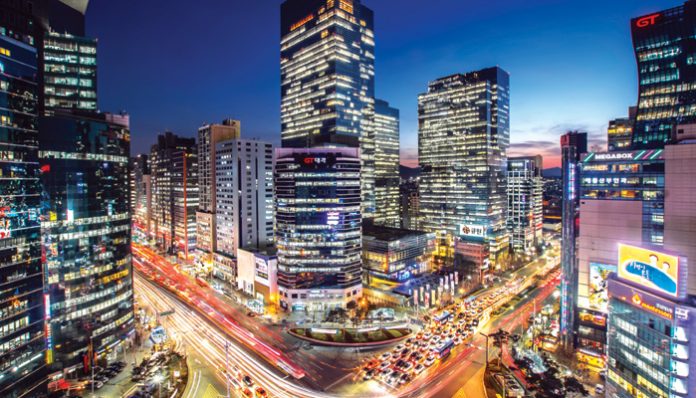 Looking for uncharted zones for MICE? South Korea says 'Anyeong haseyo' to Indian MICE groups with novel experiences on a platter
In spite of being one of the most technologically advanced and future ready countries, South Korea is also in touch with its rich culture and history. Korean infrastructure for business events
has been given global accolades, while new bid wins underscore a busy and prosperous upcoming convention calendar for the country.
CONNECTING IT RIGHT
Flight connectivity from India to South Korea currently has been the best in more than a decade. Since the end of last year, there have been more than 15 direct flights per week from India from Delhi and Mumbai operated by Asiana Airlines and Korean Air. In addition, Air India offers direct flight connectivity (with small halt in Hong Kong). There are one-stop flight options from every international airport in India mainly via Singapore, Thailand, Malaysia and Hong Kong. Currently, Korean Air and Asiana Airlines are both working in tandem with Indian travel agents to provide best fares for MICE groups on case-to-case basis. In case the business potential is high, add on incentives such as value ads, complimentary services / tours, etc are all possible with KTO's involvement in the group. The main convention cities that Korea is promoting for the Indian market are Seoul and its vicinity, Busan and Jeju Island.
SEOUL
With more than 600 years of history as the nation's capital, Seoul has become both a metropolitan city with a population of over 10 million people. It is a vibrant city full of tradition and history. This modern metropolis is surrounded by mountains and divided by the Hangang river. Seoul also boasts a strong foundation for information technology, providing access to the Internet from any location and various applications in people's daily lives.
The city features ubiquitous-based services, digital pavilions, and an exhibition space at Samsung Electronics, offering new and futuristic experiences in high-tech IT. The city offers many unique venues for MICE such as a waterfront banquet facility on the Hangang; a banquet hall placed in the exoticness of a traditional Korean house; galleries and various cultural spaces embracing modernity; a museum boasting in exhibition, scale and facility; other exciting outdoor facilities and events add to the uniqueness of Seoul as a convention city.
Main Convention Centres
Coex: Coex in Seoul is not just an exhibition centre, it is an interconnected network of two big hotels, Coex shopping mall (largest underground mall in Asia), Coex aquarium (largest in Korea), Casino, airport check in terminal and lastly a suitable convention space itself. The centre spans a total area of 36,363 sqm. It has 12 exhibition halls that has a total pax handling capacity of 7,000 pax. The Grand Ballroom, covers an area of 1,817 sqm and can hold a capacity of 1800 pax in theater style. Coex has 59 meeting rooms.
Held and upcoming conventions
International Broadcast, Audio & Lighting Equipment Expo 2017- KOBA 2017: May
Seoul International Photo and Imaging Industry Show 2017: May
World IT Show 2017: May
Global Electric Power Tech 2017: May 10-12
Pharm Expo Korea 2017: June
Seoul Character and Licensing Fair 2017: July
Seoul Auto Salon 2017: July 13-16
EnergyPlus 2017: October

KINTEX
Kintex located near Seoul is the largest convention space in South Korea with exhibition space of more than one lakh sqm. The centre had hosted the Rotary International Conference in 2016 and accommodated more than 46,000 plus people in one go. The centre has a total area of 1,08,566 sqm and facilitates 10 exhibition halls. The total pax handling capacity is 40,000 pax. The grand ballroom has a space area of 1,660 sqm and can accommodate 800 pax in theater style. The total number of meeting rooms are 40.
Upcoming conventions
LED EXPO 2017: June 27-29
2017 Korea Int'l Die-Mold & Related Equipment Exhibition: August 7-11
The Golf Show 2017: August 8-11
Korea Heavy Equipment Show 2017: September 6-8
Korea Energy Show 2017: September 19-22
Korea Wood Show: November 2017

SOMESEVIT
Somesevit is one of the famous landmarks in Korea. It is an artificial island which is located near the southernmost part of Banpo Bridge. This landmark attraction has several halls and restaurants for exhibition, seminar, and gala dinner like FIC Convention Hall, Vista Restaurant and a few more outdoor venues on top of the building.
Seoul hotels with MICE capacity
Lotte World Hotel: Has 469 rooms, with seven halls and a capacity of 1,600 pax to 80 pax (Theatre style).
Grand Hyatt: Has 601 rooms with 20+ meeting venues and a capacity of 1,500 pax to 40 pax (theatre style).
Grand Hilton: Has 396 rooms with 11 meeting rooms and capacity of 2,200 to 30 pax (theatre style).
Sheraton Walker Hill: Has 583 rooms with 25 plus meeting venues and a capacity of 1,500 to 40 pax (theater style).
The Shilla Hotel: Has 464 rooms with seven meeting halls and a capacity of 1,400 pax to 50 pax (theater style).

BUSAN
Busan, located in the southeastern coastal area of the Korean Peninsula, is the country's second largest city after Seoul and the most famous trade port in the country. Busan is also a major shopping city with 'The Centum City Mall' being the largest single shopping mall in Asia. Visitors can enjoy a variety of shopping experiences at numerous department stores and outlets for prestigious international brands as well as traditional markets for local and traditional items.
BEXCO
Bexco in Busan has hosted events up to 30,000 people, for e.g., like Lions Clubs International Convention. It has a total area of 46,380 sqm with 10 exhibition halls that can handle 12,000 pax of total capacity. The grand ballroom is of 2082 sqm area and can hold 2,400 pax in theater style. Bexco has 17 meeting rooms.
Upcoming conventions
Busan International Machinery fair 2017-BUTECH 2017: May 24-27
Busan International Food Expo – BOFAS 2017: June 2017
Korea Railways & Logistics Fair 2017: June 14 – 17
Kormarine 2017: Oct 24-27

Busan Cinema Center
Busan Cinema Center is the official venue of the Busan International Film Festival (BIFF) – one of the most popular film festivals in Asia – and has become a symbol of the festival itself. The center's 'Big Roof' is the largest roof in the world (2.6 times larger than a soccer field) and comes complete with 42,600 LED lights, which help create an unforgettable scene along with Suyeong River and Naru Park.
Busan hotels with MICE capacity
Lotte Hotel Busan: Has 650 rooms with 11 meeting venues and a capacity of 2000 pax to 50 pax (theater style).
Haeundae Grand Busan: Has 320 rooms with 11 meeting venues and a capacity of 1200 pax to 20 pax (theatre style).
Novotel Ambassador Hotel: Has 330 rooms with seven meeting halls and a capacity of 300 pax to 20 pax (theatre style).
Paradise Hotel: Has 532 rooms with 10 meeting venues and a capacity of 700 pax to 14 pax (theatre style)

JEJU ISLAND
Jeju Island, 130 km from the southern coast of Korea, is the largest island and the smallest province of Korea. This is the perfect MICE and leisure destination to experience the eco-style accommodation and nature focused tours. It is a beautiful place to experience mystery, culture and tradition. Jeju Island is covered with lush subtropical forests, lava caves of all shapes, sizes and lengths, sandy beaches, spectacular craters and grand Halla Mountain is poising silently in the middleof the Island. Jeju island is regarded as the only island among the 'Seven New Natural Wonders of the World'.
ICC
ICC in Jeju Island is one of the most serene convention centers in the world. Located on the edge of the Jeju Island, it can accommodate almost 5,000 people at one time and has exhibition space of more than 60,000 sq meter.
Upcoming conventions
10th International Conference on Advanced Computer Theory and Engineering (ICACTE 2017): August
International Polyurethane Forum 2017: August
IUPAC-FAPS 2017 Polymer Congress: Commemorating the 10th Anniversary of Federation of Asian Polymer Societies: October

Sanghyowon Botanical Garden
Surrounded by the nature of Gotjawal and thick grove at the valley and wetland. it is a perfect place to hold your event to feel the best of Jeju's nature! The indoor and outdoor banquet are both available for MICE venue here.
Nightlife for MICE groups
Korea has many night time activities to offer. Even after midnight, throngs of people wander on the streets in major shopping districts and popular downtown areas. While Seoul is the most representative city in the nation for its nightlife, one may also find stores or restaurants that open throughout the night in most other cities.
Experience vegetarian at its best
Regarding food, availability of Indian food and vegetarian food is not an issue. With more than 100 plus Indian restaurants in key cities and major hotels' inclusion of Indian food in their menus makes it an easy option for travellers. Korean food has most dishes as vegetarian as well.
New tourism products
Seoul Sky (the world's third highest observation deck at 121st floor of Lotte World Tower) is the newest attraction for MICE groups. To take you to the top, it also has the world's fastest elevator which can take you up in less than a minute at more than 10 meter/second. Seoullo 7017 is a new integrated elevated walking pedestrian network which will be opened soon. This will serve as a beautiful venue for gala events for big size groups.
Cosmetic Surgery Tourism
Medical groups, plastic surgery and beauty treatments are a lucrative business in South Korea. It is leading the world in terms of technologies for beauty treatments and surgeries. There is huge demand from South Asian countries in both MICE groups and individual tourists for these services. However, from India there has not been any MICE group interested in this field yet.
Incentives for corporates
Any MICE group with minimum 10 pax and staying in South Korea for two nights and above are eligible for support from KTO. Their support starts from basic gifts and souvenirs and includes performance and theme park tickets, special arrival reception and FAM trips for decision makers.
Tapping Indian Market
Delhi and Mumbai have been hubs of MICE business generation followed by Chennai and Bengaluru. However, while looking at the data more closely, it is noticed that it's because the companies organising most MICE groups are based out of these metro cities. The participants in maximum
cases are pan-India. Talking about the number of visitors from India to Korea, Byungsun Lee, Director of Korea Tourism Organisation says, "The total visitor count from in 2016 was almost two lakhs. We figure around 10-15 per cent of the same would be travel for MICE purposes." Talking about the growth from the Indian market Lee, adds, "We experience more than 20 per cent growth in overall visitor numbers from 2015 to 2016. MICE business was the same for both years. However,
from December last year, there has been a huge boost thanks to increased direct flight connectivity. In 2017, we have already supported big MICE groups from SBI Life Insurance, Hyundai Motors, LG India, Siventos, among others." Lee informs that Korea has been witnessing a rise in the subsequent MICE groups like performance incentive scheme related groups, factory visit groups. Also, trade fair groups to participate at major fairs in Korea like Seoul Build, Korea Pharma, CPHI Korea, among many more.
A shopper's Paradise
South Korea is a delight for shoppers looking for variety and a great bargain. Indian
consumers are sure to get enticed by the numerous offerings in the markets
The three main cities where tourists can shop to their hearts content include Seoul, Busan and Jeju. The consumers are sure to avail the best of offerings available in the stores, traditional markets and numerous malls.
SEOUL
The Mecca for the shoppers visiting South Korea, Seoul has a variety of markets to please everyone's likings, from cosmetic shops in Myeongdong to traditional souvenir shops in Insadong and night shopping for apparel in Dongdaemun, right until 2 am in the night. The duty-free shops have a comfortable and luxurious shopping environment, the location is convenient as they are usually positioned close to major tourist attractions. Window shopping also becomes a major form of entertainment here!
BUSAN
There are many exciting shopping options in Busan. The Shinsegae Department Store Centum City is recorded as the biggest departmental store in the world by the Guinness Book of World Records. At Nampodong, one can explore hundreds of brand stores, eateries, street food, among others.
JEJU
The Jeju branch of Charm & Charm is a major multi-brand cosmetics store located near Jeju International Airport and tourist attractions such as Yongduam Rock. The store offers over 800 items from some 80 domestic cosmetics brands. Jeju Local Produce Display and Sales Market is located on the first floor of Jeju Small & Medium Business Center to promote small local producers and market their items. It displays and sells more than 2,200 agricultural items, seafood, processed food, crafts, and cosmetic items from 138 local producers. Through direct dealings with producers, the market offers quality items at inexpensive prices.
Souvenir Picks
Buying souvenirs is part and parcel of the fun holiday experience. South Korea offers a lot in terms of memorable mementoes for the holiday experience. Some include: Hanji Paper Products like lamps, Neck Ties (Hanji is a special paper of Korea and is used in a variety of ways). The popular ones are: traditional masks, mother of pearl inlay, hand mirrors and jewellery boxes, handmade fans, traditional jewellery. Ginseng products are world famous for the health benefits, while you can also pick the most popular Korean Soju, the traditional liquor, Korean Green Tea, Korean Rice Cakes, and much more.
The Shopping Malls
Most of the facilities offer foreign language service including English. The Shinsegae Centum City Department Store is registered in the Guinness World Records as the largest shopping complex in the world. The department store has a countless number of items all under one roof. Visitors can also enjoy numerous entertainment options in the complex.
Other popular shopping malls in Korea include:
In Seoul, Lotte Duty Free Shop and Coex Mall.
In Busan, Shinsagae Centum City Store and,
In Jeju, JDC Duty Free Shop at the Airport. The JDC Duty Free shop offers a variety of luxury brand items, alcoholic beverages. It is especially perfect for travelers who have plenty of time before their departure.

Flea Markets
There are unique flea markets in Korea which sell antique items and tourists can make their own bargains. The diversity of goods in these markets are enough to warrant a visit to any of Seoul's major flea markets located in the popular and accessible neighbourhoods of Hongdae, Myeong-dong, Gangnam, and Itaewon Special Tourist Zone. To get to these places is very easy. The Seoul subway stations are quite close to each of these locations.
Factory Outlets for Bargain Buys
The Underground Shopping Malls, are the goldmines for fashion lovers. Some stores don't accept credit cards to offer such low-priced apparel. Some of the best are: Gangnam Terminal Underground Shopping Center in Seoul and Seomyeon Underground Shopping Center in Busan.
Two-Hour Shopper
Last minute shopping is always on the travellers' to-do list, and South Korea's numerous duty free shops are helpful in many ways, providing just the right service! Duty free shopping is available not only at offline stores but can also be done online. All travellers scheduled to leave are eligible for online shopping, and the purchased items will be retrievable at the designated duty free pick up zones at international airports or passengers seaports on the date of your departure. If one is towards the north of Seoul, the best place to visit is Myeongdong Shopping Street, Shinsegae Department Store and Lotte Duty Free Mall located close to attractions and city centre. However, if in the south side of Seoul, then Lotte World Tower and Coex mall are the best.