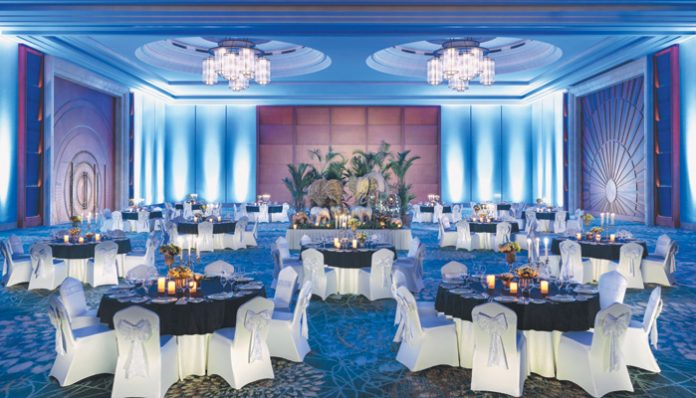 The Shangri-La Colombo hotel group expects India to be its number one source market for its newest property that will open in Colombo later this year, specially targeted at the MICE segment
Due to open later this year, Shangri-La Hotel, Colombo will be the groups' second property in neighbouring Sri Lanka. This automatically puts India in a strategic position as a source market, especially considering the huge MICE movement that originates from here. Timothy Wright, Vice President and General Manager, Shangri-La Hotel, Colombo, was in Mumbai recently with a huge Shangri-La delegation to meet the travel trade. Revealing more details about the hotel, he said, "We will undoubtedly have the most expansive conference and meetings space in Sri Lanka. Our boardroom, for instance, will be by far the largest there is in Sri Lanka. Other options include an outdoor lawn that can accommodate between 500-700 people. The hotel has identified 'events' – whether they are local social functions, destination weddings, or large conferences – as key business segments. India will be our number one source market for this property." MICE is also something that the Sri Lankan Tourism Board is eyeing. "They have realised that it is a missing component currently in target segments for Sri Lanka primarily because hotels, when they were built in Colombo, didn't anticipate or didn't at that time see the need for facilities and as such don't have the requisite facilities to capture that market," Wright explains.
BANKING ON INDIA-SRI LANKA TRAFFIC
The hotel group's confidence in the potential that Sri Lanka offers is reflected in the investment it has made there. He says, "Our Colombo property is one of our largest investments we have made so far. It is a mixed-use complex – with a hotel, office building, residential complex and a shopping mall – so the entire complex is in excess of USD 500 million. So our commitment and our confidence in the potential of Sri Lanka is tremendous." Shangri-La's first property in Sri Lanka was a 300-key city resort on approximately 145 acres of land in Hambantota, on the southern coast of Sri Lanka. Wright adds, "It is in a location that is emerging, there are very few properties of that size and of that nature in the deep southern belt. However, our owners understood that there's a port close by, an airport close by, and whilst accessibility at this time is difficult, Colombo is a four-hour drive, we see that there is infrastructure being built and that the airport will become more popular. Having said that, business has already started to pick up. We have achieved a tremendous response fromthe local Sri Lankan community in the first few months and now we see that the Indian market, Chinese as well as the European markets start to really become established."
Speaking about how the different markets are performing, he feels that the short-haul markets like India and China generally develop quite quickly. The longer-haul markets – Europe, Russia, and the Middle East – take longer to develop. "Nevertheless, I see the India market as a very vibrant, fast-paced business and it will certainly be very exciting to watch how somewhat traditional channels of doing business now start to really take hold of technology and new channels of the digital world. China is the fastest growing and is rapidly catching up with India," he says. Shangri-La meanwhile has appointed a new group technology officer primarily focusing on two major areas – e-commerce and the channels of bringing in business as well as the digital marketing and social media. "There are other opportunities to improve our productivity, to improve our ability to meet guests' needs. There are also lots of new applications, lots of new technologies that are being developed to improve guest experience. We are constantly looking at how we can adapt our technological capabilities," Wright adds.
ABOUT THE HOTEL
Shangri-La Hotel, Colombo will be located between the Galle Face green promenade and Beira Lake, with uninterrupted views of the Indian Ocean. The hotel will be easily accessible from Colombo International Airport in 45 minutes by car. It will offer 500 rooms offering some of the largest accommodation in town at 45 square metres to 60 square metres (484 square feet to 646 square feet). This also includes 30 suites ranging in size from 90 square metres to 225 square metres (968 square feet to 2,421 square feet). We will have 500 rooms, including 30 suites, 41 serviced apartments, and five restaurants. This will include our renowned Shang Palace Chinese restaurant. The meeting facilities will be among the largest in Colombo, with over 4,500 square metres (48,438 square feet) of function space spread over three floors to host meetings, receptions and private functions. A fitness centre, spa, pool and two outdoor tennis courts will complete the recreational facilities. A range of restaurant and lounge concepts will be available at the hotel.