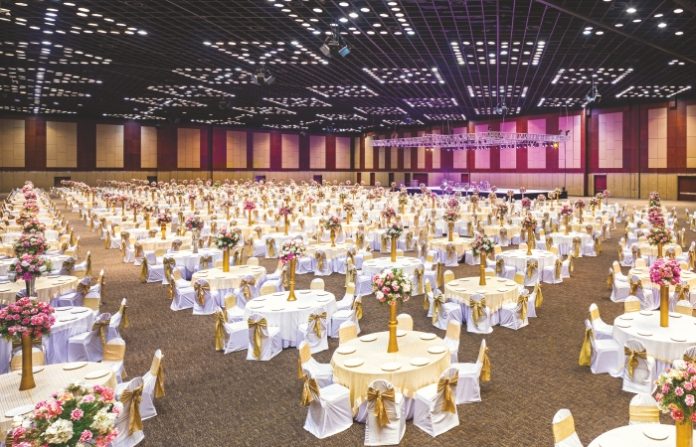 Built in sylvan surroundings of Hyderabad, it is first of its kind and best standalone and service driven convention centre in entire South Asia.
MT Bureau
Hyderabad International Convention Centre (HICC) is managed by Accor, one of the world's leading hotel operators, and is jointly owned by Emaar Properties PJSC Dubai and Telangana State Industrial Infrastructure Corporation Ltd.
HICC is a purpose-built, convention facility with world-class facilities and, the first of its kind and the best standalone convention centre in South Asia.
The five-star property has quite a few feathers in its cap. HICC has received the award for 'Best Meeting & Conference Venue' at the South India Travel Awards. In every aspect, be it infrastructure, services or technology, it compares with the best in the world.
Connected to the Novotel Hyderabad Convention Centre is an international business hotel. It has as many as 288 rooms, including 129 super rooms and 106 super rooms with a view, and is equipped with meeting rooms, restaurants, business centre, spa and a health club.
It is also the Best South India Travel Award winner, which is admired for its outstanding service. Some of the world-class features of the hotel include 37 breakout rooms, including specialised meeting rooms, speaker preparatory room, boardrooms, VIP lounge, apart from 12.5 metre high ceiling, roof cat walkers, truss to withhold heavy suspension, and in-house five-star banqueting service.
The unparalleled infrastructure of the business hotel also has service pits every six metres, with power, water, internet and the like, in built power back-up capability.
Built like a behemoth, the luxurious hotel built in Hyderabad, built among the sylvan surroundings it which was discovered by the Qutub Shahi dynasty in 1591, the hotel has state-of-the-art Information Technology (IT) infrastructure, design, technology, telecommunications, and audio-video (AV) equipment.
It also has a hall measuring 6,480 square metres that can hold a 6,000-delegate plenary and can be partitioned into six halls.
HICC also has the best meeting and conference venues with a spacious pre-function foyer area. The hotel has a huge 500-person reception area with as many as 16 terminals.
It also comprises an ATM and currency exchange cabin which has been kept in view of the tourist flow, which is all set to increase with the borders of all countries reopening and the country inviting international commercial flight services.
These apart, the spacious grounds of the hotel also has a parking bay along with in-house event management and auditoriums. Apart from the power back-up generation capability, there are as many five well-stocked bars and restaurants in the premises of the business hotel.