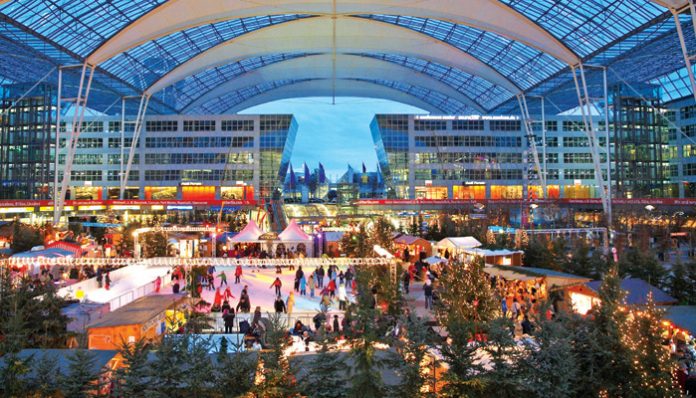 Having bagged the best airport tag in Europe among numerous other accolades, Munich airport is also the ideal transit point for travellers, shares Corinna Born, Director- International Media Relations, Munich Airport
Munich in Germany is a rightly placed point for travellers to gain an opportunity to come and explore Europe. The city airport offers a unique platter of amenities to its transit travellers.
SERVING IT UNIQUE
The airport celebrates its 25th Anniversary this year. It has been awarded the best airport in Europe 10 times in 12 years. Named and awarded the only 5-star airport in Europe by SKTRAX, the Munich airport has recently been voted 'The Best Airport terminal in the world' in 2017. Talking about the unique offerings the airport has, Corinna Born, says that Munich airport aims to be more than just an airport and by offering services that a city offers, it only stands out amongst the rest. "We offer a clinic, a large variety of shopping and dining, hotels, kindergarten, visitor centre, as services for travellers. The locals come to the airport and use it like a mini city, they come for celebrating, they live with the airport. We invite our passengers to mingle with the locals for a freshly brewed beer or to join in for the many events. We also got voted as 'The Best Airport terminal in the world' in 2017."
AN ENTRY POINT
Born feels that being centrally located in Europe, Munich has an advantage in terms of connectivity. "We are in the centre of Europe, that makes Munich a perfect entry point, and gateway to European destinations. We count around 30 per cent transit passengers from the airport. In a radius of two to two and a half hours, you can reach any other destination via connecting in Europe." The network has extended its branches as well. "The good news is that for this year we offer 173 destinations in Munich and that makes the airport with the largest number of European destinations," she adds.
THE INDIAN CONNECT
Indian travellers have swelled and made their presence in the city, and this has joined the connectivity dots this year, reveals Born. "We have two direct flights from India from Mumbai and Delhi, operated by Lufthansa, nonstop to Munich. Looking at the arrivals from India, we registered over 59,000 Indian nationals at Munich Airport in 2016. We saw 64 per cent of the Indian nationals were on business trips. We feel there is lot of opportunity and capacity for Indian Nationals that could stay in Munich, visit and explore the beautiful city and beyond. Munich airport serviced over 42 million passengers in 2016 and we are expecting to register a 3 per cent growth in 2017." Adding on transit flights, she says, "On the longhaul network, within the Lufthansa Star Alliance system, we offer 13 onward connections to North America, that is one of the main onward connections that Indians take. In Germany, Munich remains the most popular city for Indian travellers," she informs.
We have seen an increase in the number of Indian residents, one of the reasons is that Munich is the IT headquarter for Germany. It is for engineering and IT that Indians move to Munich. The number of Indians residing in Munich has almost tripled since 2006."
BEING A VIP
The VIP Wing at Munich airport offers a unique blend of international ambience with traditional Bavarian hospitality, spacious rooms, and superb service for business class travellers. "A lot of the business class passengers from India also book onto the VIP lounge. Users get complete private treatment, like being picked up brought by a limousine from the aircraft to the lounge. There is personal immigration, and baggage claim. It is very royal, because we have suites and you can book into your own suite, which is differently designed and bears a royal name," says Born.
INNOVATIVE INFOGATES
The Munich airport recently came up with InfoGates, which offers real time video support to passengers help them get their bearings more quickly and allows them to request individual directions. Talking about new technological advancements, she adds, "We created an App where we have all the three airports Hamburg, Dusseldorf and Munich. The idea is to have all European Airports in one App."