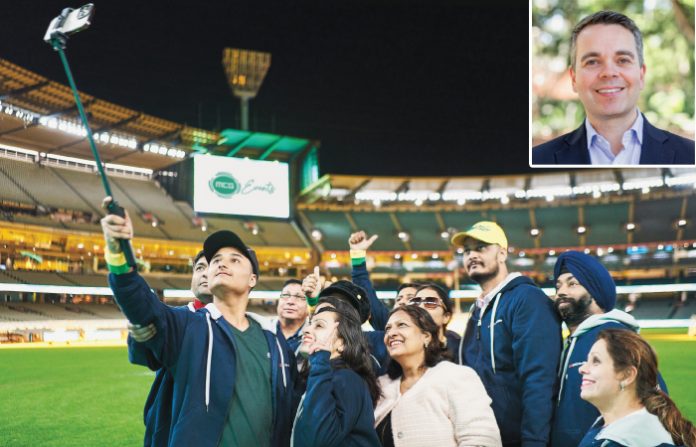 Robust pipeline of more than twelve thousand beds added in past two years is testament to Australia's position as preferred biz event destination, underlines Robin Mack.
MT Bureau
While the country's borders were closed, the domestic business activity and robust infrastructure development never paused for a break. Talking how fast the cityscape was upgraded and transformed to surprise travellers from around the world, Robin Mack shared, "The growth we had was unprecedented. In that two-year period, we have one hundred new renovated hotels, coming to the pipeline of twelve thousand beds. A new experience has come through as well and that pipeline of new hotels is really continuing." From Melbourne to Brisbane, Australian cities are redefining luxury hospitality experience with some gravity-defying line-up of premium hotels. He added, "Right here in Melbourne, we have Ritz Carlton, which opens in March. Soaring 80 storeys and with the reception lobby on level 80, it is pretty spectacular. Then we have the W hotel opening in Sydney in October. We have got huge development going on in Brisbane—a massive complex with three beautiful hotels. One being the Star Grand Hotel which opens later this year. People who have not visited Australia in several years have been commenting on how much it has changed. It is just not about Melbourne, it is around the country."
Resilient market
Currently, there are fifteen priority markets that Tourism Australia works on globally and India is one of those key markets. As per Mack, the high-end clients are already coming back to Australia. "If I look at November as a month from 2019 vs 2022, we are 94 per cent back in terms of Indian visitors," he informed. Getting innovative with their promotions, a global campaign was launched globally for business events last year with a quirky headline—all the business events come with Kangaroos. The team is upbeat about the return of Dreamtime 2023, which will be held from 7 to 10 November in Adelaide, with international buyers and media visiting other Australian destinations pre and post the event. Business Events Australia is also hosting the Asia Mega Famil Showcase in April 2023 with host city partner BESydney.
Above competition
Mack believes that event places blessed with beautiful outdoors and natural beauty will have an edge as the global M!CE market opens post-COVID. "We have got great destinations around the country, which are not too busy and people will love to visit such places post-COVID when they start to travel.  We are really blessed with beautiful outdoors. We conducted a survey without revealing that it was being done for Australia, and we have scored number one in terms of best incentive destination, number one in terms of safety and security, great business events facility, and the climate which put us above our competitors," he said.
Sustainability
If 2022 was much about recovery and retaining back, Tourism Australia looks at sustainability as a key priority in 2023. "It is not only about restoration and protection of our natural environment but also sustainability of other business events in the pipeline and getting business events back continuously for Australia," he stated.