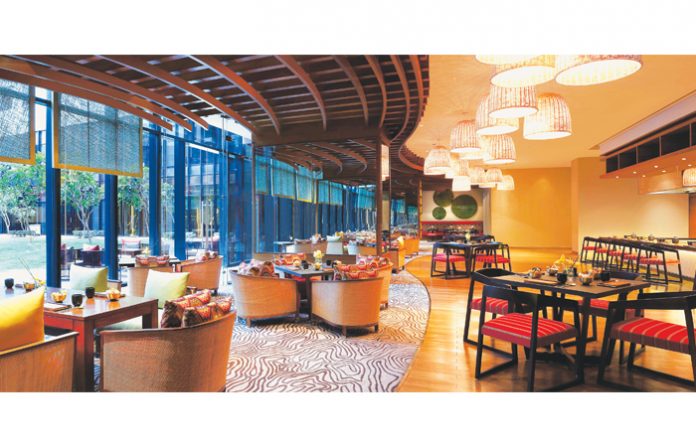 Situated close to the airport, the hotels at New Delhi's Aerocity have some of the best convention facilities in Delhi-NCR. We get in touch with them to understand this space

Anupriya Bishnoi
TRISTAN BEAU DE LOMENIE
General Manager Delegate
Pullman & Novotel Aerocity, New Delhi
MORE FACILITIES FOR CLIENTS
Aerocity is a project formed in April 2016 and designed on the lines of a convention bureau with the three largest hotels of New Delhi Aerocity as the founders- Pullman & Novotel, JW Marriott, and Hyatt Andaz, expanding the scope and visibility of the destination. Most of the events took place in Aerocity because of these three hotels working together. We wish to leverage the artists' playground by Pullman and want to expand it. The initiative is a platform to encourage artists to perform at the property. This evolution has helped promote the destination as a comprehensive events hub.
MORE INBOUND, MORE MiCE
We remain upbeat with the long-term growth prospects in the hospitality industry, especially as global travel continues to increase with the rise of the middle-class market. The optimistic outlook of the industry suggests solid growth, with economy and business hotels taking up a larger share. We are also witnessing the upscale hotel segment following closely behind. With renewed economic sentiments, momentous growth in the market, and the recent changes in visa policies, we are positive that the country will drive more inbound business travel.
WHAT'S ON OFFER
The hotel offers unparalleled accessibility to the business hubs of Gurugram and New Delhi, fitness and restaurant facilities, an extensive range of dining options, and caters to every need of the evolved traveller. It also offers the most inviting and stress-relieving experience to every single visitor at its spa.
FLEXIBLE MEETING SPACES
Pullman New Delhi Aerocity offers a wide range of facilities catering to MiCE. the ballroom area, with 1181 sqm of space, is one of the largest pillarless facilities in Delhi-NCR. We have 13 meeting rooms and three boardrooms with flexible room layouts providing Wi-Fi connectivity all over the place. Not only this, we have a large pre-function area that spreads across 1651 sqm. We also provide tailored solutions to our clients.
RANJAN MALAKAR
Area General Manager, Central India & Holiday Inn Express
General Manager, Holiday Inn New Delhi International Airport
MEDIUM-SIZED MEETINGS
Aerocity hotels enjoy the patronage of a wide variety of traveller segments. It has now become the hub for transit, leisure, MICE, and airline crew, and is also seeing a healthy mix of corporate clientele due to its proximity to both Gurugram and New Delhi. We specialise in medium-sized meetings and events of up to 450 people and have a state-of-the-art ballroom supported by four meeting rooms. Facilities for our guests include a wide range of audio-visual equipment and services, high-speed broadband access for all attendees, a wide range of cuisines provided by our expert chefs, and the peace of mind of being catered to by an ISO 22000:2005-certified organisation.
SPECIALISED TEAMS FOR MiCE
We have specialised team members who handle MiCE events from start to finish as a one-point-contact. We also have loyalty and reward programmes from IHG that recognise and reward both organisers and the guests who stay with us as part of the MiCE event. Cuisine is obviously a very important part of the event and we ensure that the menus are customised based on the attendees. We also offer the ability for attendees to reserve their accommodation using the special event rates online through our brand website, which provides an added layer of convenience to the organisers and attendees.
SUKHBEEN TARA
General Manager
Lemon Tree Premier, Delhi Airport
SURGE IN TRAVELLERS
Aerocity has come a long way in terms of attracting business. The ARR and occupancy at Aerocity has shown an upward trend on a year-on-year basis. During its initial years, the area saw more of transit clientele. Recently, Aerocity has been seeing a surge in leisure travellers due to its close proximity to the airport.
MEDIUM-SIZED MiCE
Lemon Tree Premier, Delhi Airport has a conference room which can accommodate 70 to 75 people for formal conferences and more than 200 people for social gatherings.
MORE CONFERENCES, INCREASED OCCUPANCY
We aim to fulfil the growing demand for rooms in Aerocity arising due to the many conferences and conventions taking place in the vicinity. Aerocity is a hub for MiCE activities and we hope to benefit from it.

ANUJ CHAUDHRY
Hotel Manager ibis New Delhi Aerocity Hotel
A DESTINATION FOR ALL SEGMENTS
Over the last three years, Aerocity has evolved into a mature market offering keys from economy to luxury segments, as well as conference facilities to corporates and large-scale events with an amalgamation of transit passengers, leisure travellers, and airline crews. _e occupancy has grown within a range of 7-10 per cent and ADR by 10-12 per cent year-on-year, thereby positioning Aerocity as a destination wherein a customer can choose from hotels across all segments.
COMBINED SPACE, AN ADVANTAGE
In 2017, our existing meeting rooms were refurbished with an addition of two meeting venues, resulting in an increase in MiCE opportunities. Apart from this, AccorHotels also has two other properties in Aerocity- Pullman New Delhi Aerocity and Novotel New Delhi Aerocity, which take the number of keys to a total of 1115. The combined MiCE space amongst the three brands provides a unique setting to guests and organisers and acts as a preferred destination for both business and leisure travellers.
ADDING TO MiCE
ibis New Delhi Aerocity has a total flexible area of 285 sqm, six meeting spaces, and can accommodate between 6 to 125 delegates. We provide basic conference packages for delegates, which include the meeting space rental, lunch, coffee breaks with homemade cookies, and stationery. Customisation based on a client's requirements are factored based on their meeting or conference structure. We also provide premium conference packages wherein we enhance the coffee break into theme breaks focusing on culinary items such as regional, chocolate, fruit of the season, etc. A dedicated team member is assigned to a client meeting so that the event is a success. We recently launched two new chic and trendy meeting rooms which are equipped with state-of-the-art audio-visual technology and have ample natural light. To enhance the meeting experience for our delegates, we will shortly launch our Lively Meetings by ibis concept, which depicts meeting spaces as an area of work, sharing, and creating ideas.