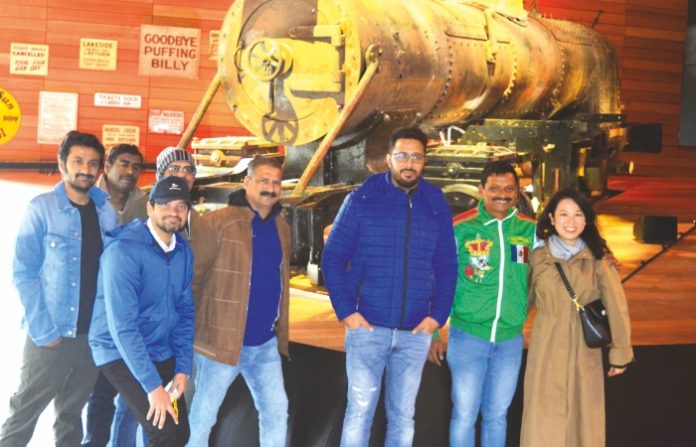 Five Mumbai corporates and SOTC were hosted for six-day luxury family in Australia by Business Events Australia and Tourism Australia partners, Melbourne Convention Bureau and BESydney.
Hazel Jain
Even before Australia lifted all travel restrictions for international visitors (effective 6 July 2022), the destination began to observe movement from India, including not just FIT but also student and corporate travel. Taking advantage of the growing interest, Tourism Australia in India organised a business famil—the first famil welcomed by Australia since the border reopened. This is what five corporates had to say about it.
All the activities the group did in Melbourne and Sydney were amazing, according to Kketan Pabari, Head-Commercial & Procurement, Aditya Birla Sun Life Insurance Company. "If I had to choose, there were two things that really stood out for me. One was the Sydney Cricket Ground, because most Indians enjoy cricket and will love visiting this venue. Glenworth Valley in Sydney, where we went horseback riding and quad biking, was another one that I really enjoyed from a natural standpoint. It also boasts large open grounds that are ideal for outdoor events. We normally have two sets of individuals travelling on incentives at my company: performers and somewhat better performers, who get an extra two-night stay. So for the A-listers, we would prefer doing something such as the helicopter ride we took from Sydney to Glenworth Valley or even a luxury yacht ride on Sydney Harbour. This is particularly ideal for family incentive trips," he said.
New destinations
John Pereira, Manager-Travel, Lupin Limited, stated that this was his first trip to Australia. "Although we have done a few group trips to Australia before COVID-19, I usually created the itinerary based on what our travel partners advised. But now that I have been here, I am more informed about the many destinations, activities, and venues that are available. Every group also has a budget plan in mind. In light of the budget, I now know what can be included and what cannot. We have never brought a group to Melbourne; for six nights, it was mostly just Sydney and the Gold Coast. Therefore, this trip opened my eyes. I understand that we can create an itinerary that includes Melbourne for eight days or longer. There are many things to do in Melbourne, notably around the Melbourne Cricket Ground and Philip Island, where penguin sightings are common," he added.
Cricket a big draw
Cletus Colaco, Senior General Manager-Market Development, Gulf Oil Lubricants India, showed more interest in cricket venues. He said, "We are deeply associated with cricket since we are the IPL co-sponsors for Chennai Super Kings. We visited the Melbourne and Sydney Cricket Grounds, which were both great. Both offer plenty of space for conferences, gala dinners, and concerts. We were told at Sydney Cricket Ground that they have an events team that can assist us with anything, including team building, which works well for us. Playing beach cricket at Bondi Beach in Sydney was a highlight of our trip. If the weather allows, we can include this as one of our activities. The Melbourne Skydeck is also ideal for social events. Even the Harley-Davidson ride we took in Sydney was enjoyable, and it will work with our distributor groups."
State Bank of India (SBI)was also a member of this FAM, and with over 10,000 employees, it organises numerous corporate trips. Bhaumin Shah, Associate VP, SBI, said, "We did two groups of 200 pax each to Australia two years ago, which included only Sydney, so the sightseeing options were limited. We only did the Sydney Cricket Ground and the Opera House. But after visiting Australia myself, I am now aware that there are many other options that we can incorporate, especially for our 200-300 top performers. We can provide them exclusive experiences such as helicopter rides and visits to golf courses, among others. We are currently exploring a possible trip to Australia for the T20 World Cup in October, for which we will need to launch a campaign for 300 top performers. We can add Melbourne, but with the budget in mind, we typically keep the trip to four nights."
New option for M!CE
This visit was a dream for Melvin Joseph, Deputy GM (Sales Service & Administration-Lifestyle), Raymond. "We have been visiting other popular countries, such as Dubai, Thailand, and Singapore. But we wanted to explore Australia. There are many prospects, especially in Sydney. We stayed at the Sofitel Darling Harbour, which was centrally located and near key attractions. The Sydney Cricket Ground and the Sydney Opera House were spectacular. Sydney is worthwhile for a five-night visit for a small group of 100 pax. This, combined with a cricket match, will appeal to Indian groups," he said.
From the perspective of a travel operator, Naveen Kukreti, Associate Vice President-M!CE, SOTC Travel, stated that when the pandemic began to wane, his company took several groups to Australia. "In fact, we recently did a 360-person incentive group from Prudent to Sydney and the Gold Coast. On the Gold Coast, we did adventure activities such as seaplane and chopper rides, which are also available in Sydney. This was the first group we took to Australia after the borders reopened. We have several groups lined up for Australia, especially timed around the T20 Series. We are doing an inventory search for around 3,000-4,000 pax. This will mostly be high-end incentive trips and leadership teams. Cricket matches usually see huge movements from India," he said.
Sharing the thought process behind planning the itinerary for this group, Samar Choksi, Business Development Manager, India, Tourism Australia, said, "We chose six corporates from Mumbai for this famil, of which one was cancelled. Our travel partner, SOTC, chose the corporates that were from different industries. We knew that none of them had visited Australia before, so we wanted to show them the icons of both the cities and some of the experiences that they could enjoy and, in turn, their groups could also enjoy, whether it is a small, medium, or large incentive group. We started seeing inquiries coming into Australia as early as March–April 2022, as soon as borders opened. We have a pipeline of approximately 10,000 people confirmed for travel this year itself. We also wanted to showcase cuisine, so we added western as well as Indian vegetarian food apart from non-vegetarian food. People have the misconceprion that there is no good vegetarian food available in Australia, so we wanted to bust that myth."