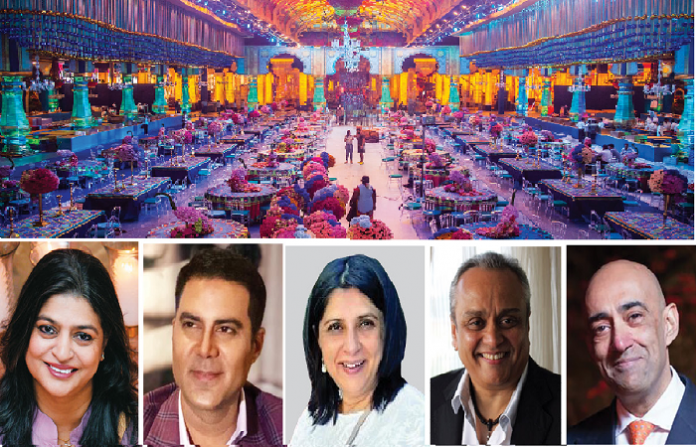 A panel discussion conducted by 1524 Delhi recently brought some wedding planners together who shared their perspectives on how this segment is likely to unfold
Hazel Jain
Vandana Mohan Founder, Wedding Design Company & Backstage Productions
Destination weddings will take a backseat this year and the segment will eventually see a V-shaped recovery. Indians are
resilient and are risk-takers, and I'm sure that when the demand returns, it will be back with a flood. For now, we are not
encouraging our clients to travel much. If they do want to travel, we advise them to travel either to driving distances or do a charter for a group. Also, we convey to them that they must travel within India, if possible. What hotels must look at meanwhile is to conduct virtual tours for planners and list down the specifications that are available for them to use during an event. This usually gets missed out.
Sushil Shamlal Wadhwa Founder & CMD, Platinum World Group
Until we have a real cure in sight, weddings and celebrations will be small, intimate affairs of around 50-60 people. The hotels stand to gain in the first wave, but the wedding planner may not have a big role to play. It may not be a viable proposition for us to put in that much effort for 50 people and not make that sort of revenue. So, hotels might be the bigger gainer. We will need to gear up with adequate resources and team members to be ready to handle the V-shaped recovery where we might be struggling with resources. I think we will see the real upswing from October 2021. The year 2020 will just be about keeping ourselves relevant.
Dinaz Noria Founder, 3D – Design & Décor by Dina
In the south of India where I live (Hyderabad), everything happens according to the muhuratam, which is the auspicious time and date for the ceremony. In fact, it is so important here that we have already started getting inquiries for weddings in August and October. But due to the restrictions for events, a lot of these families are asking if they can do their weddings outside India. The big question however is, how and where. Charter flights are one option, but sanitisation of the aircraft is a question and so is safety in hotels. That is where big brands come into the picture as they are the ones who can rebuild confidence among guests that their properties are safe.
Mahesh Shirodkar Managing Director, Tamarind Global
I have stopped making predictions; there is too much uncertainty. We are currently only engaging with HNI clients
and vendors. Everything will be ruled by government mandates. There are weddings in November and December, but the window of finalisation is going to be crunched. What could happen also is that wedding ceremonies might take place in India but couples may look at short-haul destinations in Southeast Asia and Middle East for post-wedding events. Flexibility in contracts and shortage of time in terms of confirmation of contracts from hotels is going to be the order of the day. Hotels might gain by doing virtual tours for each client. They must also look at having a loyalty programme for wedding planners to incentivise them.
Karan Singh Chairman & Co-Founder, 1524 Delhi
Encouraged by the feedback received from some of India's leading wedding planners, we are optimistic that the wedding industry will see a V-shaped recovery post the pandemic. Ultra-wealthy clients will continue to favour destination weddings. In the early part of the upcoming wedding season, we expect the demand to be largely for short-haul destinations requiring no more than one flight, such as Dubai, Turkey, Bangkok, etc. Post February, clients are likely to venture further afield and explore destinations in Europe and beyond.