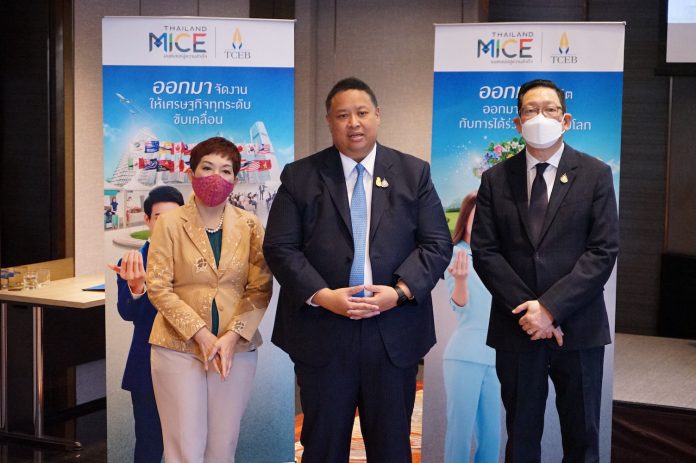 Thailand Convention & Exhibition Bureau (TCEB) has launched a new marketing campaign, "Thailand MICE Back", to stimulate MICE industry in response to the country's reopening through four strategic approaches. Using MICE events to drive local economy, the bureau projects to see 6,130,000 MICE travellers, generating 28.4 billion baht in revenue for the country.
Chiruit Isarangkun Na Ayuthaya, President of Thailand Convention & Exhibition Bureau (Public Organization) or TCEB said that, following the Thai government's policy put forth to support the reopening of Thailand and propel the country's economy, TCEB gears forward to stimulate MICE industry under the latest marketing campaign, so-called "Thailand MICE Back." The scheme aims to increase the confidence of both domestic and international MICE travellers, promote the continued organisation of MICE events, and attract world-class MICE events to the country. With cooperation from alliances in the public and private sectors, the campaign is implemented under four main strategic approaches or B-A-C-K, which are:
B: Build Confidences & Trust – The approach promotes the development of MICE standards targeting MICE entrepreneurs, venue operators and organisers through a series of standardisation programs, including Thailand MICE Venue Standards (TMVS); ASEAN MICE Venue Standards (AMVS); Thailand Sustainable Event Management Standard (TSEMS); and MICE Hygiene Guidelines, and Practices for Muslim Friendly Meetings and Exhibitions. Also, the scheme enhances innovation adoption for the MICE, such as event management application – BIZ Connect; comprehensive E-MICE Marketplace – Thai MICE Connect; and online databank and marketplace for MICE and tech entrepreneurs – MICE Innovation Catalogue.
Meanwhile, TCEB, as a premier agency for promoting Thailand's MICE capabilities, has recently been declared an organisation qualified to conduct skills assessment and provide certification for MICE personnel in accordance with MICE occupational standards. The bureau encourages MICE workforce to apply for the skills and knowledge certification and also aims to elevate the organisation to provide occupational certificates for MICE personnel in ASEAN.
Besides, TCEB is moving forward and preparing to become a CVB (Convention and Visitors Bureau) accredited with ISO 17024, an international standard which outlines criteria for the operation of a personnel certification body. The bureau also enhances competencies for MICE workforce in the event and incentive sectors in order to improve their career security in line with ASEAN Mutual Recognition Arrangement on Tourism Professionals (ASEAN MRA – TP).
A: Accelerate Dream MICE Activity – Following the Thai Cabinet resolution relating to corporate income tax, a company or legal partnership can deduct twice the amount of expenses actually paid for arranging training and exhibition in Thailand. The expenses to which this deduction applies must be incurred from 15 July to 31 December 2022.
In response to the measure, TCEB is accelerating the organisation of MICE events in the last quarter of the fiscal year 2022 through a series of stimulus packages designed to promote domestic events, namely meetings and incentives, conventions, and exhibitions that include new shows, upgraded shows, and exhibitions under the Empower Thailand Exhibition project (EMTEX). Organisations must comply with the terms and conditions in each category to be eligible under the scheme.
C: Communication and Inspire the World – Highlighting "THAILAND MICE" as a brand umbrella, TCEB has been promoting the awareness of Thailand's event industry by targeting audiences in 10 domestic MICE Cities as well as international audiences in Asia and Middle East regions. The effort is in line with the national public relations campaign, New Chapter of Thailand, launched in the post-Covid-19 pandemic.
The "THAILAND MICE" brand will highlight key messages on New Opportunity and New Invention, to be conveyed under the international brand campaign so-called "Thailand MICE: Meet the Magic" and the domestic brand campaign so-called "MICE Thai: Mon Sanae Su Kwam Samred."
Both domestic and international brand campaigns will utilise a 360-degree media integration approach with an emphasis on online media to engage the audience in the New Normal Era. The brand campaign will also be promoted via offline media, covering TV, Radio, Publications, Out of Home Media, as well as KOLs (Key Opinion Leaders) who will communicate their Thailand's MICE experiences, with the target to reach domestic and international audiences, no less than 75 million people/times.
Under the domestic brand campaign, "MICE Thai: Mon Sanae Su Kwam Samred", TCEB has recently launched a television commercial, using music marketing as a gimmick to encourage organisations in 3P sectors (public, private and people or civil society sectors) to arrange meetings, training, or seminars in different venues across the country. These corporate activities help increase work efficiency and promote unity toward the organisation's success. Also, they can contribute to local economies and take part in driving economic recovery.
K: Kick off World Events Bidding – Thailand is chosen as a host for many international MICE events, such as the International Conference on Family Planning 2022 (ICFP 2022), scheduled between 14 – 17 November 2022; the 62nd ICCA Congress (ICCA Congress 2023), scheduled between 12 – 15 November 2023; The International Horticultural Expo 2026 in Udon Thani, planned for 1 November 2026, to 14 March 2027; and the Thailand International Air Show which will be introduced next year. Highlighting Thailand's aviation potential, the air show will be officially announced in 2025 and take place in 2527.
Also, the country is proposing to host mega events that showcase the country's highest potential of all domains. Major events under the bidding process include Expo 2028 Phuket Thailand, which will take place from 20 March to 17 June 2028; and Nakhon Ratchasima International Horticultural Expo 2029, which will run from 10 November 2029 to 28 February 2030.
Meanwhile, a series of events will be held across the country in the last quarter of the fiscal year 2022. These events are such as Maintenance, Industrial Automation, and Robotics (MiRA) and SUBCON EEC 2022, which will take place in Pattaya between 24 – 26 August 2022; Defense & Security 2022 in Bangkok from 29 August to 1 September 2022; Health Living and Innovation Expo 2022 in Songkhla between 8 – 11 September 2022; and Korat FooDEx in Nakhon Ratchasima between 14 – 18 September 2022.
Between first and third quarters of the fiscal year 2022 (October 2021 – June 2022), Thailand has already seen 3,446,102 domestic and international MICE travellers, contributing 16.34 billion baht in revenue to the local economy. Meanwhile, TCEB estimates that the numbers of MICE travellers will reach 6,130,000, generating 28.4 billion baht in revenue in the fiscal year 2022 (October 2021 – September 2022).