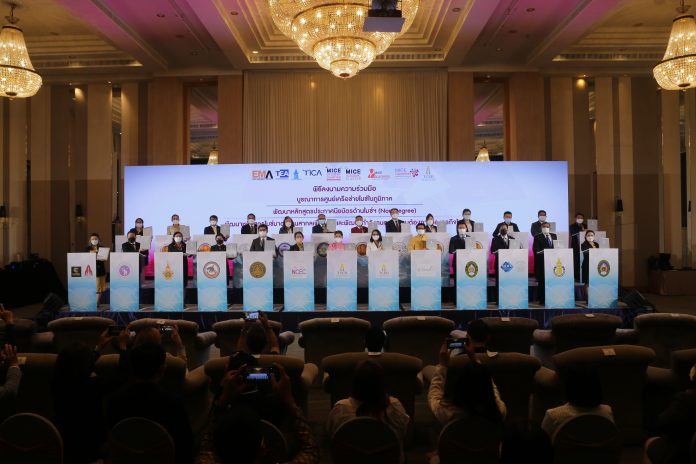 TCEB accelerates the strategy of MICE capability development as well as hastens to deliver a quality MICE workforce and builds collaboration networks for the development of regional MICE Business Centers to serve Thailand's reopening. Activities are organised to bolster content development and create jobs and occupations for the new generation of MICE workforce nationwide.  
Mrs. Supawan Teerarat, Senior Vice President-MICE Capability and Innovation, Thailand Convention & Exhibition Bureau (Public Organization) or TCEB, disclosed that, in the past period, TCEB accelerated the endeavour in integration of collaborations to expedite MICE capability enhancement through education network. The objectives are to drive regional MICE, distribute a quality MICE workforce, and raise the competitive advantage of MICE in all regions across Thailand in order to serve Thailand's reopening."
TCEB has formulated the strategy to expedite regional MICE and thus established TCEB regional offices to promote MICE nationwide. Currently, the development of MICE capability through educational networks in all regions has been completed with educational institutions across Thailand. MICE courses have been added to the curriculum in 136 institutions, comprising 87 tertiary education institutions and 49 vocational schools. MICE courses are available at 33 different institutions. All of which can produce more than 50,000 MICE students in tertiary and vocational education institutions each year on average. Moreover, TCEB has further developed the capability of educational institutions by transforming them into MICE Business Centers, which will help to expedite the distribution of MICE across the nation. Establishing an education network is therefore a vital mechanism, as it enables MICE to tap into other regions, as well as all other sectors in each district. The education network also co-operates and bolsters marketing, as well as synergises the development of capability in all dimensions, generates income, creates jobs, and efficiently drives the local economy through MICE events held in the region.  
TCEB has begun to form a MICE education network since 2016. The network has been accelerated by expanding the framework towards becoming a MICE Business Center, which provides a One-Stop Service. Currently, there are 11 centres across all regions, from central to the west, the east, the upper and lower northeast, the upper and lower north, and the south of Thailand. These centres are joining forces to expedite and develop MICE businesses in all regions, with the ultimate goal of bolstering Thai MICE businesses to continue growing with security and sustainability based on internationally competitive standards. 
According to the survey 'Meetings Outlook: 2022 Spring Edition' conducted by MPI (Meetings Professional International), it was found that the COVID-19 pandemic has caused people to realise the importance of face-to-face events. 64 per cent commented that businesses will probably resume their growth from 2023 onwards. For this reason, the event budget has been determined to increase, as well as employment volume. The employment rate in the MICE industry also has a tendency to rise. Survey results indicated that more than half of the respondents had encountered problems related to recruiting qualified employees compared with the latest quarter, proving that MICE has begun to thrive again. 
TCEB has therefore accelerated the development of MICE capability in 3 dimensions, including Content Development, Connection Development, and Career Development, to serve international MICE markets. In addition, TCEB has prioritised the national strategy of producing a high-performing workforce in line with the demands of business premises. TCEB has also accelerated the production of an occupational-level workforce with regard to feeding occupational graduates into a quality MICE job market to support the economy, promote employment, and circulate revenue from MICE activities and employment to other regions.   
Furthermore, TCEB held activities to promote the acceleration of knowledge, job and occupation creation, and the cultivation of new skills for MICE personnel during June 15–16, comprising five major events as follows: The 13th Coach the Coaches Program for the MICE Industry for the acceleration of basic MICE knowledge for instructors, entrepreneurs, and all those interested with the objective of enhancing Thailand's image as the centre of education in ASEAN; the 6th MICE Career Day 2022 for the promotion of job creation via the online platform 'MICE Career Platform' developed to generate employment between business premises and students; the Young MICE Ideators 2022: Metaverse for MICE Industry 101 for the preparation of compulsory and essential knowledge on Metaverse in MICE industry for new generation people; the MICE Industry 101 for the preparation of new core skills in the Technology Disruption era and Skill Force following a global revolution era; the Thailand MICE Youth Challenge 2022 for the national competition of MICE business models to seek Thailand's most qualified teams to participate in the business model contest at an international level; and the 6th MICE Academy Day 2022, featuring nationwide MICE Academy Cluster with the objective to develop and promote sustainable MICE for upstream personnel who could be future MICE leaders through standard MICE education.  
Moreover, the signing of the memorandum of understanding (MOU) has been initiated in 3 dimensions, which are: 1) integration of collaboration between regional MICE Business Centers, comprising TCEB and 11 MICE business centers; 2) collaboration in the establishment of a Non-Degree transfer project to implement Credit Transfer/Credit Bank system between TCEB and 5 MICE educational institutions; and 3) collaboration in the international-standard MICE curriculum between TCEB and 13 educational and occupational institutions in regard to jointly expedite the potential of the MICE industry to serve the growth and expansion of the MICE business sector in a way that suits local requirements and ensures regional integration across the country. 
The Assistant Professor, Dr. Niwat Keawpradab, President of Prince of Songkla University, disclosed that the university has always prioritised the betterment of the MICE industry. The area is not only the location of the 60th Anniversary of His Majesty the King's Accession to the Throne International Convention Center, but the ICC HAT YAI is also the largest MICE venue with international standards in Southern Thailand. The University has always supported outcome-based teaching and learning, especially the Active Learning approach and experiential learning. all of which have encouraged collaboration and thus brought about the establishment of the Southern MICE Academic Cluster (SMAC). Additionally, a regional MICE business centre was established with the name Songkhla Convention and Exhibition Bureau (SCEB), which is considered the development of a new learning platform for lifelong learning. Students can participate and undergo training to gain actual experience in the industry. They can also use this knowledge as their research studies to expand their insight in relevance with compulsory skill development for MICE personnel in the new normal era.
Mr. Ariya Banomyong, Co-Chief Executive Officer, CMO Public Company Limited, revealed that current situations inside and outside of our country have gradually improved. People have resumed their routine activities and begun to travel, emphasising that all countries are unlocking themselves from previous circumstances. The Thai MICE industry has the potential and opportunity to grow like in other countries, whether it is Dubai or Singapore. However, Thailand has seldom held events at a regional level recently, even though businesspeople and travellers in the business event category have always had Thailand on their mind. Therefore, now is the most suitable time that we can contribute to restoring the local economy through the MICE industry, be it hotels, accommodation, travel, restaurants, or shopping centres. Thai MICE has a market value of up to 230 billion baht in 2019 and is foreseen to increase to 420 billion baht in 2027, based on the yearly growth rate of 11.63% from 2021 to 2027. What the CMO PCL will do can be either a homegrown event or a business event delivered under the CMO brand. So to speak, our conferences have not only featured hundreds of globally renowned speakers but also attracted visitors from other countries, as the conferences held by our company could make neighbouring countries want to attend too. Besides providing knowledge, the conference is able to encourage the Thai economy through the MICE industry.  
"TCEB has targeted the development of MICE capabilities in terms of education. TCEB has provided support through the establishment of a training division and a MICE occupation test division at 10 MICE education network centres nationwide. TCEB has created jobs for 5,000 staff and new graduates through on-site operations at cities in which events are held. In addition, TCEB has developed the MICE Career Platform and successfully matched more than 1,000 jobs. Additionally, a MICE Student Chapter has been created for the cultivation of 5,000 young MICE entrepreneurs by 2023," concluded Supawan.