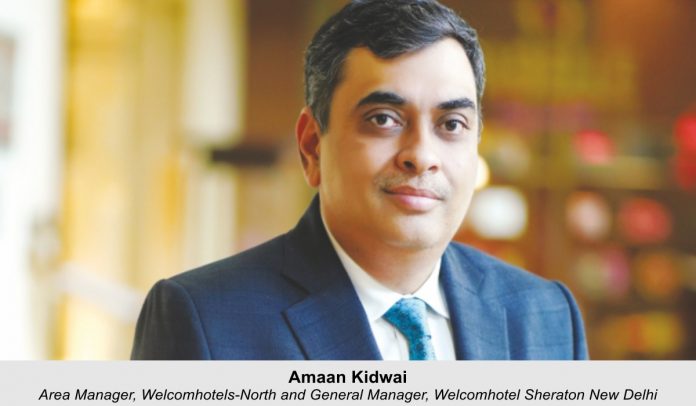 When pandemic forced weddings to downsize, the call for sustainable nuptials grew stronger, louder.
Lipla Negi
In the aftermath of the pandemic, which by the way is still around and not going anywhere, sustainability came out as the silent winner. While the crisis hit the hospitality industry hard, it swiftly brought the need for sustainability to the forefront. Marching forward from its peripheral role to the centre of the recovery roadmap, sustainability grabs the spotlight at big fat Indian weddings too. An increasing number of millennials and hoteliers are pushing for more efforts to turn extravagant weddings into eco-friendly ones. As COVID-19 restrictions cut the wedding party to a size of 50 or fewer guests, young couples and some foresighted hoteliers saw this as an opportunity to make a strong case for sustainable weddings.
A Pandemic twist
Though involuntarily, the pandemic became a catalyst, pushing hotels to integrate sustainability into day-to-day operations as well as future strategies. Agreeing to the role of the pandemic in tweaking the way we ring in celebrations, Amaan Kidwai, Area Manager, Welcomhotels-North and General Manager, Welcomhotel Sheraton New Delhi, said, "The pandemic has challenged the norm of big fat weddings. In today's scenario, a rising number of couples are keen to reduce the carbon footprint of their wedding through intimate events with their immediate family and friends."
As the focus shifted to nurturing nature for a better future, couples started seeking brands and properties that could help them with an eco-conscious wedding where both the planet and people are celebrated in harmony. "Climate change is a much discussed topic amongst millennials these days, and it is one of the biggest contributors to the environmental crisis that we are witnessing. They want to live with an intent that is focused on reducing the harm to the environment through their interactions," he opined.
Small, spectacular
For some, it might be difficult to perceive how sustainability complements the magnificence of a big fat Indian wedding. However, the pandemic smashed that perception too. When COVID-19 restriction forced weddings to cut the frills and squeeze the wedding party to a guest list as small as 50 people, sustainability found its perfect partner in small. "CGH Earth's venues cater to residential weddings of 50 to 200 people. Pre-COVID-19, we found fewer couples opting for this scale of weddings in India. Despite the lifting of government regulations, we find that people are opting for a smaller scale of weddings. As a result, we are seeing more people choosing to make their special day unique and intimate," states Michael Dominic, Chief Executive Officer, CGH Earth Experience Hotels.
Unexpectedly, size drove the demand for sustainability with hotels, from boutique to luxury, brainstorming to incorporate eco-conscious touches, including second-hand décor, biodegradable cutlery, water bottling plants, minimising food waste and avoiding one-time use products. An increasing number of brides and grooms, on the other hand, are trying to ring in sustainability with planet-friendly choices such as wedding invites made from recycled paper, pots and plants as gifts for guests, less use of fresh flowers, and opting venues that offer sustainable options.
Outdoor Nuptials
Sunlight, clear blue skies, lush trees and greenery, balmy beaches and postcard-perfect lawns—open venues offering natural beauty witnessed a surge in demand post-2020. Covid protocols, such as social distancing, whet the appetite for open lawns as preferred venue choice. With a virus looming around, a packed air-conditioned hall did not entice them anymore. As per Kidwai, the pandemic reintroduced people to the charm of open lawns. "More guests at Welcomhotels are choosing outdoor wedding setups for day events, making the best use of natural light and air. They are choosing decor concepts that have recyclable natural elements," he shares while adding, "Combine open lawns with grand heritage, like you get at Welcomhotel Amritsar, and guests get to envisage a green wedding with a historical backdrop."
Driving to an offbeat destination with your wedding party in tow has also popped up as a big travel trend. Dominic believes that solemnising one's nuptials at an offbeat destination offering breathtaking views gives an opportunity to combine rejuvenation with celebration. "CGH Earth's unique wedding venues on the backwaters, in a spice garden, a royal residence, a vintage hotel on the waterfront, and on the beach have all become desirable choices. We also find couples and their families choosing CGH Earth for the values of the brand, which are being sensitive to the environment, benefiting local communities and having an overall ethos that is local," explains Dominic.
Intimate, immersive
Intimate worked wonderfully for sustainable weddings. The fewer the guests, the higher the wedding's sustainability score. Intimate weddings help hotels save money on food costs. It also helps them curate a more immersive experience. Dominic believes that young couples are choosing immersive over extravagant and hence zeroing in on properties that speak sustainability clearly. He shared, "Intimate weddings at CGH Earth are plugged into the ongoing offerings of our resorts and hotels, where most weddings are residential in nature. The very core of our offering revolves around responsible tourism and sustainability practices. Couples who align with this thought seek us out. All of them, when on their recce, are inspired by all that we do. And though we do not control the wedding decorations, we see couples responding to our spaces and making choices that do not impact the environment."
To help guests reduce carbon footprints, hotels are increasingly looking for innovative and sustainable ideas to make a wedding unforgettable yet kinder to the planet. "Just replace unmindful consumption with mindful planning," suggested Siddharth Chakravarty, Sustainability Director, Six Senses Fort Barwara, and added, "By choosing a seasonal menu, going for smaller portion sizes, going hyper-local with experiences, employing renewable sources of energy, choosing natural materials, and ensuring no extra single-use plastic packaging is used, we can streamline the guest pick-ups and drops with more planning, employing cars and buses from the hotel for local transport, using more open spaces to reduce electricity usage, and recycling or no trash wedding décor can be planned."