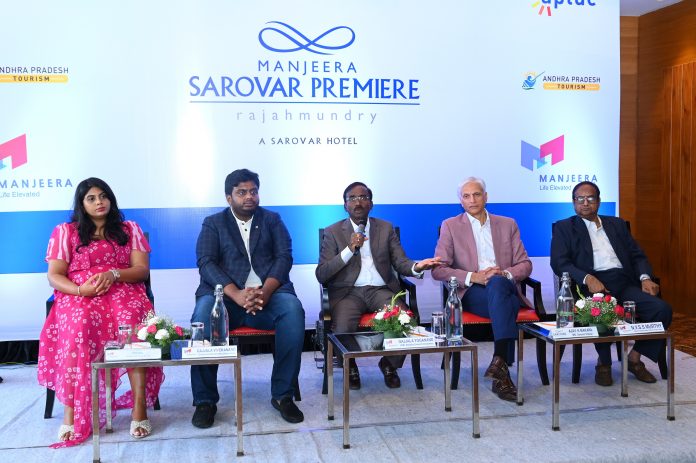 Sarovar Hotels along with Manjeera Hotels and Resorts Pvt Ltd, part of the Hyderabad-based Manjeera Group, with a 35-year legacy of envisaging life-enriching spaces and structures in real estate, hospitality and infrastructure, formally introduces its 5 star hotel, Manjeera Sarovar Premiere and Manjeera International Convention Centre at Rajahmundry. The new hotel was celebrated in the presence of G. Kishan Reddy, Honourable Minister for Tourism and Culture, Govt of India, along with Ayodhya Rami Reddy ALLA, Member of Rajya Sabha.
The hotel and the convention centre have come up on 6 acres of land leased by the Andhra Pradesh Tourism Development Corporation. Developed under the state government's Public-Private Partnership initiative, the hotel is going to boost travel and tourism in the twin districts of Godavari.
Speaking on the occasion, Mr. G Yoganand, CMD, Manjeera Group, said, "We are delighted to introduce 'Manjeera Sarovar Premier' here in Rajahmundary, our first hotel in Andhra Pradesh. Rajahmundry, ranked amongst the oldest cities in the Indian subcontinent, once the seat of the powerful Chalukyas, is the 'cultural capital' of AP, known for its rich tradition, arts and culture. Our hotel here is going to facilitate business travellers and tourists alike. We thank AP Tourism Development Corporation for their support extended to building this hotel, local bodies for granting necessary permissions and Tourism Financial Corporation of India for extending their support to the project financially."
Mr. G Yoganand further added, "Over the last two decades, we have acquired expertise in constructing hotels with a high degree of efficiency and functionality. All our hotels are designed with the latest features and futuristic technology and are built as per standards laid down by the government and other relevant agencies. They are managed by professionals and operated by Sarovar Hotels. Utmost care is given to safety, hygiene, comfort, service and value for money, suitable for a wide cross section of travellers."
Commenting on the development, Mr.Ajay Bakaya, Managing Director, Sarovar Hotels, said, "With the addition of Manjeera Sarovar Premiere and Manjeera International Convention Centre, our position in the AP Market, in line with the brand's growth strategy, has further been strengthened. Sarovar Hotels has a long standing association with Manjeera Hospitality spanning over two decades, and this is Manjeera's fourth venture, which too will be managed by Sarovar Hotels."
The unique feature of this development is that the hotel boasts 35,000 sq. ft. of convention and meeting space, the largest in Rajahmundary. Mr. Ajay Bakaya further added that the addition of Manjeera Sarovar Premiere to the chain of hotels managed by Sarovar Hotels follows the growing trend of business and leisure hotels along with the brand's quality assurance and 'Signature Sarovar Hospitality'.
Mr. G Yoganand, CMD, Manjeera Group, further reiterated, "Manjeera Sarovar Premiere is an upscale hotel with contemporary interiors featuring 105 well-appointed rooms and suites. The Manjeera International Convention Centre (MICC), which hosts three spacious and well-equipped halls and a lawn capable of hosting small, medium, and large events, can together host up to 5000 guests. Rajahmundry is a promising travel destination that offers a blend of picturesque landscapes, monuments of cultural importance, ancient temples, and adventurous tourist spots that make the place unique, interesting, and suitable for tourists of all ages. The emergence of Manjeera Sarovar Premiere and the Manjeera International Convention Centre at Rajahmundry are major developments towards enhancing the local tourism infrastructure and will foster the travel and tourism industry in the region."
The multi-cuisine restaurant 'Flavours' at the Manjeera Sarovar Premiere is set on the lobby level and showcases an elaborate menu featuring dishes from across the world. It is spacious and features large French windows that overlook verdant lawns. The hotel's Chill Lounge Bar is the perfect place to sit back and relax after a long day. The hotel features spacious banquet halls that can be used to host both social and corporate events with ease.
The hotel is designed around the brand's lean-luxe design and service philosophy of offering a vibrant, contemporary, and seamless hospitality experience to its guests.