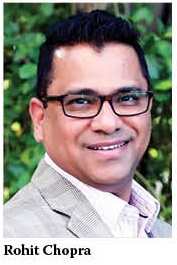 Business associated to weddings, social events has replaced corporate M!CE,incentives and charters, says Rohit Chopra, Regional Director, Sales & Distribution, Accor India & South Asia
Hazel Jain
What is your perspective on the M!CE segment opening up?
The M!CE industry almost came to a standstill in 2020 leading to a big dent in the structure, functioning and finances of many businesses. Since the lockdowns have been lifted, we have witnessed a significant shift in the nature of M!CE business. Business associated to weddings, social events and sports has replaced corporate M!CE, incentives and charters, which used to be demand generators in 2019.
To encourage demand, one of the key factors in 2021 will be flexibility on commercial terms & conditions, given that these are unique times. Moreover, as international travel restrictions continue, domestic business will be driving M!CE revenues for the near future. While we did see a drastic increase in demand for M!CE in February 2021, in the last two months we have also witnessed an increase in cancellation or rescheduling because of the escalation in COVID-19 cases. Business travel and M!CE will be extremely slow, we can expect a revival closer to the festival season, in October, depending on cases and vaccination.
What segment of M!CE do you think is opening first?
While we can expect sporadic demand in segments like weddings and sports, movement in industries such as pharmaceuticals, electronics, automobile, sports, manufacturing, movie production houses and white goods should witness a faster rebound Q3 onwards.
Have your corporate clients already planned for this year?
We are confident that companies would prefer in-person and socially distant meetings and discussions for business transactions rather than conducting events virtually. Moreover, as international travel restrictions continue, domestic business will be driving M!CE revenues. For India, we have been receiving some queries from corporates for 100-200 pax from Q3 onwards. But they are also keeping a keen watch on the currently developing COVID-19 situation in the country. We have been getting queries for Q4 2021 for safer, longhaul destinations, and can expect similar interest for shorter haul destinations from Q3 2021.
What should hotels focus on right now?
The focus has to be on forging the right partnerships to push M!CE for hotels in India today. We are looking at new ideas and concepts for our hotels such as Novotel Hyderabad Convention Centre, Novotel Hyderabad Airport, Pullman New Delhi Aerocity and Sofitel Mumbai BKC. Their expansive space will help us continue to adapt & provide experiences at various levels for all our guests.
QUICK BYTE The focus has to be on forging the right partnerships to push M!CE
Rohit Chopra
"We have been receiving some queries from corporate for 100-200
pax from Q3 onwards"