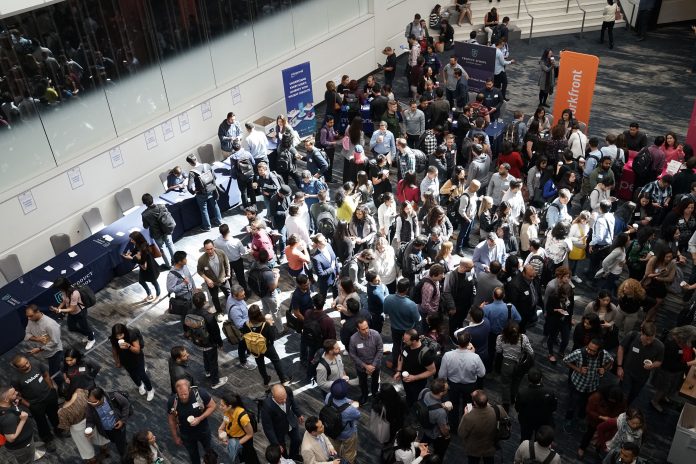 The Events Industry Council (EIC), the voice of the global business events industry, has today released its 2022 Q1 Global Business Events Barometer, which monitors the changes within the market relative to pre-pandemic (2019) levels and explores two key areas, hotel group room nights and request for proposal (RFP) activity.
According to the Barometer, 80% of global companies surveyed resumed domestic travel in 2022 Q1 (up 16% from 2021 Q4), and more than half (55%) had resumed international travel (up 77% from the previous quarter) following the easing of COVID travel restrictions across the world.
However, recovery across the business events sector eased in 2022 Q1, in part due to the impact of the Omicron variant in key markets. The slight step back in the recovery was indicated by both RFPs (down 2% from 2021 Q4) and hotel group room nights (down 10% from the previous quarter).
There were some modest recoveries in group activity through the start of 2022, occurring in the Middle East, North America and Asia-Pacific regions, as indicated by the hotel group room nights index.
The Barometer also revealed a slight decrease (down 3% from the previous quarter) in events booked with shorter lead times (within 12 months). RFP activity for events in future periods increased slightly (up 2% from the previous quarter) but was still significantly lower than 2019 levels.
Adam Sacks, Managing Director of Oxford Economics, said: "Global business events face a longer recovery trajectory than other travel segments, but in-person events remain indispensable to business competitiveness, and we expect continued recovery as global travel resumes."
Commenting on the 2022 Q1 Barometer, Events Industry Council CEO, Amy Calvert, said: "The start of 2022 hasn't been without its challenges, with the reality of variants and adjusting to living in an endemic state as well as the Russia-Ukraine war and unstable geopolitical and economic realities impacting our performance and our people. While there has been ease in recovery for the global business events sector, it is important to reflect on the progress that we have made so far and to recognise and celebrate the efforts that have been made to adapt and innovate to offer experiences that drive impact.
"We will face the inevitable ebb and flow caused by these realities. However, I am confident that we will continue to demonstrate resilience and collaborate in an effort to share best practice and insights as we navigate our continued recovery."
The Global Business Events Barometer was created by Oxford Economics using data provided by Amadeus Hospitality, Cvent, the Global Business Travel Association and STR Global.
The report has also been generously supported and sponsored by a number of leading organisations, including ADMEI, AHLA, ASAE, Freeman, IACC, IAEE, IRF, Los Angeles Tourism & Convention Board, Maritz Global Events, Meetings Mean Business, MGM Resorts International, MPI, Northstar Meetings Group, NYC & Co, PCMA, RCMA, SISO, and SITE.