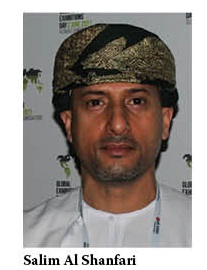 Salim Al Shanfari, CEO, Oman Convention and Exhibition Centre talks about their plans to make Oman a more lucrative M!CE destination.
Shehara Rizly
How does it feel to attend an in-person event in Dubai?
It is a pleasure to be back in Dubai to attend the UFI MEA Chapter and Congress. It is an amazing feeling and it gives us hope to see the light at the end of the tunnel and to bring the business back to what it was before the pandemic. We look forward to seeing more of such events and networking with our colleagues from the industry to find solutions which can enable us to take the events industry to the next level.
What were the initiativestaken during the past year in terms of the industry?
The last year was a year of reflection, reviewing and assessing how we were performing and how we could help and support the industry. We worked on the structure of our pricing, the structure of our commissions and the way we do business. We also looked at the industry from a level of what risks do they have and what challenges do they go through and how to work as a team to get out of this crisis.
Could you share the collaborative efforts with the government to uplift the industry?
We have worked very closely with the government on different programmes, especially in terms of healthcare, storing medical equipment and supporting the needs of different people. Currently we are working on a mass vaccination programme with the government that would enable us to cover 30% of the populace by end of August. Hopefully before the end of the year the government can cover 80% of the populace, so we work side by side with the government. The government provides experience on the medical side and we provide our event experience to ensure that we get out of this situation as soon as possible, together as a team.
How do you foresee the future of the events industry in Oman?
We are hoping that by Q4 we will see some movements in terms of events, exhibitions and conferences. Next year we are expected to host quite a few international conferences including the UFI Congress which will happen in Muscat in November 2022.
We are looking at attracting more international conferences to the country, we would like Oman to be a destination in the Middle East to attract businesses. Oman is still undiscovered from an events and exhibitions perspective. Oman as a country is beautiful, it has a unique culture & history. We are keen to work closely with the government in terms of the national tourism strategy and achieving the 2040 vision of the country to attract more visitors and investors.
Our focus in the coming year will be mainly on positioning Oman as one of the leading destinations in terms of tourism and attracting investors from around the world.
Salim Al Shanfari
"We are hoping that by Q4 we will see some movements in terms of events"
QUICK BYTE :We would like Oman to be a destination in the ME to attract businesses