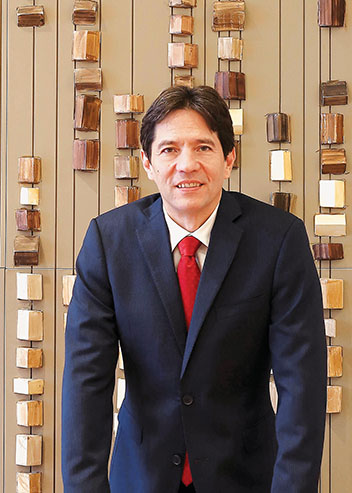 Daniel Chao, Area General Manager, Novotel & ibis Chennai OMR and Novotel Chennai SIPCOT talks about the new opening of the combined property, Novotel & ibis Chennai OMR, and shares his views on the city's myriad offerings for business travellers
Jessy Iype

Kindly elucidate on the room infrastructure and the MICE facility of this new property for your business and leisure guests?
Novotel is 153 rooms, while ibis is 189 rooms property. We have a main ballroom in Novotel, Cappucinno, which can accommodate 250 people. We have five breakout rooms in Novotel which can be reconfigured in different ways so we can accommodate 3-5 breakout meetings or smaller meetings. ibis also has a meeting room that can accommodate upto seven people.
Both properties have F&B room service, room dining and very talented kitchen team that can offer many different styles of cuisine be it North Indian, South Indian, fantastic pan Asian, Mexican food, which is very well defined. The team is very creative and thrives on challenge. We offer great menu options, theme dinners, theme breaks, theme parties, theme breakfast, theme meetings. A lot of creativity can be dashed into these.
Nowdays hotels across have incoporated contemproary technological trends, what are your offerings in your hotel?
We offer a full gamut of audio video services that are fully up-to-date, we are lucky to be in a market that is large enough in case of special, extraordinary needs and have lot of talented partners to work with. One of the great advantage is our large network of the 7 hotels here, where we can negotiate based on volumes and business to accommodate anything and at a competitive price.
What will be the focus of clientele for this property?
For this property, because of the nature of the market, it is primarily suited for business travellers and Indian national, young middle-age professionals across many industries. Chennai has a variety of market be it automotive, IT, hardware and software, among many more diverse kinds of industry.
What incentive options do you have for MICE groups?
We are still developing. We have a good opening offer for our individual guests, 'Stay three, Pay Two', although we are still developing on our MICE offers. For example, we can organise conferences then plan a tour of the city for MICE groups.
What kind of different cuisines do you plan to offer to your guests?
Chennai is an interesting city that offers vibrant food and beverage scenario. One has to be competitive and innovative in that kind of market. We have suitable North and South Indian cuisine offers, for world cuisines and new style of presentations and innovations. We have larger teams and so the options to have more specialists is an advantage.
If you have maybe 6-7 people in your kitchen, then you have less scope to hire a specialist be it an Asian speicialist or dessert specialist or pastry one.
Can you eloborate on environment friendly measures taken in the property?
Accor as a group is heavily focused on environmental concerns. We have a worldwide environmental programme, 'Planet 21' and we as managers are evaluated on our performance with respect to environmental protection. 'Planet 21' helps us in succeeding in meeting our energy saving goals, our recycling goals, conservation goals and CSR and also from a personal perspective, its always been a big part of my management as well. I think we are trained early on. In this hotel, we have incoporated smart lighting systems because we intend to conserve energy.
Our water distribution in the room includes water recycle, we also have a very sophisticated air conditioning system which is designed to minimise energy consumption, solar panels on the roof, are some examples of our environment friendly measures. We have done some heavy investments on them.

What is your vision for the hotel and what marks your USP?
The USP of our hotel is difficult. But, I would say our brand and the strengths that goes with it, whether it is our loyalty programme or our worldwide network and expertise, our combo aspect of the property is a huge USP, because it offers a choice possibilites for our guests. Our focus on our people, our size in Chennai and worldwide gives us the leverage to invest more in training, to hold onto people who aspire for a career as we offer tremendous potential for growth.