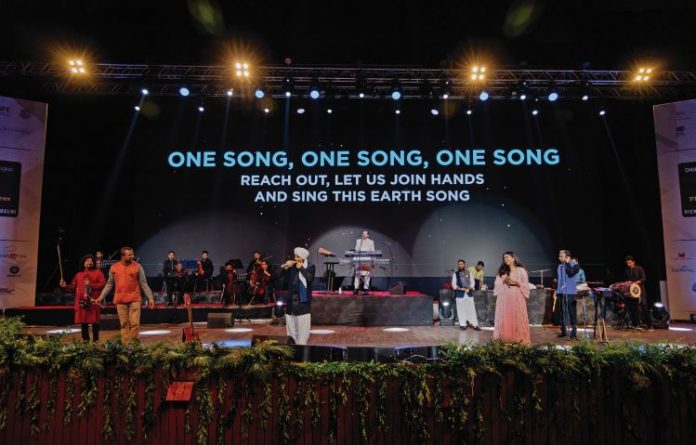 Planetary Voices unifies music and multimedia to champion sustainability, environmental awareness and a green future. Through a groundbreaking concert featuring Ricky Kej and eco-friendly measures, it supports India's Mission LiFE.
MT Bureau
Planet Voices is a unique and inspiring initiative launched by Rashi Entertainment that combines the power of music and multimedia content to promote sustainability and environmental awareness. Planet Voices is a creative platform that seeks to engage, inspire and educate people about the importance of caring for our planet.
The inaugural concert of Planet Voices, featuring the three-time Grammy® Award winner Ricky Kej and 20 exceptional musicians, took place on August 12th, 2023, at Siri Fort Auditorium. The event was not just about music; it was a collective endeavour to support India's Mission LiFE (Lifestyle for Environment), championed by the Prime Minister and the Ministry of Environment. Mission LiFE emphasizes individual action as the cornerstone of climate responsibility.
Emphasising on sustainability, Rachit Jain, Director, Rashi Entertainment said, "Sustainability was at the core of our event. We implemented several initiatives, including strict waste reduction practices, extensive recycling efforts, and the use of eco-friendly materials for everything from event decor to merchandise."
He further revealed, "The event used seed paper for invitations, Sun Fabric which is a 100 per cent eco-friendly, and recyclable material for branding, and reusable cups for refilling. Waste was sent to a Materials Recovery Facility for recycling. Attendees were encouraged to reduce their carbon footprint by promoting carpooling and eco-friendly transportation options."
Jain highlighted the challenges faced during an event, including changing attendees' habits to reduce plastic waste and managing waste properly. They replaced plastic water bottles with reusable cups but struggled to educate attendees on using them for drinking water. They partnered with waste experts for recycling.
Jain highlighted that sourcing sustainable supplies was also an unexpected challenge for them. "Finding suppliers who could provide sustainable materials and products for our event, such as eco-friendly banners, was another hurdle we had to overcome. This meant researching and negotiating with new vendors who could align with our sustainability goals," he said.
Jain exclaimed, "The success of the event can be attributed to Ricky Kej's music and sustainability themes, top-notch audio-visual elements, and Rashi Entertainment's commitment to sustainability and innovation. The sold-out crowd shared the company's passion for sustainable practices, and the support of patrons and partners like Ricky Kej and the United Nations and Ministry of Environment was crucial in realizing the Planet Voices vision."
Jain acknowledged the cost of hosting sustainable events was high, primarily due to the use of eco-friendly materials and waste management services. Despite these expenses, generous sponsorships from companies like Dell Technologies and Mercedes-Benz compensated some. He emphasized the need for government systems to make sustainable materials accessible and affordable.
"Planet Voices unites artists, musicians and environmentalists to inspire and empower individuals to nurture the environment for a sustainable future"
Rachit Jain, Director, Rashi Entertainment