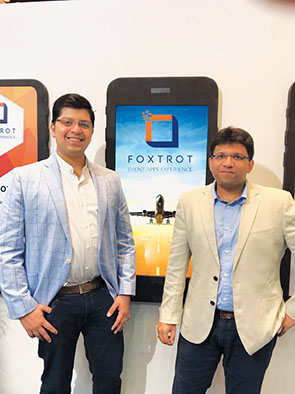 Having started operations in April 2017, Foxtrot Interactive, a white-labelled event app targeted at the MICE industry, has seen sales of Rs 8.8 million from 23 corporate customers and 37 projects and will be launching two new products in the new year. Co-founders of the app, Unmesh Vaidya and Naasir Merchant, talk about their journey…

Peden Doma Bhutia
How did Foxtrot come into being?
In November of 2016, both of us realised that there is ample scope to pioneer how the MICE industry uses technology. Between the two of us, we had 25 years of experience in the travel and sales domains, and in organising conferences, meetings and incentives for corporates. We realised that what we had in mind was something the MICE industry desperately needed, so we decided to take the plunge and Foxtrot Interactive was born. What also aided us was the fact that the country was seeing an increasing number of smartphone users, more people on social networks and alternative communication platforms and more clients willing to go the digital way.
This is not a very easy domain, with the kind of coordination that is needed at various levels and keeping so many clients happy. How difficult was the journey?
When both of us had the idea of getting into the tech side of MICE, lot of people rebuked as to how can two sales guys get into a domain which they don't have any expertise in. We realised that this was our biggest challenge and we decided that the first step is to get a Chief Technology officer (CTO). We got a CTO who took the challenge of making a team ready to hit the market with the entire backend process.
Two of us were purely involved with the frontend and making a team of desired individuals who are well versed with the travel industry. There was some competition from IT players but we wanted Foxtrot to be a one-stop Technology Applications organisation of, by and for MICE individuals. There were initial talks of making a DIY panel and selling the same to corporates as well as travel agencies, but then we did adequate research and figured out that any SaaS software today in any domain requires a lot of handholding in the beginning. The general tendency in India of tech-related products is that the end user does not like to do anything on their own buts want everything to be managed by someone who specialises in that domain. Understanding this, we got in content and creative personnel as well as data feeding resources to help a travel agency or a corporate which would make life simpler for all concerned and add a lot of value to our products.
We realised with so many parties, resources and personnel being involved, we need to have SOPs in place to manage things, scale as well as keep clients happy. As one would expect we faced some teething problems, but today we can proudly say we work like a well-oiled machine.
How would you say you are different from your competitors who have similar event apps?
We are not just selling to every new corporate. With every new app, we bring about a small
to the UI or the design interface. Our application is robust and coupled with its intuitive user-interface and accessibility across different mobile operating systems, it is rapidly emerging as the go-to solution for large-scale event organisers or corporates to plan their group travels and conferences. Foxtrot's biggest difference from the competition is our frontend and backend personnel who are from the industry and understand the nuances, intricacies and dynamics of the trade which gives the clients a breather than going to "just an IT Player".
Between the two of you, you have a good amount of experience in the travel and sales domains, and in organising conferences, meetings and incentives for corporate. How does your own work experience help you in this sphere?
Having 25 years of combined experience between the two of us and at least 50 years of blended experience in the team that works on the front end, it gives us a sharp edge when we go to corporates. MICE continues to remain one of the most unorganised and cluttered space in travel with a new company being born every month. Our experience gives us a huge advantage when we set foot in the market with smaller and minute details being taken care of. In certain cases when we sell our apps, we keep that window open to customise tabs in the app as per the client's requirement. We understand and are able to predict the pain points which leads to increased operational efficiency of the travel agency or the coordinator from the corporate's end.
What are your expansion plans? You've been talking about developing a payment gateway on the app, is that available now?
In a short span of eight months, Foxtrot has seen sales of `8.8 million from 23 corporate customers and 37 projects and will be launching two new products in the new year. Our client list includes Axis Bank, Kotak Life Insurance, Kotak Mahindra Bank, Akbar Travels, JSW Steel, Crompton Greaves, Bajaj Electricals, Bajaj Allianz, St Gobain, Prudent Advisory and EAI Systems, among others. We have incorporated a payment gateway for corporates and travel agencies who need it as per their app customisation. Other important features that we have in the app currently are uploading of documents, especially for countries with E-Visa facilities.
A passport copy being uploaded is of utmost necessity for ticketing and taking visa appointments for Schengen and other countries. We are based out of Mumbai, but have sales offices in Pune and Bengaluru. On the international front, we have tied up for distribution with a company in UAE and Sri Lanka and our app will be sold in the markets from January 15, 2018. Thailand, Malaysia & Indonesia (specifically Bali) are the next set of countries that we are in talks with partners to distribute the App. Also on the product front, we had a soft launch of our wedding management app called "Grace" which is a customised app for destination weddings. Since this is a pure B2C product, come January, rampant online marketing efforts will be used to get in sales and we have hired a specialist Wedding Planner to distribute this. Also in the offing is our campaign management app, "Step Up" which was soft launched in Bengaluru in September 2017. We have got quite a few pre-orders and delivery will commence from February 2018.