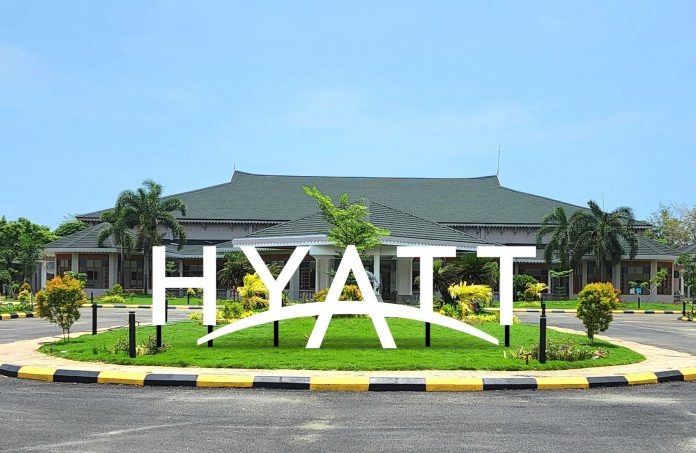 Hyatt Regency Thrissur has announced the opening of one of the largest convention centers, LICC (Lulu International Convention Centre), in Thrissur, Kerala. Spread over 96,000 sq. ft., it is the largest of its kind in the Tier 3 cities of the country. It can accommodate a total capacity of over 5000 with diverse seating options. The newly opened convention centre offers multiple and flexible event spaces for conferences, weddings and other events.
LICC features nine state-of-the-art meeting and convention spaces. Pearl-a grand ballroom of 20,929 sq. ft., Regency-a palatial ballroom of 11, 750 sq. ft., Opal-a large ballroom of 10, 639 sq. ft., Regal-a pillarless ballroom of 9, 275 sq. ft., Sapphire-a hall of 7, 769 sq. ft., Amber-a ballroom of 7, 098 sq. ft., and Nattika-a hall of 2, 378 sq. ft. Other spaces include two prayer areas and VIP lounges. It also has a private helipad and a 1,50,000-square-foot outdoor space for parking and other activities such as play corners with a badminton court and a kids' area.
"LICC by Hyatt Regency Thrissur is all set to become an iconic event destination in the cultural capital of the state of Kerala. The flexible and dynamic venues are equipped to host physical, virtual, and hybrid events with prime audio-visual installations and high-speed internet access. The steady upsurge in the bookings is a testament to the changing face of events and meetings in the city," says Anish Kuttan, General Manager at Hyatt Regency Thrissur. 
Recreational facilities at Hyatt Regency Thrissur include a 24-hour fitness centre, an outdoor swimming pool, a spa and island gardens, including a waterside orchard, yoga lawns, spice garden and butterfly garden. The space offers parking facilities for over 800 cars. With top-notch facilities, convenience and points of interest, Hyatt Regency Thrissur is expected to be one of the most sought-after destinations for both leisure and business.