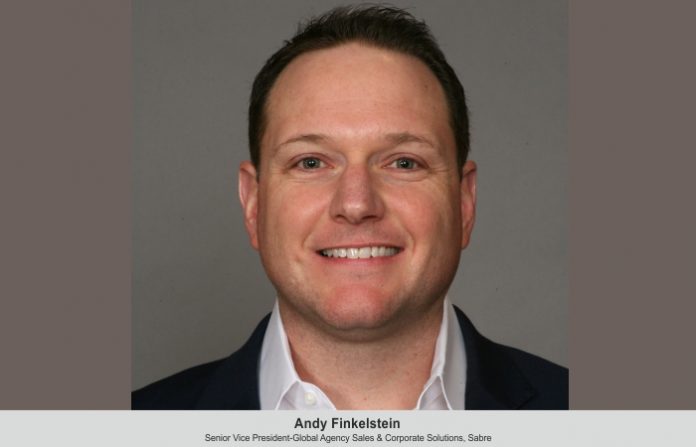 Andy Finkelstein, SVP-Global Agency Sales & Corporate Solutions, Sabre, discusses trends in the corporate travel space, including blurred lines and strong recovery.
Until recently, travel recovery was domestic and leisure-led, but we are now seeing international and corporate travel recovery strongly begin to take hold. Sabre recently conducted quantitative and qualitative surveys with airlines and travel agents across the globe. Getting input from more than 500 respondents in eight languages and 20 countries provided a robust view on the state of travel. Below are the key takeaways from the research for corporate travel:
Revenge travel is real
With rules and regulations relaxing in most places around the world, the appetite for travel across all sectors is high. Latest data showed that Sabre's key volume metrics in April, namely distribution gross air bookings, IT Solutions passengers boarded, and hospitality gross CRS transactions, were at the highest level of recovery versus 2019 since the pandemic started; at 53 per cent, 80 per cent, and 112 per cent, respectively. What is particularly positive is that we are not just seeing recovery, but a mix of recovery and a robust return of corporate and international travel. The overall recovery percentage versus 2019 was greatest in domestic markets for both managed corporates, at about 66 per cent, and leisure travel, at about 73 per cent. International travel has recovered to about 58 per cent of 2018 levels, with short-haul travel the least.
So, our own Sabre data is showing a strong recovery, and many of our research respondents are equally bullish. Nearly three-quarters of those surveyed expect to see a full return of travel to pre-pandemic levels by 2025. Since the time of the survey, the rebound has accelerated, and many agencies are becoming increasingly optimistic about an accelerated path to recovery. The return of corporate travel is being driven by a combination of restrictions relaxing and a desire to get back out to meet colleagues and clients face-to-face. While we have all found new ways of working remotely, there is no replacing the ability to build relationships, trust, and connectedness in person. We will see this strong corporate travel recovery continue in what will be an increasingly competitive global business environment. When a competitor visits a top prospect in person, your firm will be back on the road or in the air doing the same.
Blurred lines
There was talk of blurred boundaries between business and leisure travel even before the pandemic, with terms such as bleisure and workation coined, and this trend is accelerating. Eighty-two per cent of airline and 59 per cent of travel agency respondents expect people to increasingly combine work and leisure travel. More than two-thirds of airlines and almost half of travel agents expect people to increase the length of their stay for future trips. With mental wellbeing becoming increasingly important in the workplace, the continued convergence of business and leisure travel has the potential to help people find more ways to enjoy personal time while meeting business obligations. The bleisure trend will provide opportunities and challenges across the industry as TMCs and agents add value to a traveller's trip, while navigating who is responsible for each element of the journey, as well as implications for duty of care. Nurturing this desire for bleisure will require the evolution of policies, processes, and technologies.
Personalisation
Personalisation has for long been a buzzword in the industry but has become increasingly important as trips are tailored to merge business and leisure. As we think about the evolution of new distribution capability, we are moving to a different paradigm of offer creation, meaning TMCs and agencies are going to be competing to show they have the most relevant content for the corporate buyer and are working with the right technology partners to facilitate this across the travel ecosystem. It is vital TMCs are aware of the whole travel journey to promote the right offer at the right time. Eighty-six per cent of airline respondents, providing personalised offers could be key to supporting the travel industry in recovery, while 84 per cent of travel agents agreed that access to personalised offers would enable recovery.
The new company culture
While we are already seeing the return of large conferences and events across industry sectors and geographies, we may find that the mix of external and internal corporate travel changes as we move through the pandemic. In a remote team, the need to drive company culture and align on strategic objectives is challenging. Travel will be a key enabler in getting team members together again and fostering the company culture that organisations aspire to achieve. Smaller companies are adapting to corporate travel faster than larger ones, which may need longer lead times to adapt their travel policies. As the world is opening up at a different pace across regions, with barriers to travel still in place in parts of APAC, we may also see new markets emerging.
Safety and security
While travel demand is high, so is confusion and complexity. Travellers are considering more decision factors than ever before booking a trip and are seeking out expert advice. The uncertain scenario leaves an opportunity for TMCs and agencies to offer services to corporate clients who are looking for travel flexibility and help navigating the travel requirements of their destinations.
Investments in tech are vital
Sabre is in the midst of a huge technological transformation to move into the cloud, which will mean lower compute costs and increased speed of innovation so we can bring products to market sooner. We are also moving forward with our partnership with American Express Global Business Travel to create meaningful solutions for corporate travel. Technology is also top of mind for many of our respondents, with more than half of agencies globally saying they will focus on new tools, services, and technologies to aid recovery and growth. That sentiment was especially strong in APAC, where the figure was 71 per cent. Travel companies are investing in technologies that remove friction from the booking process and provide an optimised service experience through automation. Travel agencies are focused primarily on investments in web and PoS technology and CRM systems, while airlines are focused on investing in capabilities such as self-service, touchless travel, biometrics, and AI. In addition, many airlines are focused on investments around NDC as they expect this to help them deliver dynamic and personalised content as well as increase revenue, particularly from premium and ancillary sales. Airlines and agencies recognise the importance of cross-industry collaboration in managing the rapidly evolving landscape.
This new travel environment continues to change rapidly and demands fast adaptability. Our research has pinpointed the rapidly evolving nature of the travel ecosystem. Those who can address these dynamic trends and challenges through advanced solutions and innovation at scale and pace will be the winners in the corporate travel space.