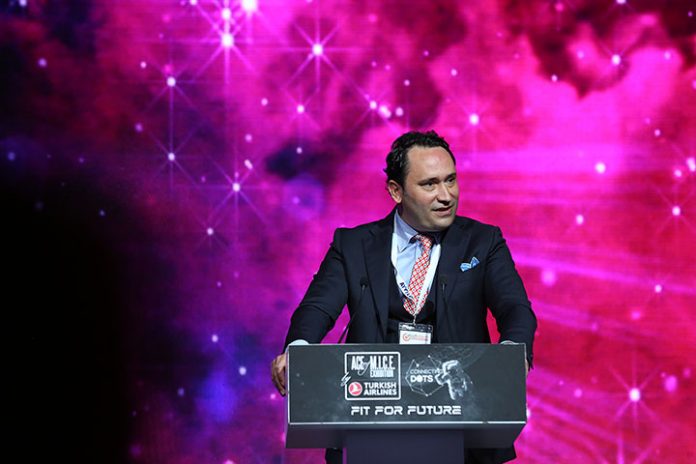 Volkan Ataman, President, Tourism Media Group, talks about curating unique MICE experiences for the global tourism industry with the ACE of MICE Exhibition by Turkish Airlines.
Q: How has the ACE of MICE project carved a niche for it in the MICE industry, now that it has become a big brand?
A: ACE of M.I.CE. Exhibition by Turkish Airlines congress, meeting and event exhibition which has been held every year since 2013, is among the most visionary and important events of our country in this field with its global communication campaign to increase the perception and awareness of Turkish MICE industry globally, in order to gain new customers and markets with the professional hosted buyer program, to ensure the unity and motivation of the sector with networking chances and 'AMEzing' parties held within the scope of the exhibition, to raise the quality bar of our sector with the summits, workshops, seminars.
On the other hand, ACE of M.I.C.E. Awards is the biggest award ceremony of the global MICE industry, which targets to guide the sustainable growth of congress, meeting and event operations, to create a will of achieving perfection for industry companies and to increase the awareness of the Turkish MICE industry on a global scale. And it has been going on without interruption since 2012. We moved our award ceremony to Antalya which was held under the name of 'Master of Events by Ace of M.I.CE Awards' with a different concept. While allowing the participants to have B2B meetings, we strengthened the network with parties and the award ceremony and this made a very serious contribution to the MICE sector in Antalya.
Today, we are proud to be the star brand of the global tourism and MICE industry with ACE of MICE, despite the difficulties our country has experienced in the last eight years.
Q: What is the Hosted Buyer Program?
A: Tourism and MICE industry professionals come together again with B2B. Within the scope of the International Hosted Buyer Program; International incentive companies, PCO, DMC and corporate buyers from the global companies will have B2B meetings with the exhibitors. We are grateful for the cooperation we have received from everyone. With an increasing number of international industry partners and media organizations for 2022, participants will have the opportunity to grow their network with both a quantitative and a qualified hosted buyer programme.
Within the framework of the comprehensive communication strategy determined to increase the appearance and position of the exhibition in international MICE markets, we are expanding collaborations with media organizations and international associations working primarily on MICE and event tourism
The fact that Tourism Media Group has been bringing together the tourism and MICE industry for 16 years means that we have a mission here. As a team we are preparing rigorously for May 25-27 with our stakeholders, sponsors and supporters.
Q: What's new and exciting in the ACE of M.I.C.E Exhibition by Turkish Airlines in 2022?
A: Building on the theme of Sustainable Future, we are preparing to increase the commercial volume of the sector, while providing a unique MICE experience to industry professionals at the exhibition, which will be organized for the 9th time. The unique experiences are immaculately created with colorful contents, B2B meetings with 160 national-international buyers in the Hosted Buyer Area specially created for our participants, session programs opening new perspectives and network activities for15,000 professional visitors. We will also be offering the entertainment and networking together to our participants with the Gala Dinner and AMEzing Party on the evening of the first day of the exhibition.
Q: What are the key themes this year?
A: We are preparing to welcome you in the impressive environment of ACE of MICE with special concepts and experience areas of Infinity Visual FX Studio, of which I am a partner. It is going to be a fascinating experience for the participants from the very first step they take to the exhibition.
Within the scope of the 'Sustainable Future Summit' to be held at the Istanbul Congress Center Üsküdar Hall, we will be initiating discussions on water and energy efficiency, climate crisis, carbon emission reduction, and zero waste.
Experts in the field of sustainability will discuss Climate Change, Water and Energy Efficiency at the main session on May 25. After that, the executives of global brands will talk about the projects they have created around sustainability. On the evening of May 25, we will be hosting our gala dinner and party with great shows, where our exhibitors and buyers will be invited for celebration at the JW Marriott Istanbul Marmara Sea Hotel.
Q: What are going to be the highlights of ''Masters of Events by ACE of M.I.C.E. Awards'' to be held at Nirvana Cosmopolitan Hotel on 29-31 October 2022?
A: We are preparing to bring together the event industry professionals at the 10th "Masters of Events by ACE of M.I.C.E. Awards" on 29-31 October 2022. Marking 10 years, it is going to be a special issue for us. Nirvana Cosmopolitan Hotel will be hosting our event, which will be held with the Cosmos concept. In the event, there will be a B2B area in the convention area, where 100 corporate brands, 30 international buyers and hundreds of companies providing services in the MICE industry will interact closely for three days.
As a Tourism Media Group, we give great importance to Antalya and we are very happy to contribute to the brand value in the industry of MICE. The chamber of commerce, convention bureau, governorship, municipality and sector associations are providing great support to us.
Q: How are the numbers looking for this year compared to 2021?
A: Unfortunately, there were companies that could not come to the exhibition from our international participants due to restrictions in 2021. Covid-19 has affected our visitor numbers to some extent. We are coming to give great morale to all our stakeholders and our sector. I do not want to give an exact number of visitors, but I can say that we are currently running a very large and comprehensive communication campaign and we have very valuable supporters in this field.
Q: What are your plans for ACE of M.I.C.E in 2023?
A: 2023 will totally be a different year for ACE of M.I.C.E. We are making collaborations to strengthen international participation. We will continue to lead the development of our industry with new collaborations by including more qualified buyers who will provide volume to the MICE industry in our event. We also plan to hold our event in Cyprus, except Antalya, within the scope of "Masters of Events". We'll be making our announcements when the dates become clear. So it's going to be a year full of ACE of M.I.C.E.
Q: What gives you the inspiration to continue working in the event industry?
A: First of all, it is exciting to work in this industry. The preparation process of our events, new ideas, new technology and finally being able to implement them is incredibly enjoyable. For example, dozens of people did not sleep for days for the opening show we prepared with the special concept of Infinity Visual FX Studio in 2021. I think the excitement and admiration I see in people's eyes when we create magic on the stage is exactly what inspires me.