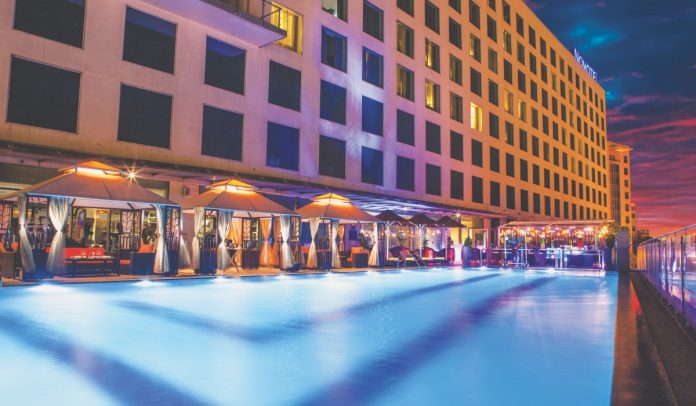 With boundaries between business travel and leisure trips getting blurred (thanks to WFH culture), spotlight falls on few hotels that pack best of both worlds.
Lipla Negi
Novotel Pune Nagar Road
The Novotel Pune Nagar Road, which is situated plonk in an upscale area, is a short drive away from Pune International Airport (PNQ), and near to the railway station. Boasting 11,000 sq. ft., of banqueting space and having 223 rooms, the hotel promises guests a luxurious experience. Business travellers can have quite a lot to expect—from executive rooms to premier lounge, complimentary local airport transfers, and breakfast as well as all day refreshments.
Roseate House New Delhi
Roseate House New Delhi is an amalgamation of lineage and novelty. The hotel, which is spread over 1.6 acre, features 216 spacious rooms, including suites. The hotel is housed in Aerocity. Catering to the new generation of cosmopolitan guests, Roseate House, a comfortable 30-minute drive from Gurugram and Delhi, and at walking distance from Aerocity metro station, is ensconced in comfortable surroundings away from the cacophony of the city.
Crowne Plaza Hotel New Delhi Mayur Vihar Noida
Located at a short distance from Noida, travellers can reach the luxurious Crowne Plaza Hotel New Delhi Mayur Vihar Noida through the DND Flyway, NOIDA expressway, Sector 62, Film City, Central Delhi, Pragati Maidan, and the India Expo Centre. Corporate or business travellers will like the world-class facilities made available at this swanky hotel, including a 24-hour business centre with free high-speed internet access.
ibis Mumbai Vikhroli
The 15-storeyed ibis Mumbai Vikhroli has 249 plush rooms, designed in six different themes, featuring the city's pulsating heartbeat. Each room has the much loved 'Sweet Bed' by ibis. Located in the corporate area of Mumbai, Lal Bahadur Shastri Marg, the hotel presents a gamut of luxurious services, including digital menus, mobile check-in, and access to OTT entertainment channels, making it the perfect destination for business and leisure travellers.
Hilton Garden Inn Bengaluru Embassy Manyata Business Park
Hilton Garden Inn Bengaluru Embassy Manyata Business Park is located near important business areas in North and Central Bengaluru. It enjoys accessibility from Kempegowda International Airport. Part of the upcoming Hilton Hotels Embassy Manyata complex comprises 619-key dual-branded Hilton properties —Hilton Garden Inn and Hilton, and 60,000 sq. ft. convention centre. Travellers need not go out of their way searching for a delicious meal here.
The Leela Gandhinagar
Called nothing short of an engineering marvel, The Leela Gandhinagar, which is a luxurious getaway, is housed as many as 40 km away from Gandhinagar. The five-star hotel has 318 rooms. "The architecture combines modernity with tradition. The hotel's lavish interiors are inspired by Gujarat's archaeological and architectural richness and the art decor by the rich flora and fauna of the state," said Jaideep Anand, Vice President and General Manager, The Leela Gandhinagar.
The Westin Mumbai Powai Lake
Set on the banks of Lake Powai, The Westin Mumbai Powai Lake is the second Westin property. Housed in Mumbai, it offers views of the Hiranandani skyline overlooking the Lake Powai. Taking a leaf out of the concept of Biophilia, and highlighting the demand for wellness travel, Neeraj Govil, Senior Vice President, Operations, Asia Pacific, excluding China, said, "The Westin Mumbai Powai Lake is set to expand the signature offerings of the brand to the travellers."
Crowne Plaza Chennai Adyar Park
Crowne Plaza Chennai Adyar Park caters to a lot of international business. "We have come up with a brand new Business Flex offer that offers guests the flexibility of 24 hours check-in and check-out," says Jit Bose, Director of Sales and Marketing, Crowne Plaza Chennai Adyar Park. Kapaleeshwar Temple, Santhome Church, and Marina Beach and others are near to the hotel, which has 287 rooms and facilities such as spa, gym, beauty treatments, and Wi-Fi, among others.
Holiday Inn Chandigarh Zirakpur
The Holiday Inn Chandigarh Zirakpur is 9 km away from Mohendra Chaudhry Zoological Park and 15 km away from Sukhna Lake. The hotel is 13 km away from Chandigarh International Airport. Boasting of 131 chic rooms and suites, guests can look forward to a plethora of facilities such as gymnasium, rooftop pool, a buffet restaurant, well-stocked bar, room service, and breakfast. The spacious rooms of the hotel boast comfortable beds with a choice of pillows.