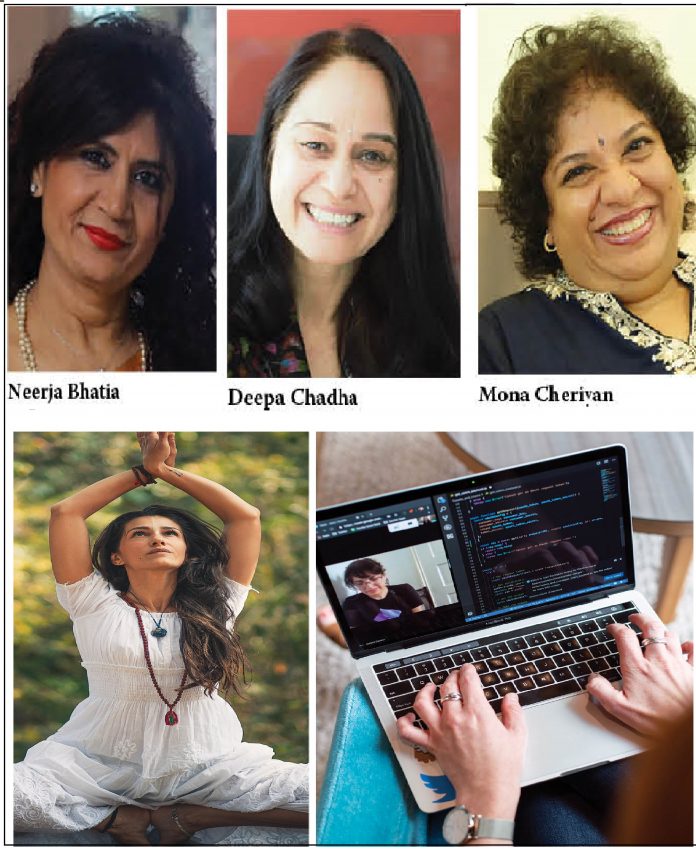 COVID-19 has changed the whole concept of 'work-life balance'. The scales of balance have been skewed owing to work from home being enforced, rather than an option.
Charmaine Fernz
The year 2020 was a year of surprises and drastic changes… certainly not in the positive way for a majority of the human race. Many concepts that were gaining ground have to be revisited with a new focus. One of the many pertinent issues most corporates focussed on over the past several years was employees attaining the right 'work-life balance' and thereby enhancing productivity. However, the concept was completely shaken and stirred with the onslaught of the pandemic. The global lockdown forced companies to adopt the work from home concept and make the best use of it with technology.
As Deepa Chadha, SVP-HR & Corporate Affairs, Vistara, explains, "An ideal work-life balance is about creating an opportunity to become one's ideal self, both professionally and personally. With the professional environment becoming increasingly demanding and competitive, especially in the aviation industry, it is important to consciously work towards maintaining a healthy balance."
Pandemic = Change
Going by a report by McKinsey on 'Reimagining the office and work life after COVID-19' which states that before the pandemic, the conventional wisdom had been that offices were critical to productivity, culture, and winning the war for talent. Companies competed intensely for prime office space in major urban centres around the world, and many focused on solutions that were seen to promote collaboration. Densification, open-office designs, hoteling, and co-working were the battle cries.
According to McKinsey research, 80 per cent of  people questioned report that they enjoy working from home. Of the respondents, 41 per cent said that they are more productive than they had been before and 28 per cent said that they are as productive. Many employees liberated from long commutes and travel have found more productive ways to spend that time and enjoy greater flexibility. Many organizations think they can access new pools of talent with fewer locational constraints, adopt innovative processes to boost productivity, create an even stronger culture, and significantly reduce real estate costs. While many a company, witnessed both the benefits and challenges, the work from home concept certainly put up a humongous task for HR professionals. Mona Cheriyan, President and Group Head, Human Resources, Thomas Cook (India) explains her perspective saying, "The change in work culture due to the pandemic is not only affecting employees but also poses a challenge for the human resources team. While we at the TCIL always had a work from home policy, we never anticipated it to be implemented on such a large scale and for such a long duration.
The Human Resources team at Thomas Cook has been at the heart of managing employees and helping them cope with the changes in work life during the pandemic. With the expectation of the vaccine and opening of borders, our business is now on the cusp of recovery and the role of HR is becoming even more important."
The adaptation
The new change though welcomed by many had a mixed bag of compliments. While many employees were of the opinion that workload had most certainly increased; many were of the view that family time was more productive thereby resulting in enhanced work productivity. Neerja Bhatia, Etihad Airways' Vice President, Indian Subcontinent gives us   opinion stating that, "It hasbeen about managing time effectively – being able to efficiently perform at work while still having time and energy to unwind. There has been an increased focus on managing teams virtually, ensuring they remain driven without burning out. We have learnt to be agile and respond quickly, with the situation evolving at such a rapid pace. Navigating through uncertainty has surely seemed challenging, but in retrospect, has been a great opportunity to innovate and adapt in more ways than one."
Sharing a different point of view, Chadha explains, "Among many other things, the pandemic has brought to the forefront, the concept of work from home which offers a good opportunity to maintain a healthy balance between professional and personal responsibilities. Having said that, for organisations in the service industry, it is not possible to completely shift to remote working especially for the frontline / operations staff. Moving ahead whether at work or in your personal life, leading a disciplined life is the only way to achieve balance. It becomes all the more important in the work from home scenario where your home and office mean the same space. Some important aspects to keep in mind are maintaining a structured routine and following it diligently."
Making the most of opportunity
Technology was king literally during the lockdown. The work from home atmosphere made companies adopt to practically every technological advancement in order to keep businesses sustainable and profitable. Chadha asserts this view saying, "With the shift of workplace from physical office spaces to employees' homes, companies are continuously strengthening their technology infrastructure to enable seamless virtual collaboration for an efficient workflow. Another aspect which has proved to be a key driver of growth has been organisational culture. At Vistara, the performancedriven culture has kept the entire workforce focused on the business objectives."
Reiterating a similar viewpoint, Bhatia explains, "Over the past year, we had run comprehensive risk assessments to strategise and plan better, whether it was about identifying opportunities for training, extending support or introducing special policies. For instance, the advisory role played by our HR teams has grown exponentially as they have extended maximum support to navigate this new normal."
Taking on a different path, Cheriyan says, "For us at TCIL, the need of the hour is to develop adaptability and resilience in our workforce as we make an accelerated shift towards a new, digital economy. We invested and continue to invest in equipping our employees with new skills and helping them to deal with the 'new normal'. In addition to learning skills related to their roles, we developed competencies in our employees to take on new challenges."
The next step
Opportunity in adversityis the best way to lay out  how the New Year emerges, and business continues to sustain profits. Two key factors that take precedence is health and business growth. As Bhatia explains, "It is important to prioritise one's health and wellness. I have believed in the concept of personal enhancement and well-being. In order to strike that right balance, it is important to take care of one's own physical, emotional and mental health. Subsequently, companies should focus on frequent and timely communication. With the new normal of working from home, we connect virtually every morning and remain connected despite working remotely."
Cheriyan further asserts, "At TCIL, we have re-established our organisational culture to adopt more flexible working arrangements. We believe, there will be a major shift towards hybrid working models that capitalise on benefits of both remote and office working. The face-to-face interaction will now be through increased technology interfaces like MS Teams rather than physical meetings.
Cost management has been a business imperative. As our industry has been one of the worst hit by this pandemic, we have been forced to take measures to cut costs by temporarily deferring or reducing employee compensation and benefits. This has also opened the discussion around rethinking employee rewards and benefits in the long-term.
The move to a hybrid working model has also opened up the organisations' talent pool considerably. It now aids us in hiring talent not limited by physical location. We now have a more flexible structure to accommodate agile working and can hire from all geographies." Finally, concluding on some innovative strategies adopted, Chadha states that consistent communication & engagement with employees are crucial to Vistara. Several campaigns launched in the past year aimed at establishing a sense of belonging among employees, boosting staff morale and reassuring them while fostering engagement and collaboration.
QUICK BYTE Research by McKinsey reveals that 80% respondents enjoyed working from home
Neerja Bhatia
"There has been an increased focus on managing teams"
Deepa Chadha
"It is vital to work towards maintaining a healthy balance"
Mona Cheriyan
"The change in work culture poses a challenge for the HR team"
QUICK BYTE We have learnt to respond quickly, with the situation evolving at such a rapid pace
"The move to a hybrid working model has opened up the organisations' talent pool considerably"
QUICK BYTE Face-to-face interaction will now be through increased technology interfaces