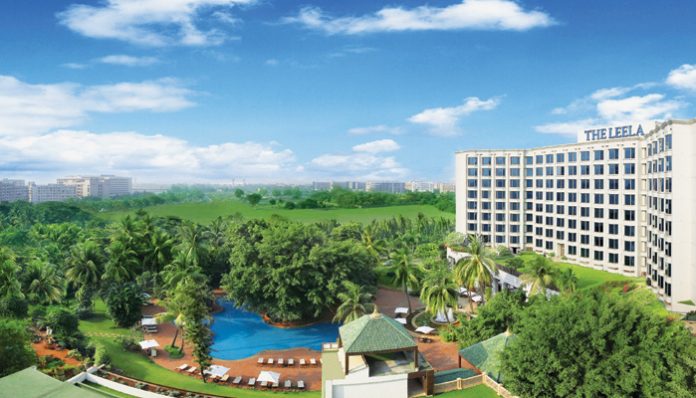 The financial capital of India has a plethora of offerings in the MICE segment being exhibited by its renowned hotels. Top hoteliers give insights
Nicholas Dumbell
GM- Renaissance Mumbai Convention Centre Hotel & Lakeside Chalet- Marriott Executive Apartments
CONFERENCING FACILITIES
With 230,000 sq. ft. of indoor and outdoor convention spaces offering magnificent views of the Powai Lake and the city skyline, Renaissance Mumbai Convention Centre Hotel is the ideal location to host various events.
The Convention Centre is complemented with state-of-the art conference facilities along with a total of 17 meeting rooms and outdoor venues accommodating a capacity of 250-1200 guests and attendees.
'The Renaissance Terrace' and 'Renaissance Gardens' are two alfresco settings which can be created into vibrant and colourful outdoor venues perfect for special functions and theme events overlooking the serene Powai Lake. The Renaissance Terrace can accommodate up to 500 guests and Renaissance Gardens can accommodate up to 1200 guests.
Renaissance also offers personalised wedding planning services. The property houses one of the largest Grand Ballroom in the city to host various events.
SERVICES OFFERED AT MEALS
For weddings, Renaissance offers 'food tastings' services for clients to allow them to experience the food beforehand and customise it according to their requirements. With regards to sit down services, the property has successfully hosted sit down meals for 450 pax using customised chef menus consisting predominantly of Indian Thalis or a 3-4 course menu in the case of Continental Cuisine. The property also specialises in organising Sanjan Ghot (Indian Wedding Sit Down functions) wherein the patrons are served from kamandals (pots) from buffet to platter.
VENDORS CONNECTED
The in-house event planning team at Renaissance associates with some of the best events and décor agencies for indoor and outdoor. Some of the vendors are National Decorators.
Sameer Sud
General Manager
The Leela Mumbai
CONFERENCING FACILITIES
We have a Grand Ballroom of 11,742 sqft which can accommodate 800 people in theater style, 250 people in Classroom and Cluster style and 1200 people for a reception. The Grand Ballroom can be divided into five small Ballrooms: Ballroom 1 (2344 square feet) , Ballroom 2 ( 2444 square feet ) and Ballroom 3( 2,352 Square Feet) can accommodate 130 people in Theatre style, 60 people in Classroom and Cluster style, 40 people in U Shape and Boardroom style and 150 people for a reception. Ballroom 4 of 2,011 sqft can accommodate 50 people in Theatre style 40 people in Classroom style, 30 people in U shape style and Boardroom style, 40 people in Cluster style and 80 people for a reception. Ballroom 5 of 1633 square feet can accommodate 40 people in Theatre style 30 people in Classroom style and cluster, 20 people in U shape style, 25 people in Boardroom style and 60 people for a reception. We also have a separate banqueting venue, O59 on the lower lobby level which is 3,120 square feet and can accommodate 80 people in theatre style, 30 in classroom style, 25 in U shape and boardroom, 50 in cluster style and 150 people of a reception. We also offer a varied choice of well appointed smaller meeting rooms for seminars, breakout rooms and board meetings located at the first floor and the eighth floor. Our meeting rooms Diya, Nidhi and Maya of 630 sqft can accommodate 12 people in a Boardroom style whereas our meeting rooms, Kamal and Nithya of 920 square feet can accommodate 16 people in a Boardroom style.
SPECIALISED CHEFS
We have India (pan Indian), Chinese, French/Italian specialty restaurants in the hotel. Apart from the cuisines that we serve here we are also adept at Japanese, Thai, Burmese, Mumbai Street Food, BBQ and Mediterranean. These are our core competencies. We also, have a full-fledged patisserie to cater to our bakery requirement. Our Halwai section is famous for Indian sweets and authentic Gujarati delicacies. Conferences, meetings and events are always customised to suit your specific requirement. Innovative food presentations and cuisines from around the globe are well crafted and offered by our experienced culinary masters.
VENDORS FOR DIFFERENT EVENTS
For social events we work with two vendors– Vivaah and Bombay Decorators. They are empanelled with us on a yearly contract for their quality of work. For audio visual equipment, we recommend Magnavision's Mr. Lulla, who is pretty much a pioneer in the industry. Barmen – Cocktails and Dreams. Gensets – MK enterprise. We also have three manpower vendors. The above are our preferred vendors; however the trend is that the guest normally gets their own vendors like Showbiz/Wizcraft and many known players in the market for their functions also. They then work within the guidelines and the framework mentioned by us.
Ritesh Choudhary
Director F&B
The Taj Mahal Palace, Mumbai
EXPERIENTIAL MOMENTS
Maharashtra boasts of the economic capital of the country that is brimming with business opportunities thereby offering a seamless transition into the MICE segment. The meeting landscape has observed an increase in size of conferences/meetings. The company's desire is to replace traditional meeting with experiential moments during the meeting. Venues that allow businesses to use the space creatively and are flexible when it comes to various team-building exercises are doing excessively well. Menus and tea rituals have become an important aspect. Guests are looking for innovative ways to indulge in meal and tea/coffee breaks. There has been widespread use of technology during the events, catering to the evolving trends, The Taj Mahal Palace, Mumbai has 11 banquet rooms, designed keeping in mind the requirements of guests also featuring latest state-of-art facilities paired with the expertise of our service team.
The Taj Mahal Palace, Mumbai offers 11 banquet rooms, tastefully refurbished to include the latest in business and state-of-art facilities, yet retaining the elegance and old-world charm.
Crystal Room – Crystal chandeliers, mirrored ceilings and baroque woodwork set the tone for an evening of glitter and sparkle – the ideal venue for any affaire extraordinaire, be it a corporate meet, high-profile product launch or lavish cocktail reception.
The Ballroom – It has long been the venue of some of Mumbai's most historic meets and social events, it has transformed into an efficient meeting room where technology is placed at your disposal, just a button away. But it just as easily transforms into a social setting, with graceful arches, scalloped pillars and crystal chandeliers giving it an air of royal elegance.
Rendezvous – Set high above the city, this roof-top venue is apt for heady celebration, enjoying a 360-degree view of the city: the Arabian Sea to one side, and the city of Bombay to the other, with plenty of natural light coming in from all sides, this room is the perfect choice for a business setting. Come evening, the venue is magically transformed into a glamorous setting for a social get-together. Gateway Room, Princes Room, Golden Room, Ruby Room, Emerald and Jade Rooms and lastly Sapphire Room offer guests ideal locations to host business meetings.
Mohit Kanwal
Director of Sales & Marketing
Hyatt Regency Mumbai
MUMBAI OFFERS FLEXIBILITY
Exhibition centres like Bombay Exhibition Centre, MMRDA Grounds, Nehru Centre, NCPA, World Trade Centre are ideally suited for large trade fairs, conferences and cultural extravaganzas. As per the Cushman & Wakefield's Hotel 2015 report, the average contribution of MICE segment in Mumbai has been steadily growing from a 20-25 per cent in the market and the demand for MICE business in Mumbai is expected to grow steadily with the Reliance Convention Centre set to be developed at Bandra-Kurla Complex by 2017.
CONFERENCING FACILITIES
At Hyatt Regency Mumbai, over 1,000 sqmt space is dedicated to banquet and conference spaces with a 620 sqmt tastefully designed, pillar-less, Regency Ballroom that is ideal for conferences as well as weddings. With seven multi-compatible venues that can be further divided to be used as break-away rooms, the hotel offers a diverse experience. Our venues can take from a meeting for 10 people up to a conference for 550 people or a 1,000 people wedding.
SPECIALISED CHEFS
We have a team of talented chefs who specialise in Indian, continental and western cuisines. Considering a rising number of vegetarians frequenting 5-star hotels, we have chefs who specialise in Jain cooking. A sit-down dinner requires meticulous planning and is much like organising an orchestra; the key to success here is timing and seamlessness. Right from planning the table layouts and number of guests per table to helping the guests choose a cuisine that compliments their event and is enjoyed by their guests to recommending a selection of beverages that pair well with the meal. If it is Indian cuisine, we then offer a traditional thali while for western cuisine we recommend a pre-plated four/five course meal paired with wine.
VENDORS FOR EVENTS
We have a panel of vendors who we work with, who are quipped to offer expertise on stage backdrops, sound and lighting and even help hire hostesses/bartenders/artistes for different events.