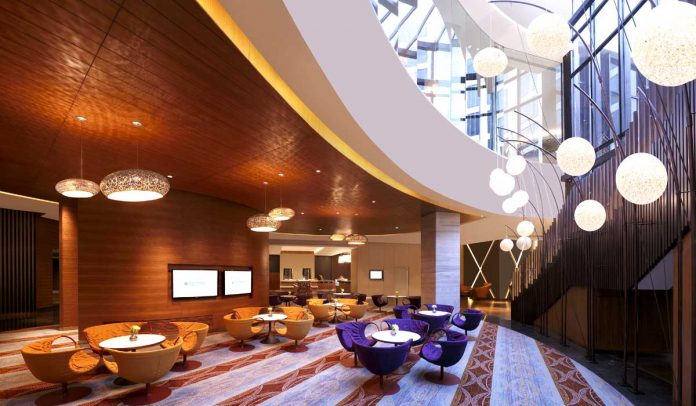 The national capital region has a plethora of offerings of MiCE in terms of numerous hotels, new and old attractions. In our cover story we explore the myriad possibilities to host inbound and domestic MiCE in NCR
Kanchan Nath
RENU BASU
Global Vice President – Sales
Indian Hotels Company Limited
TAJ MiCE VENUES
Famed for its unmatched hospitality and commitment to excellence in service, Taj Hotels Palaces Resorts Safaris offers over 1.29 lakh sq. ft. of meeting, convention and event space in NCR. the iconic Taj Diplomatic Enclave is New Delhi's preferred event and meeting destination and synonymous with signature wedding celebrations. _is hotel pioneered the concept of a purpose-built convention hotel with a variety of 6 well-spaced and luxurious venues. Based on extensive research and market studies, the hotel was designed specifically for conclaves which call for high levels of security, access control, breakout sessions, green rooms, VIP lounges, large movement of guests, adequate residential rooms etc. and three decades later, in its newly renovated avatar, the Taj Diplomatic Enclave continues to set benchmarks in handling large format corporate and social events. the décor is inspired by Mughal architecture and is seamlessly infused with state-of-the-art and modern conferencing facilities. The 12,700 sq. ft. Durbar Hall is the favoured venue for heads of state, dignitaries, corporate czars, high powered conferences and has hosted the grandest of weddings for close to four decades. Additionally, the Taj Mahal Hotel, Vivanta by Taj Ambassador, Vivanta by Taj Surajkund, Vivanta by Taj Dwarka, Taj City Centre Gurugram and the Gateway Resort Damdama Lake offer over 25 ideal meetings and banqueting spaces.
MULTI-PRONGED CULINARY STRATEGY
Catering for meetings, conferences and weddings is a subset which is a strong hold of the Taj. The menus are specially curated for each event and it will always be customised basis the audience for the event – keeping in mind the cultural sensitivities of the group. We also incorporate any specific dietary restrictions of delegates as advised by the organiser. The Taj's experience of over 115 years of banqueting and the plethora of cuisines we specialise in across the group allows us to leverage this expertise and deliver whatever the guest needs.
IMPORTANT EVENTS
Taj Hotels have historically played the perfect host to Royalty, Heads of State, visiting dignitaries and world leaders. Taj Diplomatic Enclave has hosted numerous events of political and economic significance – a few of which have happened in the last six months.
ASEAN Heads of State Summit – January 2018
ORF Raisina Dialogue – Taj Diplomatic Enclave is a preferred event and meeting destination – December 2017
Indo-Israel Business Summit – December 2017
Global Business Summit (by TOI) – February 2018
Egon Zehnder Worldwide Partner Meet – February 2018
World Economic Forum – October 2017
HT Leadership Summit – November 2017
JP Morgan Investor Conference – September 2017
Over the last few years, Vivanta by Taj Dwarka and Vivanta by Taj Surajkund have also become venues for residential conferences and weddings. the extensive indoor and outdoor spaces and large inventory of rooms at both these hotels have attracted marquee names like Mercedes, SAP, TATA Communications, TCS, Pfizer, Honda, Maruti, Audi etc, to organise their customer meets, internal conferences and retreats at these venues. The Taj City Centre Gurugram and The Gateway Resort, Damdama Lake have quickly established themselves as popular destinations in the Gurugram BCD. Taj City Centre Gurugram has raised the benchmark of a modern luxury hotel, perfectly balancing the0 needs of the corporate business traveller as well as the MiCE customer, in a centrally located area of the Gurugram BCD. The Gateway Resort, Damdama Lake has become one of the most popular resorts for retreats and residential conferences, as well as destination weddings.
DIFFICULT SITUATION, HANDLED WITH FINESSE
Taj's specialised and dedicated MiCE team has the expertise of handling large scale meetings, incentives, conferences and events and ensures seamless, unparalleled service at all times. the venue for a large format event with an expected number of guests of 200-250 had to be shifted from an outdoor to an indoor one due to unfavorable weather conditions. The event had an extensive audio-visual set-up with large LED screens, PA system, seating for the guests and a heavy-duty stage. the team at The Taj Mahal Hotel, New Delhi left no stone unturned to manage this situation successfully. _The turnaround time to shift the venue on the day of the event at the very last minute was around three hours and the new venue was ready to roll the event before the invite time.
DEDICATED TEAM
We have a dedicated MiCE team that is capable of catering to groups ranging from 10 to 10,000 people. From leadership summits to large incentive groups, our holistic approach captures the best of the weddings and MiCE segment. Almost all our hotels across the group, have dedicated onsite teams to take care of events, be it corporate or social in nature.
NCR FOR MiCE
India is emerging as one of the most popular MiCE destinations due to its rich heritage, vibrant culture and diverse destination offerings, and the ever-improving infrastructure for logistics and events; inviting outbound as well as inbound travel. the government has been very proactive in taking steps to promote MiCE tourism including e-visa initiative for international delegates. the setting up of the ICPB some years ago has also enabled the industry to come together under this umbrella body to synchronise efforts in the MiCE space. We are confident that there will be even more impetus in the marketing efforts both by ICPB and the Ministry of Tourism.

JEAN-MICHEL CASSÉ
Chief Operating Officer India & South Asia
AccorHotels
Pullman & Novotel New Delhi Aerocity are well positioned to attain a large segment of the increasingly important MiCE market. The city is gung-ho on availing prominent MiCE destination for the business and leisure traveller in India and abroad. The convention space spread over a vast expanse of more than 40, 000 sq. ft has a pillar less Peacock Ballroom measuring of a good 12,719 sq ft of space. The additional inventory of two meeting rooms with combined area of 200 sq mt at ibis Gurgaon Golf Course Road and a flexible area of 285 sq mt with a breakup of six meeting spaces at ibis New Delhi Aerocity enables us to be a prime provider of MiCE capacity in the NCR region. Pullman & Novotel New Delhi Aerocity brings the state-of-the-art meeting and convention spaces with 13 fully-equipped meeting rooms, three boardrooms with flexible room layouts and one of the largest pillarless ballroom spaces in Delhi and National Capital Region measuring over 1,181 sq. mt. The versatile meeting rooms can be adapted to suit various size and format requirements with flexible seating layouts. In-built with best-in-class audio visual technology along with plug and play option for laptop and tablet devices onto high resolution projectors are few of the technical facilities offered here. Additionally, hotel's highly skilled events team offers tailored solutions to make every event grand and successful.

VIVEK BHALLA
Regional Vice President South West Asia
IHG MiCE CAPACITY
Our current capacity varies from 8000 sq ft in Holiday Inn & Crowne Plaza properties to 47,000 sq ft in our convention center in Greater Noida. Total meeting space between all our hotels in Delhi/NCR is 93,850 sq ft. with a combination of pillarless ballrooms and breakout rooms with natural sunlight. Additionally, outdoor lawn venue options are also available in most of our hotels.
INTERNATIONAL AND NATIONAL EVENTS
We have hosted major events such as World Fair Trade Organization (Biennial Conference 2017), Asian Rotomoulders Association (Biennial Conference), and association events by CII, SIAM, and DACAI. We have also organised exhibitions for partners like India Expo Mart and Auto Expo Delhi.
RISING ABOVE THE HICCUPS
Cultural differences such as language barriers and dietary requirements can pose some challenges at international conferences. This is especially true for global events where participation can come from 70 countries each with different preferences and requirements. Managing these differences whilst delivering a seamless event is what differentiates a good hotel from a great hotel.
FOOD PREFERENCES
International conference/business guests generally prefer Indian specialties, although less spicy. We have an array of live cooking choices. Theme tea breaks with Indian savouries combined with a glimpse of Indian folk culture with sound and motion can make all the difference. In the evening, live bands and international musicians are an ideal end to a productive day.
NCR FOR INBOUND MiCE
India's travel and tourism sector is the fastest growing amongst G20 countries, growing by 8.5 per cent in 2016 and expected to grow further by 6.7 per cent in 2017. Apart from being a hot destination, the facilities and services offered in India are known the world over for their warmth and hospitality. Delhi NCR is the best choice because of its excellent international air connectivity, a world class airport, location for headquarters of many large corporates, and of course, being the seat to the Union Government. As a destination, Aerocity itself offers over 4,000 rooms in different categories with ample meeting space and connectivity. the state-of-the-art technology offering, world cuisine, quality service, safety are some other benefits.

PARMEET SINGH NAYAR
General Manager
Shangri-La's Eros Hotel, New Delhi
MiCE CAPACITY
Located on Level One, overlooking the lush manicured terrace, the Ballroom is an ideal venue for important meetings and banquet celebrations. Its contemporary and luxurious interiors offer latest state-of-the-art convention and conferencing facilities. the Ballroom can be divided into four parts for smaller gatherings. the three private meeting rooms can be utilised as breakaway rooms for power sessions. the Ballroom is luxurious, elegant and illuminated by an abundance of natural light. The hotel is the ideal destination for Meetings, Incentives, Conventions and Exhibitions (MiCE), weddings and gala dinners. The hotel's dedicated events team assists in planning and conducting meetings and celebrations from start to finish, with style and attention to detail.
MAIN EVENTS
Every year, Shangri-La's – Eros Hotel, New Delhi hosts a MiCE and Wedding Showcase with its international properties. The idea behind it is to familiarise the international properties with the Indian market and the facilities these individual properties have in their offering.
FOOD PREFERENCES
The food preferences of the guests vary from the countries they are from. We offer all types of cuisine and the aim is always to make the guests feel at home. Our food and beverage offerings include cuisines like Chinese, Japanese, Italian, South-East Asian and Indian. the offerings differ from bite size to proper meals depending upon the scale of the event and its requirements.
EVENTS TEAM
There is a team designated for ensuring tailormade packages encompassing convention facilities and exclusive summer packages for the discerning travellers customised as per their requirements. the IT solutions meet the evolving technological and aesthetic needs of the perceptive travellers. Promoting the MiCE facilities, we also have a social media presence.
NCR FOR INBOUND MiCE
Delhi-NCR being the capital attracts lot of political and international events giving scope to existing hotels and resorts to position themselves effectively as MiCE destinations. It attracts affordable luxury travellers and the premium economy travellers who are mostly conference delegates from various countries. These travellers add significantly to the foreign tourist earnings.

RAJ RANA
Chief Executive Officer, South Asia
Carlson Rezidor Hotel Group
MiCE CAPACITY
Our key Radisson Blu and Radisson hotels in Delhi NCR and North India have MiCE capacity between 10,000 – 40,000 square feet while this range is 3,000 – 6,000 square feet for Country Inn & Suites by Radisson and Park Inn by Radisson hotels. Amongst the top choices for MiCE in Delhi NCR is Radisson Blu Paschim Vihar which boasts Olympus, the largest banquet hall in West Delhi. Olympus constitutes 12,000 square feet space and is an ideal destination for planning weddings. Another 1,858 square meters of space is available for meetings in the hotel that can accommodate up to 1,500 guests. Located in the heart of corporate suburb of Gurugram, Radisson Gurugram Udyog Vihar offers more than 10,000 square feet of space. the hotel's meeting rooms can host small events or big gatherings alike. Providing latest audio-visual equipment, convenient sound proof partitions, pillarless ballroom, outdoor pool, 24 hours free Wi-Fi, prefunction space and ample parking, the hotel provides an ideal destination for business conferences or weddings. Our portfolio hotels outside Delhi NCR are also amongst top choices for MiCE. Radisson Blu Agra is one such destination that provides a combined space of 39,000 square feet available for various social occasions across five venues with proximity to the beautiful Taj Mahal.
INTERNATIONAL AND NATIONAL EVENTS
Some of our hotels like Radisson Blu Faridabad, regularly hold conferences with corporates like Goodyear, Tata Hitachi, JCB and Escorts. We have seen an excellent response at the hotel because of its strategic location and proximity to multiple corporate houses.
DEDICATED TEAMS FOR MiCE
Every lead is handled efficiently through a well-defined process from walk-ins, email queries, making contract, detailing requirements etc by these teams. Ensuring proper coordination for check-in and check-out so that there is no overlap, ensuring valet parking and other security measures form the basis of our 100 per cent satisfaction guarantee promise.
FOOD PREFERENCES Research has shown that eating the right food at the right time improves our ability to learn and concentrate, promote quicker reactions and even lower stress levels. Inspired by this, we have developed an innovative culinary concept – 'Brain food' for Radisson Blu which is designed to deliver different nutritional menus infusing local flavours into them. It has been developed together in consultation with global nutritionists and Food & Beverage experts to deliver great tasting menus whilst ensuring fat content and added sugar are kept at low levels. It emphasises the use of fresh, locally-sourced ingredients such as whole grains, fruits and vegetables that have had minimal industrial processing.
REWARD PROGRAMME
We have a unique hotel rewards programme exclusively for meeting and event professionals. the planners earn 5 Gold Points for every USD spent. the Gold Points can then be redeemed against free room nights at more than 1,000 hotels worldwide, airline miles, retail gift cards, and more.
NCR FOR INBOUND MiCE
In Delhi NCR, government initiatives to boost MiCE such as redevelopment of Pragati Maidan to host exhibitions and trade fairs, and construction of world-class convention center in Dwarka to attract international summits will uplift the market to its potential. We have developed an innovative culinary concept – 'Brain food' for Radisson Blu designed for different nutritional menus the general food preferences of our guests ranges from seafood, live counters, etc

SANJAY SHARMA
Market Vice President North India & Nepal
Marriott International Inc
JW Marriott New Delhi Aerocity
MiCE CAPACITY
JW Marriott Hotel New Delhi Aerocity offers one of the city's largest meeting and conference facilities, including eight meeting rooms spread across two levels, an exclusive pre-function area and an extensive Grand Ballroom. Grand Crystal Ballroom spreads across 1,210 sq mt along with a Pre-function area of 450 sq mt. the Convention Centre has eight meeting rooms with a total area of 2,302 sq mt.
MAIN EVENTS
JW Marriott New Delhi Aerocity has hosted major Luxury Car launches – Lexus, Mercedes and Volkswagen. Besides these, HCL Bridge tournament was hosted for 800 guests and SIS India for 700 guests, Indo- Japan Global Partnership Summit, Satya Nadela book launch, Global Conference on Cyber Space 2017. The hotel has held some large conferences in the last three years.
LE MERIDIEN GURGAON DELHI NCR
MiCE CAPACITY
MiCE capacity of Le Meridien Gurgaon Delhi NCR is 36,000 sqft. Banqueting space includes Ballrooms Phoenix 1, Phoenix 2, Perseus 1, Perseus 2 & Minerva. the hotel has six Boardrooms that can accommodate up to 15 people. The hotel also has a popular nightlife venue with a sparkling 85-foot temperature-controlled swimming pool. One of the hotel's popular platform for special events provides presence of global celebrity DJs, memorable gigs, special social and corporate events, i-Kandy oozes style and sophistication.
MAIN EVENTS
The hotel has been the venue of choice for some of the leading international and national brands. the hotel recently hosted a residential wedding from Abu Dhabi for 800 pax.
FOOD PREFERENCES the general food preferences of our guests ranges from continental, sea food, live counters, meat and cheese platters, wines, multi-cuisine, Chaat counters and theme cuisines.
Westin Gurgaon
MiCE CAPACITY
The Westin Gurgaon, New Delhi offers 15 meeting rooms (and two open venues), anchored by pillar-less magnificent Westin Vatika Ballroom which is 3000 sqft connected to an open air, well manicured lawns. the lawn area is spread across 6000 sq ft. Ten out of 15 Meeting rooms have natural lighting.
EVENTS TEAM
We have a dedicated events team which manages and executes the events seamlessly.
NCR FOR INBOUND MiCE
The Delhi NCR region has developed infrastructurally in a big way with Manesar, Moradabad and the Delhi-Jaipur highway throwing up viable options. With MiCE being a considered an integral part of the 'Smart City Programme' propounded by the current Central Government, infrastructure has definitely seen a major boost.

VIJAY WANCHOO
Sr. Executive VP & GM
The Imperial New Delhi
MiCE CAPACITY AT THE IMPERIAL
The Imperial has venues that can hold from 20 persons to 1000 persons with options of indoor and outdoor spaces. Venues like Emily Eden & Hodges is sufficient for 25 to 70 persons and the Royal Ballroom can accommodate up to 400 persons. San Gimignano lawns is good enough for 100 persons, whereas Imperial lawns is one of the large- size lawns in the city that can house a gathering of up to 1000 persons.
IMPORTANT EVENTS
The Imperial has hosted international events such as the Owners Forum, Chanel, Les Club De Chefs De Chefs, Chanel, Capital Group, Siemens, Louis Vuitton Moet Henessey, New York Times, to name a few.
DIFFICULT SITUATION HANDLED
The unreasonable demand came during one of our international events where the guest had requested us for interpretation services for seven different language. We handled the same without glitch and provided the same within 48 Hours.
FOOD PREFERENCES
Usually during international conferences, guests request for Indian and Continental food. Nowadays, some guests prefer and request for Vegan food. theme breaks in the conferences are also offered in our services. theme tea-coffee breaks such as apple theme, mango theme or chocolate theme are quite popular among the business events or conferences.
SPECIAL TEAM
We have a specialised team of five people who takes care of Events/MiCE. the packages usually offered comprise of meeting venue, buffet lunch and gala dinner, Yoga session, among many more.

S. KARTHIKEYAN
VP- Sales
Sarovar Hotels
The Muse Sarovar Portico New Delhi- Kapashera, can accommodate up to 600 people. Taurus Sarovar Portico New Dehi – IGI Airport can accommodate up to 400 people. Mahagun Sarovar Portico Suites, Delhi NCR – Vaishali can accommodate up to 550 people the Ashtan Sarovar Portico, New Delhi – Green Park can accommodate up to 80 people. the Muse Sarovar Portico, New Delhi – Nehru Place, up to 80 people. Sarovar Portico New Delhi-Naraina, up to 120 people. Park Plaza Faridabad, up to 300 people and Park Plaza East Delhi, up to 300 people.
DOMESTIC MiCE
We have had the honour to host many annual conferences of Fortune500 companies and top Indian Corporates in our Delhi NCR hotels. We have played host to many renowned events like Cyclathon, IKL etc. Besides these we have catered to lot of high profile weddings and social ceremonies showcasing our end-to-end MiCE capabilities in the region.
CHALLENGES PART OF THE JOB
It's a human industry and hence many a times a lot of challenging situations arise. However, we also believe in the fulfilment of guest expectations to the maximum. Important events come with their own set of expectations and till date we have managed them quite well. No challenge is beyond solving.
MiCE MANAGERS
We have specialised MiCE managers at both the unit and regional sales team levels. From generating a query to post event feedback, we have teams that handholds the guest. _is team being a multifunctional one comprising of sales, operations and finance to smoothen the entire experience. All our MiCE packages are tailormade and have a whole level of value additions depending on size, nature of query, etc.
PROGRESSIVE INDIA
Delhi is one of the best long-haul/short-haul destination in India today. the amount of inventory facilities and connectivity makes Delhi NCR the ideal showcase destination for what a progressive nation India is.