Take a U-turn from the hustle bustle of Delhi-NCR and the never-ending traffic lines to the Heritage Transport Museum in Gurugram and put your meetings in a different gear.
Nisha Verma
In the ever-growing cacophony of Delhi- NCR, with rising number of skyscrapers and commercial complexes, groups coming to the city are either treated to the historical monuments that Delhi has on offer, or it's the usual lounges and bars in the city that are preferred by those having meetings and conferences here.
While vehicles in the city are only rising in numbers and making many cringe with saturation of automobiles, there is one place here, which would put a smile on your face with every vehicle you see. The Heritage Transport Museum, in Tauru, Gurugram, is certainly a labour of love, as Tarun Thukral, Founder & Managing Trustee, Heritage Transport Museum, puts it.
Only a 1.5-hour drive away from the centre of the capital, Heritage Transport Museum is any automobile lovers' delight and is a great place to be with family, friends, colleagues and even for taking groups. Constructed on a three-acre plot, the builtup area of the museum is over 90,000 square feet, which is spread over four air-conditioned floors housing exhibition galleries, library and reference centre, conference rooms, mini auditorium, the museum shop, and a restaurant facility. A Christmas tree made of traffic lights greets you at the museum, before you pull open the doors that has motorcycle handles in place of doorknobs. The first level of the museum houses the reception as well as the restaurant done up tastefully with everything themed after day-to-day vehicles. One can also spot interesting two-wheelers on this floor, and if you look around you can see wall clock made of car tyres, as well as restaurant chairs made of recycled rickshaw tyres.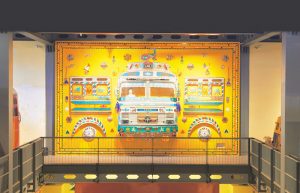 A JOURNEY TO REMEMBER
The museum takes you on a journey of transportation as you enter the main exhibition area, with wheels from different eras put together in an interesting installation. Walking forward one can see everything from early man carts, to palkis or palanquins from the Royal as well as the British era. The museum also revels the evolution of railways and one can see the ode to the tracks with a dedicated railway platform inside the museum with a 1930s restored railway saloon from BBCI Railway. There is also yesteryears' railway memorabilia including posters, train tickets, maps, etc. Another highlight on this level is the section dedicated to heavy transport vehicles including vans, buses, trucks and tramways. The coloured facades of these trucks make for a great picture backdrop as well.
As you move one level down, there is a recreated colourful street lined on both sides with over 75 vintage cars. Spot the old-style petrol pump and spare part shops on this street. There is also a dedicated section where the museum pays ode to Indian cinema. After this, head to the second floor of the museum to see different two wheelers, bicycles and rickshaws that have been used in India for ages. There is also a dedicated section on aviation, with a yellow-coloured restored 1940s Piper J3C Cub aircraft suspended mid-air. Go through the history and evolution of aviation with pictures showing early trials, experiments and growth of Air India including some interesting vintage posters of the national airline. The maritime gallery tells the story of India's inland waterways and the tales of the mighty Ganges with boats, navigational maps, etchings, etc. The museum also hosts temporary and permanent exhibitions to represent the works of contemporary artists inspired by modes of transports. Groups can rent out the lawns outside the museum and the authorities can even get special catering done, depending on the number of pax. Not only is this a different museum experience, but also a great way to spend a day with colleagues as well as clients.