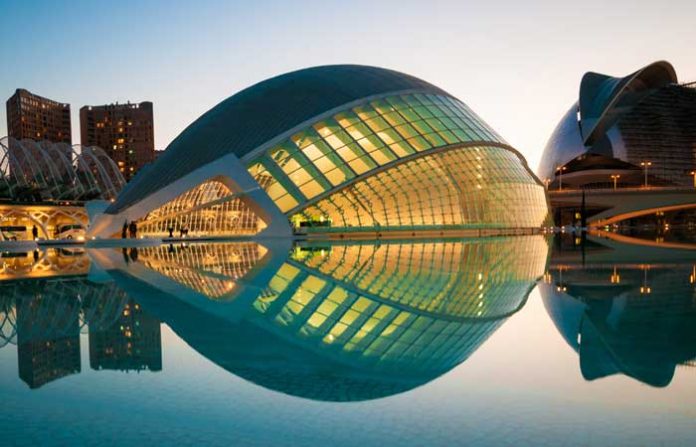 Apart from being a world class leisure destination that attracted more than 75 million tourists in 2016, Spain is also a world congress destination, read on to explore more about what the destination has to offer to MICE travellers…
Kanchan Nath
As per the International Congress and Convention Association, Spain is the fifth country in the world in terms of international meetings organised, 533 in 2016. In addition to excellent air connections, it has a strong circuit of hotels and alternative accommodation (over 16,000) intended for MICE. The entire sector makes more than 350,000 hotel beds available to the market. Of particular interest is the Parador Network. There are 90 unique charming hotels distributed across Spain. The country itself is well connected with a high-speed rail network known as AVE and other train services, frequent buses, excellent road infrastructure and several ports for cruises.
Moreover, Spain has the latest equipment in the MICE segment and a highly professional tourist industry. Spain's diversity is its biggest USP and a major attraction for MICE from India. Nightlife, beaches, gastronomy, history, art and culture, adventure, landscapes, wineries, deserts, mountains, various forms of entertainment, etc, you name it and Spain has it all!
ACCESSING SPAIN
Spain is very well connected to India, with one direct flight that connects Delhi to Madrid via Air India, while several other international airlines offer excellent connections from various cities across India to different points in Spain. There are frequent connections with Emirates Airlines, Qatar Airways, Etihad Airways (codeshare with Jet Airways), Lufthansa, Swiss Air, KLM/Air France, British Airways and Turkish Airlines. Other emerging airlines are Saudi Arabian Airlines, Aeroflot, Finnair. There are several daily flight options from India to Madrid and Barcelona, the two main cities of entry to Spain and to other cities such as Valencia, Málaga, Santiago de Compostela and Bilbao. From India, the maximum number of flights to Spain are from Mumbai and Delhi.
The other main cities from where there are flights to Spain include: Bengaluru, Kolkata, Chennai, Ahmedabad, Hyderabad, Cochin, amongst others. The airline connectivity from India to Spain is expanding rapidly. Qatar Airways will launch flights to Málaga in 2018.
MADRID
Professional events can be held in Madrid thanks to its cutting-edge conference venues, its specialised, professional services, its efficient transport network and its excellent hotel industry. There are more than 100,000 hotel beds in 1,145 hotels in the city and the surrounding region. Madrid is the fifth European city in terms of hotel beds (European Cities Marketing) – and with 3.2 million inhabitants, it is the third largest city in the European Union. Some 71 museums, including the Prado Museum, was named as the most highly rated cultural institution in Spain by the Culture Observatory.
There are about 17,271 catering establishments (restaurants, cafés, bars, and discos), four large convention, conference, meetings and trade fair venues and six world heritage sites less than one hour from Madrid (Alcalá de Henares, Aranjuez, Ávila, El Escorial, Segovia and Toledo).
Main Event Venues:
IFEMA
IFEMA Congresses and Events Madrid, is a division specialised in managing space for trade fairs, events and congresses. For events, the five types of space available at Feria de Madrid, an exhibition complex which is characterised by excellent functionality, modern design and multi-purpose, well-equipped and versatile installations, are a suitable option.
North Convention Centre: Located in the building at the North Entrance with an area of 10,000 square metres, possesses a total of 20 rooms, 18 of which are on the first floor.
It is found through a grand entrance hall filled with natural light, and its size makes it the ideal space for exhibitions of up to 468 square metres net, or for providing catering services during the event.Rooms N101+N102 and N105+N106 are multi-purpose as they have separating panels, allowing the hosting of events from 100 to 480 people. Joined together, N103 and N104 comprise the North Auditorium, which holds 1,100 seats. The remaining 12 rooms (N107 to N118), with capacities from 70 to 200 people, may be paired to better adapt to the needs of the event. On the second floor, the Colón and Neptuno rooms boasts of large open-air terraces.
South Convention Centre: Located in the Feria de Madrid Building´s South Entrance this centre boasts of an auditorium which can host 600 people. The spacious entrance hall leading to the auditorium is the perfect venue for cocktails and coffee breaks. There are another 20 small rooms close to the auditorium.
Hall Rooms: The offer of space for meetings at Feria de Madrid is completed with 45 rooms. These rooms are perfectly adequate as working rooms and for small meetings. They are located in two areas. 35 of them, holding between 12 and 120 people, are situated in La Avenida (the Central Avenue), in the mezzanines of halls 1-10.
SANTIAGO BERNABÉU STADIUM
Real Madrid CF offers the best facilities for any kind of event, whether it is a small 10-person affair or a large gathering of more than 80,000. The Santiago Bernabéu Stadium and sports complex at Valdebebas are unique, large, well-lit, versatile and, above all, exclusive venues. The Real Madrid brand guarantees that your event will always be remembered. The venues can hold product presentations, conventions, work meetings, lectures, galas, concerts, matches on the pitch, etc, whatever the client decides!
BARCELONA
Barcelona is the southern gateway to the European market, the centre of an emerging economic Euro region, the capital of the Mediterranean Euro region (with a market of 461 million consumers) and bridge to North Africa and Latin America. It is also the only city in Southern Europe which has, within 5 km, one of the main multi-mode harbours in the Mediterranean, a high-speed train station, a large intercontinental airport, a full network of motorways connected to Europe, the second largest trade fair venue in Europe, and one of the largest logistics areas in Southern Europe.
FIRA BARCELONA
Centrally located and easily accessible with a wide range of hotels, shops, restaurants and bars nearby, against the backdrop of the iconic and beautiful Montjuïc fountains, the Barcelona Conference Centre has positioned itself as a clear favourite among business and organisations that need a central, spacious and versatile venue for their trade exhibitions and scientific and cultural meetings. The most outstanding features of the conference centre are its auditorium seating 1,100 people (it can be reduced to 800 people approx.), exhibition room covering a surface area of 3,500m2, and superb terrace with stunning views of the iconic Magic Fountain, together with its strategic location.
The big event held was the Audi Summit in July 2017 and Mobile World Congress (annually in February-March).
FC BARCELONA / CAMP NOU
FC Barcelona is now offering its facilities in the most unique of settings. The Camp Nou and the rest of the club's facilities offer a wide range of services, different spaces and experiences. One can make the most of new rooms and spaces, like the recently-built Auditorium 1899, or a dream event overlooking the Camp Nou turf. Choose the option that best suits the needs, whether for a business or private event. One can witness different packages and activities by the meetings and events department.
NEW CITIES FOR MICE
SEVILLE
Seville is a top global tourist destination, with a vast historic, monumental, and cultural heritage. The city has been a crucible and meeting point for different civilisations that for centuries settled by the Guadalquivir river. Seville's beauty, magic, and duende have made it into one of the most beautiful and surprising cities in the world. Tradition and modernity go hand-in-hand in Seville, whose millennial past enthusiastically meets a promising future through such measures as tourism plans for improvement, the launch of cycling lanes, the underground and the opening of pedestrian areas.
Seville has a good communications network, with the high-speed train, San Pablo International Airport, an extensive motorway network and a modern river harbour, which welcomes cruise ships. Its venues for meetings include the Palacio de Congresos y Exposiciones de Sevilla Fibes, which currently has the largest capacity at 3,500 seats and is regarded as the largest auditorium in Spain. This venue has a number of modules and multi-use áreas, which together with the three main halls, showcases Seville as one of the largest and most modern venues for meetings and exhibitions in Europe.
MÁLAGA
The city of Málaga has cutting-edge facilities that make it the ideal location to host international events.The Palacio de Ferias y Congresos has consolidated the quality of its offering. In addition, there are various singular spaces, ranging from one of the main botanical gardens in Europe to historic buildings and flagship museums. Moreover, the city's hotel capacity is vast and has quality facilities. Málaga also stands out for its connections. The city is the hub of a large network of communications and infrastructures, so it is easy to reach from anywhere in Europe, as its airport is directly liked to more than 100 different destinations.
Washed by the Mediterranean Sea, the Costa del Sol extends along more than 150 kilometres of coastline in the province of Málaga. Its name "Coast of the Sun" is not due to mere chance: with over 325 days of sunshine and a benevolent climate, it is paradise with beaches and pristine waters.
A large percentage of the total accommodation available in the region of Andalucía is concentrated on the western Costa del Sol. There are many tourist services of all types, including berths for sporting boats at 13 marinas and yacht clubs, as well as golf courses, all types of sports facilities, casinos and a myriad of leisure and entertainment options.
VALENCIA
The accessibility, spectacular contrasts between tradition and the avant-garde, a unique gastronomy, an excellent quality-price ratio, a vibrant agenda, a green attitude and a changing, dynamic scene turn Valencia into an irresistible destination for a business break.
Early this year, the city opened its gates to the sea with the inauguration of the Marina Beach Club on the beach and the relaunch of the Veles e Vents buildings, where such cutting-edge restaurants as La Marítima can be found – venues with a spectacular location and ambience. It seeks sustainability for citizens as well as for events, crystallised in an extensive range of sustainable spaces which the city uses to provide services: Km 0 catering, bike tours, recycled materials,bicycle transport, and venues built of recycled materials or with photovoltaic roofs. The options for those who seek singular experiences in a privileged climate all the year round include, walking or cycling through the Turia Gardens (the former river bed, now turned into a vast eight-kilometre garden that crosses the city), an outing in a catamaran from La Malvarrosa beach, a paella show cooking in La Albufera, or an incentive trip among orange trees in the lush Valencian orchards.
To these attractions is added a range of cutting-edge meeting venues to hold conferences, meetings, and other events. These include the Palacio de Congresos, Centro de Eventos de Feria Valencia and various venues in Ciudad de las Artes y las Ciencias, such as the Oceanogràfic and the Palau de les Arts Reina Sofia.
BILBAO
The city is easy to access. Its excellent road network, its port, and above all its international airport, 10 km from the city centre, offer direct connections to the main cities in Spain and the rest of Europe. Its diversified infrastructures include a hotel offering of more than 5,000 rooms in the metropolitan area. Walking and cycling around the city is easy, although modern, efficient, and sustainable transport systems are also available. The strategic location of its venues and its extensive range of services turn Bilbao into a destination that brings together excellence and professionalism, with a lifestyle and culture that captivate visitors. With an available area of over 150,000 square meters, Bilbao Exhibition Centre is one of the best place to hold and organise any event. The venue, equipped with state-of-the-art facilities, is capable of suiting the MICE interests, both in space and in any required feature.
IBIZA
Ibiza is an internationally renowned destination to hold meetings, conferences, incentive trips, product presentations and any other corporate events. Easy to reach: just a two hours' flight away from the main European cities, the island's size makes it possible to reach any destination in less than 30 minutes.
Meeting venues: Ibiza offers a Palacio de Congresos in a privileged location, a few metres away from the sea, in a natural environment within a pine forest. It has 14 meeting rooms and an auditorium that seats 437 people. It is currently being enlarged to offer new multi-function rooms in an annexe. The FECOEV Trade Fair centre offers a total of 10,000 m2, ideal for large events and strategically located in the centre of the island.
Great hotel offering: The island has a top-level hotel offering, with more than 8,000 rooms in 4- and 5-star hotels, 70 per cent of which opened in the last five years.
TENERIFE (CANARY ISLANDS)
The island receives 80,000 participants in the approximately 900 conferences, incentive trips, and product presentations which it hosts every year. Tenerife's nature, its mild climate throughout the year and a wide range of outdoor activities or in singular venues make the island a location increasingly in demand to organise professional trips. Incentive trips have experienced significant growth on the island. Likewise, large events are increasingly frequent and are good evidence that selecting Tenerife means guaranteed success.
The Tenerife Convention Bureau brings together a large number of companies, including many agencies specialised in the design and implementation of tailored programme. A capacity of around 85,000 rooms distributed across the tropical island, Tenerife is a great destination for MICE.
SAN SEBASTIÁN
With 186,000 inhabitants, it holds the same position as Los Angeles, Belfast and Strasbourg in the ICCA global ranking. Of great natural beauty, San Sebastián boasts of three beaches, three mountains, one island, and the incomparable La Concha bay, as well as a privileged location, only 20 km from the French border. Gastronomically, the town has the largest number of Michelin stars (17) per square metre in the world and Best Food Destination in the World 2017 according to a major study commissioned by British catering service Caterwings.
San Sebastian is an ideal destination for the MICE market: landmark venues to hold meetings facing the Bay and the sea: historic buildings such as Palacio Miramar, San Telmo Museum, and the Victoria Eugenia Theatre, where history is experienced in every corner; modern, innovative architecture such as the Kursaal Congress Center, two translucid cubes facing the sea, with a maximum seating capacity of 1,806; and the Basque Culinary Center, the first Faculty of Gastronomic Sciences and Centre for Research and Innovation in Food and Gastronomy in Europe, to hold meetings and events with a culinary touch. More than 1,600 rooms are available in fully renovated four-star hotels in the town centre. There were opening of four new hotels in the town centre in 2017 and up to six more hotels are upcoming. The town has good connectivity to the Madrid airport with seven daily flights and through Bilbao Airport to the main European capitals. In the last five years, more than 570 meetings were held in the town and more than 160,000 participants have enjoyed San Sebastián. The San Sebastián Tourism and Convention Bureau is the perfect partner to hold a meeting, as it works with more than 300 partner companies, including infrastructures, hotels, restaurants, conference services, etc. It offers qualified, impartial information, professional advice and extensive experience in the MICE sector, since 1988.
POPULAR DMCS
The Convention Bureaus of every respective destination are the right point of contact to get in touch with DMCs. These bureaus provide a list of local DMCs that agents/tour operators can work with for their MICE requirements. Some of them have been working with the Indian market since many years and are very well acquainted with the Indian travellers' needs. They have built their expertise in catering to the Indian traveller and can provide a repertoire of tourist products and services for small as well as big incentive groups.
Following are some examples of DMCs in Spain that have established a strong foothold in the Indian market:
Across Spain: Created in 2004 it has two offices, in Barcelona and Madrid. Specialises in catering the needs of corporate customers (incentives, meetings, congresses, events, etc.) for the past 25 years in Spain. It also holds an official license to distribute football tickets, being sourced directly from football clubs such as FC Barcelona, Atlético de Madrid, Real Madrid etc.
Century Incoming: Has been in business since 2002 and has extensive experience of successfully handling incentive and corporate events, tailor-made to suit the client's needs.
Warq Events: Based out of Barcelona, their USP is to understand the requirements of Indian clients better. Their expertise lies in offering customised packages for high-end FIT and MICE groups.
Premium Incoming: Over 20 years' experience with headquarters in Madrid. Can cater to groups of any size, tailor-made services, and events.
TopTourisme: Based in the heart of Barcelona, TopTourisme specialises in sports events and cultural events. They are the official agency of FC Barcelona as well as the Circuit de Catalunya and PortAventura World. Their main USP is to provide clients with the best experience in events such as F1, La Liga, Rugby, Moto GP, Handball Tennis, concerts and themeparks.
Terramar Group: Professionals at organising MICE events, special offers for VIP clients and a wide spectrum of B2B programmes.
Spain on your terms: This DMC is more focused on small and exclusive business groups. It caters to the high-end travellers and all those wanting a unique experience.
NEW TOURISM PRODUCTS
New tourism products have been introduced to the MICE industry such as: 'Workshops over a martini' or 'barbeques on the beach', balloon flights over World Heritage Sites, participation in popular festivals, gastronomic tours and cooking demonstrations/workshops. Special activities include being a shepherd, farmer or wine grower for one day, sailing races, extreme driving lessons and several other adventure sports, new clubs/ lounges to enjoy the vibrant nightlife, street life, entertainment and wine tasting at new wineries.
VEGETARIANS DELIGHT
In the main cities such as Madrid and Barcelona, most restaurants serve vegetarian dishes. There are also plenty of Indian restaurants to choose from. Nowadays, the concept of veganism has become very popular across Europe including Spain, therefore, there will be restaurants serving only vegetarian food as well. Andalucía, Valencia, the Balearic Islands and the Canary Islands also have plenty of options for vegetarians.
The North of Spain although predominantly known for its seafood dishes is also opening up to the concept of vegetarianism and has started to cater to vegetarians. The hospitality in Spanish restaurants is very warm. Upon request, they will modify the dish by changing the ingredients as per the individuals requirements.
Growing meetings in SPAIN
Spain guarantees effective organisation of high-impact meetings which maximise participants' experience and satisfaction. In an interview, Ignacio Ducasse, Director- Tourism Office of Spain in India, tells us more
Kindly share the latest statistics about the Indian MICE travellers to Spain?
Every year, we witness more MICE travellers travelling to Spain. In 2009, the percentage of MICE travellers to Spain were about 15 per cent from the total number of Indians travelling to Spain. This incremented to about 25 per cent in the subsequent years between 2011-2015. Recently, MICE travellers constitute 35 per cent of our total number of travellers from India which means that around 35.000 travellers out were that of MICE.
What is the innovative marketing strategy that your MICE bureau has taken up?
Our marketing strategy entails in continuous support and contact with the MICE agents and tour operators in India, creating awareness about new MICE destinations, giving presentations in various cities, this year being Mumbai and Bengaluru and most importantly, educating the travel trade what Spain has to offer. It is also of great essence, the B2B sessions allow MICE agents and tour operators to learn more about the destination. Another key element of our marketing strategy is organising FAM trips exclusively for MICE. This year, we sent several travel trade professionals for a FAM trip to Valencia. These educative trips give the agents/tour operators the chance to experience the MICE offerings that our destination can provide their customers.
What is the average length of stay for a MICE/ business delegates in Madrid/Spain? What is the average amount that they spend?
The average length of stay for MICE/business delegates trip to Spain from India is about four days. The average spend is around €100-€200 euros per day.
From where do you receive the maximum traffic for MICE in Spain? Which are the new market opportunities and challenges for MICE in India?
We receive maximum traffic from Delhi since we have the greatest seat capacity from the city, closely followed by Mumbai which competes with the capital for an increased connectivity. Emerging cities such as Kolkata, Bengaluru and Chennai are new market opportunities with tremendous potential to grow and a robust demand to travel to Spain. We are also experiencing growth from Tier II cities such as Nagpur, Ludhiana and Amritsar. New airlines are now thriving to penetrate into these cities and capture a sizeable share of the market. As far as challenges are concerned, the issuance of visas remains a hindrance for MICE especially in the wake of stronger immigrations policies implemented across Europe, however, we are hoping that this will smoothen out over the next few years.
How was the year 2017 been for you? How was 2017 vis-e-vie 2016. What main events, convention and exhibitions do you have lined up for the coming months in 2018?
The year 2017 fared well for us so far and we have crossed 100,000 arrivals by the end of October 2017. We received until October 31, 2017, some 107,888 Indian tourists which indicates an increment of 16.3 per cent vis-à-vis 2016. We are very positive that the MICE segment will continue to grow in 2018 as well. FITUR 2018, the largest tourism trade fair, organised in Spain is being held from January 17-21, at IFEMA in Madrid, where India has been invited as the partner country. In 2017, FITUR had beaten the participation record with 9,893 exhibiting companies from 165 countries/regions, 135,858 trade participants and 107,213 people from the general public. Among the participation figures of note was the increase of 18.8 per cent of international trade visitors compared to the previous staging. Morever, the volume of agendas organised by FITUR within the different B2B has reached 6,800 business appointments.
Which is the largest MICE group that you have had from India so far?
The largest group that we have received from India were over 20,000 people that travelled to Spain for the IIFA Awards, celebrated in Madrid from June 23-26 in 2016.
What kind of incentives do you offer to big corporate groups from India?
One of the main incentives we offer big corporate groups from India is the liaison with the convention bureaus of different destinations across Spain. These bureaus offer free advisory services to organise meetings, congresses or events in their respective cities. They advise on a spectrum of services such as the most suitable venue to host an event to cost effective accommodation, fun filled activity programmes, city tours and excursions at an attractive price, coordination of inspection visits and more. Everything is seamlessly put together. These 56 destinations, distributed across Spain, have sufficient human and technical means to organise meetings and events at a large scale.
Focusing on FITUR
Ana Larrañaga, Director, FITUR, shares insights on the most important business fair for Spain, which will be held from January, 17- 21, 2018 in Madrid
Kindly tell us a bit about FITUR. How many exhibitors and buyers are expected? What is to be the format of the business meetings?
FITUR will open the international tourism trade fair calendar and allow professionals to establish the working lines that will set the pattern for the entire year. We closed the participation figures at the end of the month. We aim to grow in destinations and companies and exceed last year's 9,893 exhibitors. In line with the industry's robust health, as reflected by the UNWTO's figures of 4-5 per cent growth, we are confident of having a highly dynamic edition and of exceeding the 244,972 trade visitors from the last edition.
As for business meetings, the format contemplates holding a series of B2B and B2C previously scheduled meetings between FITUR exhibitors interested in forming part of this activity and a selection of more than 200 international hosted buyers, tour operators, travel agencies, etc. These working meetings, which amounted to 6,800 last year, will be held on January 18 and 19 in Hall 9 of FITUR. We have also developed the PEP (Professional Encounter Point) application through which exhibitors and visitors can freely schedule initiatives seeking to professionalise the trade fair and facilitate meetings.
Are there any seminars planned during the conference? If yes, kindly tell us about them?
We will have varied activities starting on Tuesday January 16, the day before the opening of FITUR, with the staging of the Exceltur Forum and the Latin American Conference for Tourism Ministers and Businessmen, CIMET. In addition, during the first three days of the trade fair, which are exclusively devoted to trade visitors, we will have conferences, presentations and knowledge and innovation forums in each one of the specialised sections: FiturtechY, Fitur Health; Fitur Know- How & Export, Fitur LGBT, Fitur Shopping and, as a novelty this year, Fitur Festivals. FITUR will host different activities organised respectively by the UNWTO, Investur Africa, Casa Asia as well as sessions and presentations by various business associations, tour operators, carriers and technology companies, among many others.
During the weekend, the days when the trade fair opens its doors to the public, hundreds of entertaining and interactive activities have been scheduled.
Which new exhibitors should one really look out for at the event?
For us the entire FITUR offer is of great interest, but if we focus on this edition's novelties, I would highlight the presence of India as FITUR's partner country and consequently the wide array of proposals for promoting the destination that will be staged by this Asian power. The India Hall is in fact registering an overall increase of 35 per cent in participation, with the presence of more regions and business.
Other novelties we should not lose sight of are those involving technology, specifically the presentation of 5G prototypes for the tourism industry, as a result of the work being undertaken since September by a team of researchers in the IFEMA LAB 5G. It is offering a vision of a not very distant future that will completely transform the way we experience and manage tourism, thanks to access to virtually unlimited communications, data and computing services in real time.
Lastly, I would highlight the incorporation of the new FITUR Festivals section, which will showcase the potential for the tourism industry of festivals and the destinations that host them.
How has FITUR helped to increase inbound as well as outbound tourism to Spain over the years? How has the show grown in stature?
Our task is to place the best platform for professional and trade meetings at the industry's disposal and therefore to gather around FITUR the broadest representation of international industry, both public and private. This is all packed into five days of intense activity in which we situate the entire national and international tourism offer in a highly dynamic showcase of extraordinary visibility and of course with major business potential. As for trade fair growth, we expect to exceed the five per cent figure.
What is Spain planning to showcase during FITUR 2018?
FITUR will echo the broad and diverse Spanish tourism offerings in the halls occupied by all of our country's autonomous communities and regions as well as the numerous stands of tourism companies specialising in fields such as transportation, accommodation, tour operators and, of course, technology. A comprehensive offer that in 2017, and for the second consecutive time, has positioned the Spanish tourism industry as the most competitive in the world, according to the report issued every two years by the World Economic Forum. In this regard, FITUR visitors will view a comprehensive display of the coastal and inland tourism typologies offered by our country, its natural resources, gastronomy, cultural offering, music –in the new FITUR Festivals section, tourist services and infrastructures, airport and port connections, health tourism – in FITUR Health, shopping tourism in FITUR Shopping, Gay tourism in FITUR LGBT, security and preparedness for ICTs, among many other proposals. Plus, as I already mentioned, FITUR will anticipate the future with a pioneering experience that will provide an overview of the potential of 5G technology for the tourism industry by presenting a series of really interesting prototypes. We will also have technology as the connecting thread in the FiturtechY section, which will showcase the innovations that are transforming the industry.
How is the MICE industry doing in Spain? Which important international conferences are lined up for 2018?
MICE tourism is, without a doubt, a key resource in the continuing expansion and quest for improvements in our country's meetings industry. In fact, Spain holds on to fifth place in the 2017 ranking of the International Congress and Convention Association (ICCA) and Madrid –the site of FITUR– was recently chosen by industry professionals as the best MICE 2017 destination, according to the Iberian Business Travel Association – IBTA; a recognition that puts the finishing touch on the positive balance with which the capital closed 2017 and on which IFEMA's activity made a special impact, both in regard to the organisation of trade fairs, conventions and congresses area. Several important international congresses and the return to IFEMA of the largest world gathering of the pharmaceutical ingredients industry, CPhI, with Feria de Madrid facilities and with more than 35,000 attendees arriving from around the world, confirms 2018 as a record year.
How has inbound tourism to Spain grown? From where does Spain get its maximum tourists? Where does India stand?
Tourism in Spain enjoys very good health; in 2016 it received 75.3 million travellers and is one of the three most visited countries in the world according to the UNWTO. The largest number of tourists received last year came from the EU, mainly United Kingdom, France and Germany, and this year it expects to break a new visitor record according to forecasts of our country's Ministry of Energy, Tourism and Digital Agenda. Regarding tourists from East Asia, and India in particular, increases were also registered which, according to the UNWTO, stood at 18.42 per cent in 2016.
Madrid seems to have overtaken Paris as the gastronomic capital of the world. Your comment on this.
In effect, a Spanish city, San Sebastián in the Basque Country, was chosen the World's Best Gastronomic Destination according to an international survey that also places Barcelona and Madrid in fourth and seventh place respectively. Product quality and culinary variety are undoubtedly some of our country's major tourist attractions and we will confirm this at FITUR not only at the Basque Country stand but also in those of the rest of the regions, which have an equally powerful gastronomic offer that at this time is another of the major motivations for travelling.
A SHOPPER'S paradise
An Indian international trip can never be complete without a bagful of international goodies. Whether its fashion, food, jewellery or antiques, Spain has a lot to offer
ONE-STOP-SHOP FOR INDIANS
There are guided tours offered in various cities for those who would like a unique shopping experience. These tours will take you to a range of stores to experience a myriad of products from different categories. One can shop for leather (which is of the best quality in Spain) such as jackets or shoes, fashionable clothes at branded stores such as Loewe, Zara or Mango; handicrafts (ceramics, shawls, fans etc.) in Andalucía, mainly in Sevilla, food products that are produced in Spain (olive oil, olives, wines, cheese, saffron, etc.), jewellery, watches, antiques and gifts to take back home for family and friends.
SOUVENIR'S GALORE
One of the Spanish fans makes a great souvenir for ladies to take back home and is distinctive of the culture in Andalucía. A Flamenco CD is also a characteristic souvenir to reminisce the popular music and dance of Spain. Food items that will not disappoint are: a fine olive oil, manchego cheese or a bottle of Spanish wine. To take back something more exclusive, some options are: sherry, cava or txakoli.
HOP ON TO SHOP
'El Corté Inglés', the biggest department store in Spain is without a doubt the most recognised shopping spot across the country. Located in the central district of each city, it is easily accessible via foot and any other mode of transport since it is always in the heart of the city.
EXPLORE FLEA MARKETS
'El Rastro' is a popular flea market that is held every Sunday or festive morning in an authentic historic district in Madrid. 'Els Encants Flea Market' in Barcelona opens everyday and offers antique furniture, jewellery, crafts amongst other things. The colorful 'Mercadillo de los Jueves' (Thursday's Flea Market) in Seville has become a meeting point for tourists that are looking for antiques, photographs, paintings and much more. These are also easily accessible by cab, metro or bus and not too far from the city centers.
BARGAIN BUYS
The best factory outlets for bargain buys are 'Las Rozas Village' at Madrid and 'La Roca Village' at Barcelona. They offer top brands' boutiques and stores where visitors will always find special discounts, promotions, privileges and extended opening times until late even during winters.
SHOP TILL YOU DROP
With just two hours to spare, one can go shopping in the main commercial districts of each city. In Madrid, the most exclusive shops lay across the Golden Mile at Barrio Salamanca while Paseo de Gracia is its Barcelonan counterpart. For vintage clothes, Fuencarral (Madrid) and the surroundings of La Rambla (Barcelona) are a must, both located at the city center allowing visitors to extend their shopping time to include souvenirs, local goods and crafts.