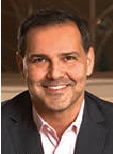 Raki Phillips, CEO, Ras Al Khaimah Tourism Development Authority shares more on dream weddings and how RAK is being positioned as a discerning wedding destination in India
How is Ras Al Khaimah developing as a destination for weddings?
Currently Ras Al Khaimah has seen majority of wedding tourism in the emirate coming from India. Some of emirate's iconic properties like the Waldorf Astoria Ras Al Khaimah and the luxurious Ritz-Carlton, Al Wadi Desert, have been home to some high-profile Indian weddings and Ras Al Khaimah is being positioned as a discerning wedding destination in India. We welcome about 8-10 weddings a year and the wedding size ranges from 200 to 550 guests. As part of our vision to attract 1.5 million visitors to the emirate by the end of 2021, India will be an important contributor, and is currently our second largest international source market. We have seen a growing trend from Indian inbound tourism for short leisure stays, M!CE and weddings.
What are the trends that you are witnessing for destination weddings?
People are now looking at unexplored destinations for weddings. While a lot of families prefer to have all functions in one hotel with different venues, some prefer to explore different venues in the destination so that their guests experience the destination offerings as well. There are 3-4 main functions which include the sangeet, mehendi, wedding and reception among smaller ones. The average length of stay for a destination wedding in Ras Al Khaimah is 2-3 nights. As our tourism offering evolves in Ras Al Khaimah, we must ensure our destination is attractive to travellers who wish to explore beyond resorts and hotels. Our tourism strategy 2019-2021 is a comprehensive three-year programme that takes Ras Al Khaimah to the next level. We're delighted with the success our offering has had in our target markets to date, but with the destination strategy we aim to diversify and enhance visitors' experiences through differentiated product development.

As a destination, what do you offer in terms of 'Duty of care' for those coming into your country?
The safety and security of all visitors to Ras Al Khaimah is of upmost importance and serves to support the success of any destination. Certainly, we are blessed with an abundance of natural assets, 64 km of pristine beaches, more than 7,000 years of untouched heritage and culture, and the highest mountains in the UAE, which make Ras Al Khaimah a unique destination that appeals to all kinds of international and domestic travellers. This is coupled with the generosity and hospitality of the Emirati nation which also ensures a friendly and safe environment.