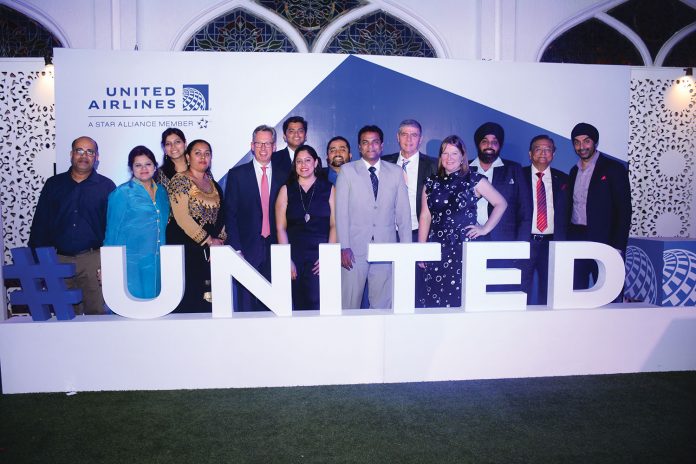 United Airlines completes a decade of its non-stop daily services from Mumbai to New York/Newark, which underlines India as an important market for the airline, especially for its Polaris service. Phase one is already operational in India
Hazel Jain
United Airlines' decade-long journey in India has been a successful one, says Marcel Fuchs – VP Atlantic and Pacific Sales, United Airlines, who was in India recently to celebrate this milestone with the trade partners. "The Indian market is important to United and we are proud to have offered non-stop services. The popularity of our daily services from Delhi and Mumbai to New York/Newark reflects the demand from travellers wishing to fly to the US. Only this month we marked 10 years of our Mumbai-New York/Newark service," he adds.
UNITED'S POLARIS SEATS
Since December 1, 2016, United Polaris business class service has replaced United Business First service on international flights, and United Polaris first class service has replaced the current United Global First. He highlights the airline's Polaris service, phase one of which is already operational in India. "The Polaris which is exclusive to United offers our passengers the luxury and comfort of a premium hotel while flying. United has re-imagined in-flight dining service that offers seasonal culinary preparations, created in partnership with chefs from The Trotter Project as well as custom Saks Fifth Avenue luxury bedding and exclusive amenity kits with products from Soho House & Co's Cowshed Spa. This takes luxury to a new dimension," Fuchs says. United currently has plans to retrofit about 90 aircraft with the Polaris business class seat over the coming years whilst the Boeing 777-300 and 787-10 will be delivered with the Polaris seat on board. Exclusive to United, the seats are individual suite-like pods. They also include features such as forward-facing, all-aisle-access for every passenger.
LOYALTY REAPS REWARDS
Fuchs adds, "Our business customers will surely love the luxury of the United Polaris service with its customised amenities. We are also offering the 'Partner Plus Benefit' programme which allows our business customers to earn valuable Benefit Points when flying with United Airlines as well Air Canada, Lufthansa, Brussels, Eurowings, Austrian Airlines Group, SWISS and additional Partner airlines. Customers can take advantage of the extensive 'Partner Plus Benefit' bonus programme in place with a range of awards on offer including flights, upgrades, airport parking, and limousine transfers."
MOBILE 'APP'ROPRIATE
Apart from these exclusives, United provides Wi-Fi on all international aircrafts. United Airlines has also enhanced its mobile app that allows users to manage their reservations on-the-go. With the newest version of the United app, customers will be able to change and cancel flights in the app, add their MileagePlus and United Club cards to the Apple Wallet and access other travel tools. These updates build on the airline's recent announcement to allow customers to access boarding passes for 19 other carriers through its mobile app.
The airline has carried over three million customers on more than 12,700 flights between India and the US over the past decade. "We expect our non-stop India-US flights to continue to perform well. Load factors on our Indian routes are broadly in line with those for our trans-Atlantic routes as a whole – about 75 per cent for October 2017," Fuchs reveals. When asked whether United is planning to add another city or expand its current frequencies, he says that while United monitors the demand in all the markets it serves and reviews potential new-route opportunities on an ongoing basis, the airline has no further new-service announcements to make at present in India.
Fuchs also underlines the role that the travel trade community plays in its India sales. "Our team in India, led by Harvinder Singh, has long-standing relationships with the community. We continue to engage the travel trade community across India. In my recent visit to India to celebrate our 10th anniversary for our Mumbai – New York service, I met a number of our business partners. It was clear to me that these relationships are vital to us as we build greater success for United in the market," Fuchs adds.
MODERN, FUEL-EFFICIENT FLEET
United has a modern fleet which, Fuchs claims, is the most fuel-efficient among US network carriers (when adjusted for cabin size). The airline is converting 100 aircraft of its current MAX order to Boeing 737 MAX 10s, making it the largest MAX 10 customer in the world. "We have 161 737-MAX aircraft on order. Deliveries of our 100-MAX 10s will start in late 2020. In addition, we have confirmed orders for four additional Boeing 777-300ERs, three of which will be delivered and in operation for summer 2018 and the fourth of which will be delivered in late 2018. In 2017, we have received four more 777-300ERs, one 787-9 and four 737-800s."