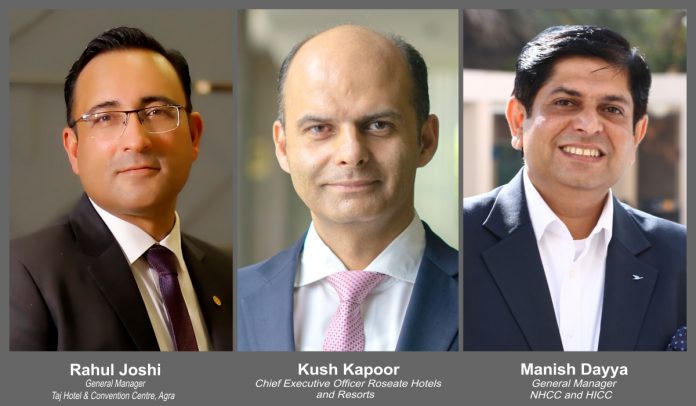 Convention centres have evolved over the years, be it facilities, technologies or even mere size. India today is looking to carve a niche on the map. However, the question that remains is, are we there yet in terms of building a world-class convention centre?
Charmaine Fernz
When you think of convention centres, the first one that comes to mind is Hanover Fairground, with its 496,000 sq. m., of indoor capacity and 58,000 sq. m., of outdoor space. Then comes the Shenzhen World Exhibition & Convention Center, better known as Shenzhen World, with a capacity of 1.6 million sq. m., including 400,000 sq. m., of indoor exhibition space and another 500,000 sq. m., in the plans. The question that arises is where does India fit? According to Rahul Joshi, General Manager, Taj Hotel & Convention Centre, Agra, a world-class convention centre requires the right facilities to host successful M!CE events. "Some key aspects are: accessibility via road, rail, or air; technology should be top-notch, especially the audiovisual conferencing equipment followed by high-fidelity recording, video projectors/graphs; and coupled with the right skilled manpower to create seamless events. There should also be adequate provision of rooms and F&B outlets," adds Joshi.
Additional facilities, according to Joshi, would be appealing aesthetics and adequate space for large exhibitions and entertainment arenas, which is essential. He is also of the view that provision should be made for local transportation, i.e., cabs and parking facilities.
On a similar note, Kush Kapoor, Chief Executive Officer, Roseate Hotels and Resorts, says that it takes a lot for a convention centre to be benchmarked as world-class. Location is key. Proximity to international airports and an efficient rail and metro network are a must. "A convention centre should be versatile. It should offer the flexibility to host events of varying formats and styles, from intimate cocktails to expansive international conferences and exhibitions. A team of trained event planners is essential, followed by award-winning culinary experts, offering a fine and yet diverse selection of menus is a definite advantage," adds Kapoor. He further stresses that attention to detail is very important, such as perfect ambience in terms of lighting, elegant décor, and high standards of safety and hygiene to make the experience unforgettable.
However, Manish Dayya, General Manager, Novotel Hyderabad Convention Centre (NHCC) and Hyderabad International Convention Centre (HICC), shares a rather interesting point. He says, "Convention business always depends on many aspects such as location, availability of space, the right infrastructure, and tranquil space for the much-needed relaxation after a hard day of work, good F&B service, and ample parking. During COVID-19, many convention centres have adapted the hybrid model. At NHCC and HICC, we have all the required essential elements and have collaborated with Microsoft to launch ALL CONNECT, a new hybrid meeting concept supported by Microsoft Teams. This concept enables guests around the world to adapt to the new ways of working that are expected to be an enduring legacy of COVID-19. In this era of rapidly changing technology, periodic upgrades are critical to being a world-class convention centre."
Thus, it is clear that several factors work towards making convention centres prepared for the future. The most important aspect is adaptability to change. The truth is that even our current convention properties are looking to improve their M!CE offerings and are optimistic about the future.
Differentiating factor
Every convention centre is unique in its own right. Based on this fact, Dayya positively shares that NHCC is a unique hotel complex, as it is not only a flagship property of Accor in India but is also the national flag bearer in the convention space with HICC, with over 6,480 sq. m., of meeting and convention space built using international architectural standards with state-of-the-art infrastructure and facilities providing functionality and ease of organising any event. From 37 breakout rooms, 288 guest rooms, and four F&B outlets serving global cuisine, the hotel caters to a very versatile audience.
"We have convention-driven traffic for corporate individual travellers, followed by guest-hosting weddings or other social events, or even families looking for a safe and secure staycation. The hotel can accommodate the requirements of all discerning guests," he adds.
Interestingly, NHCC is also the founding member of the Hyderabad Convention Visitors Bureau (HCVB), so far the only state and city to have this bureau that makes the entire ecosystem needed to be M!CE-friendly and helps offer all solutions available, including tailor-made requisites, to attract all kinds of M!CE events to the city of Hyderabad, which makes us the Convention Capital of India.
Kapoor, going into detail, says that the Roseate Hotels and Resorts brand is very conscious of attention to detail, which is key. "Our hotels offer an unparalleled, luxurious experience across the portfolio such as state-of-the-art banquet and convention spaces, bespoke dining and wellness concepts. Truly 'Experience the Unimagined,'" he adds.
Sharing details on the properties under focus, Kapoor says that the Roseate New Delhi is a leading specialist hotel for small to medium-sized meetings, conferences, and events. Well-appointed rooms, banquet spaces, and picturesque outdoor settings offer a variety of options. The Ballroom can host 80 guests in a round table setting and 120 guests in a theatre-style seating arrangement. In addition to a meeting room for a gathering of 40-50 guests, there is a small meeting room and two well-appointed boardrooms. The unique architecture and green landscape also make the resort a perfect location for weddings and memorable private events. The unique platformed water bodies of The Roseate New Delhi can accommodate up to 450 guests at their venue.
The contemporary upscale Roseate House New Delhi can accommodate 175 guests in a round-table setting and 450 guests in a theatre-style seating arrangement. The hotel also houses the 'Upstage Club', a benchmark in contemporary co-working spaces. Upstage Club members have exclusive access to stylishly designed meeting and dining spaces, which include two compact meeting halls, a boardroom, and a bouquet of small meeting spaces and capsules. The Club also includes access to an auditorium cum an avant-garde 4K cinema hall, Upstage, offering an ultimate theatre experience.
Joshi proudly adds that the Taj Hotel & Convention Centre is situated in a landmark location and offers stunning views of one of the Seven Wonders of the World – Taj Mahal. It is the largest venue in the city with multiple breakout venues, outdoor venues, and boardrooms. There is an excellent configuration of a large pool of rooms and venues to support large scale, state-of-the-art M!CE. Natural light is available in pre-function spaces.
With the right facilities in place, the one highlight for most centres in today's work scenario is being technologically advanced.
Tech advantage
According to Joshi, there is a global demand for cutting-edge technology as well as a growing need for more collaborative environments and spaces. The growing need for hybrid meetings has increased the need for faster bandwidth, and the need for fast data transfer is skyrocketing due to the incorporation of streaming video, remote presentations, social media, conference apps, and webcasting.
"World-class convention centres should have 3D printers on board. Offering a virtual reality experience would be a differentiating factor and important if a convention centre is expected to host entertainment events. High-speed video conferencing facilities would also be key, coupled with strong cybersecurity measures. We also need to note that 4K UHD display screens are also the latest buzzword and the need of the hour," adds Joshi.
Kapoor shares that the world of business, hospitality, travel, and technology is evolving at an unprecedented pace. More and more advanced technologies are being deployed across convention centres. These could be focused on the Metaverse—surreal virtual reality experiences, smart building systems such as app-controlled facility settings, and cyber security tools. Moreover, state-of-the-art audiovisual technologies offering bespoke and seamless experiences are extremely important to qualify a convention centre as world-class.
Dayya further adds, "In addition to location, area, and bandwidth, we also offer virtual experiences, smart building systems, convertible seating arrangements, and a virtual venue tour app, keeping ourselves ahead of the rest."
Varied Indian experience
Technology is fast catching up in India and, as a country, there are varied experiences to offer, be it for leisure or even business travellers.
As Dayya states, in recent years, India has emerged as one of the most sought-after M!CE destinations. India provides an impressive combination of connectivity, accommodation, M!CE facilities, and other conference support facilities to hold a successful conference. High-tech facilities matching global standards are offered at conference and meeting venues in India.
"India is in a constant process of upgrading its M!CE facilities. To further strengthen our claim, the Ministry of Tourism has also announced some great initiatives in the form of an incentive to attract international M!CE business post the pandemic, and this is a step towards strengthening the M!CE business," says Dayya.
Elaborating further Joshi statistically adds that within Asia, China has more than 68 per cent of total available space while India has only 4.9 per cent. India needs to create a state-of-the-art, world-class convention centre to promote M!CE activities in India. Spaces are now being engineered to support hybrid meetings in a post-pandemic environment. Immersive technological interventions are also critical for the advancement of convention centres.
On the other hand, Kapoor feels that many cities within India are excelling in their convention facilities. He adds, "India too offers state-of-the-art convention centres, especially in metro cities such as Mumbai, Delhi, and beyond. Five-star hotels offer convention centres for small and medium formats, while destinations such as Pragati Maidan and Dwarka convention centres (the largest in India) are poised to be world-class convention centres for larger formats. Connectivity between these convention centres, airports and metro networks is well planned and efficient, which adds to the ease of doing business and leisure events. Without a doubt, there is promise and potential in public-private partnerships, and we hope we will see some traction and success there as well."
Future reality
Having understood the key requirements for world-class convention centres, many cities are working towards this goal. As Dayya states that convention centres need to make hygiene and personal safety key to conventions by using contactless technology and providing digital event communication solutions. The convention centres are now mandated by the client's demands to try out new seating styles to improve safety, incorporate outdoor event spaces, or even re-evaluate venue capacity. The disruptive use of technology to provide virtual tours of the convention centre will become critical going forward.
Virtual tours and interactive digital maps allow attendees to tour the event space ahead of time, find their way to a variety of event breakout zones, or locate specific vendors at large expos. These aspects could well help limit the congestion of breakout spaces and unnecessary movement of guests in the convention areas, ensuring safety.
"Lastly, as the world is moving towards reducing the global carbon footprint, events and conventions need to be sustainable. Convention centres will be required to commit to more sustainable business practices and eco-friendly events. We are seeing massive support for a sustainable shift in the events industry as well," he adds.
Kapoor shares a more technological approach, saying augmented reality and virtual reality will make it possible to provide a more immersive virtual travel and hospitality experience in the future through the 'Metaverse'. Technology is fuelling the future of the hospitality sector.
He concludes by saying that there is an ever-increasing demand for eco-friendly brands that offer sustainable solutions to their guests, both in terms of amenities, services, and events.
Wellness has also become a big part of corporate events. Mindfully curated menus and wellness sessions such as fitness and yoga sessions alongside corporate events are increasingly becoming popular. The focus is on the moment right now and on an overall sense of spiritual, physical, and mental wellbeing.