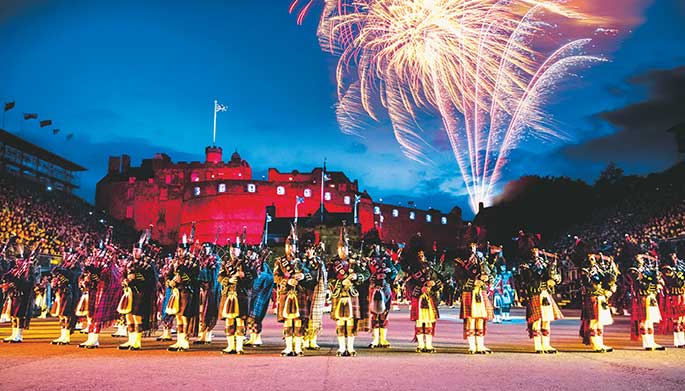 With global connections and world-class venues, Britain has a plethora of offerings. This hub of international events is also a prime destination because of its optimal connectivity
Kanchan Nath
As a hub of leading international event professionals, world-renowned research in top universities and centres of industrial excellence, Britain remains an exciting destination. There is steady growth in business visitors here due to its myriad MICE offerings.
CONNECTIVITY FROM INDIA
In 2016, most visits from India to the UK were made by plane (84 per cent). Six airports in India (Ahmedabad, Bengaluru, Chennai, Delhi, Hyderabad and Mumbai) serve direct routes to two airports in the UK (Birmingham and London Heathrow). Flights from Delhi and Mumbai made up 82 per cent of the seat capacity in 2016. The weekly aircraft seat capacity from India to Britain is 30,193, with 111 weekly aircraft departures.
CONVENTION CITIES
Many cities in Britain are popular for business visits and events, including London, Birmingham, Liverpool, Manchester, Leeds, Edinburgh and Glasgow. However, there are always new and exciting options opening across Britain, and other cities, which offer opportunities for business travellers. They are: Newcastle, Cardiff, Bristol, Brighton, Bournemouth, Cambridge, Oxford, York, Nottingham, Aberdeen and Belfast.
CONVENTION CENTRES
Some of the well-known convention centres in Britain include:
ExCeL London
ExCeL London is the capital's international convention and exhibition centre. Global brands including Adobe, Microsoft and LinkedIn have all recently made use of the facilities at ExceL. It is London's largest event space with a 4,600-seat auditorium, 100,000 m2 of flexible event space. There are eight on-site hotels, totalling 1,600 rooms between them. In 2015, ExCeL hosted London's largest ever congress – the European Society of Cardiology (ESC). ESC is Europe's largest medical congress. The London edition broke all its previous attendance records with over 32,000 delegates from 140 countries.
WTM at ExCeL
World Travel Market(WTM) London, the leading global event for the travel industry and industry professionals for conducting business deals, shall be held in London from November 6-8, 2017. Through its industry networks, unrivalled global reach, WTM London aims to create personal and business opportunities, providing customers with quality contacts, content and communities.
NEC and ICC Birmingham
The NEC, located just outside of Birmingham, is one of Britain's largest venues. It welcomes over 2.4 million visitors to over 500 events every year. Its sister venue, the ICC boasts 10 conference halls and 10 meeting rooms, including the flagship Hall 1 auditorium and the larger Hall 3, which can accommodate 3000 delegates.
ACC Liverpool
ACC Liverpool is home to the 10,000-capacity Echo Arena and the BT Convention Centre, which incorporates a 1350-seat auditorium, a 3,725m2 hall and 18 breakout rooms. ACC Liverpool is the only purpose-built interconnecting arena, convention and exhibition centre in Europe. It's located on the banks of Liverpool's world heritage waterfront.
Manchester Central
The historic Manchester Central offers a combination of conference and event facilities spanning more than 23,000m2 and accommodating more than 10,000 delegates. The central hall boasts 10,000m2 of uninterrupted, column-free space with distinctly high ceilings, owing to its historic past.
Edinburgh International Conference Centre (EICC)
The EICC has several adaptable auditoriums and halls to choose from. This includes the 1,200- seat Pentland Suite, which sub-divides into three smaller auditoria in under four minutes, thanks to its rotating sections. It also has an 850-capacity Strathblane Hall, complemented by 15 additional breakout rooms. The EICC can match any corporate colour palate using advanced RGB LED lighting, both in interior spaces and on exterior facades.
Scottish Exhibition Conference Centre
The modern, purpose built SECC is one of Scotland's premier events venues with over 22,000m2 of flexible exhibition space in five halls all at ground level. It is connected to the Clyde Auditorium, a 3,000-seat purpose-built conference centre.
HOTSPOTS FOR ENTERTAINMENT
Britain is packed full of amazing experiences: from art to food, literature to music, visitors to Britain are in for a cultural extravaganza in 2018.
Culture
The year 2018 will be a big year for culture in Liverpool as it celebrates the 10th anniversary of Liverpool as European Capital of Culture and as the city welcomes the Terracota Warriors to the World Museum from February to October 2018. Scotland heralds 2018 as the Year of Young People, starting with the Hogmanay celebrations on New Year's Eve, the Highland Games from May to September, and the Royal Edinburgh Military Tattoo in August. Later in the year are the Edinburgh International and Edinburgh Fringe Festivals, and Dundee will be the location for a new Victoria and Albert museum.
BUSINESS VISITORS
In 2016, there were 119,000 business visits from India to Britain, up 3 per cent on 2015. Business visitors from India spent £211million in 2016. India is the UK's seventh largest business visitor market in terms of spend. Those business visitors from India spent an average of £1,778 per visit in 2016. In 2016, business visitors from India stayed an average of 25 nights in the UK, one of the longest staying business markets, the average length of stay being 4 nights per visit.
TOP FIVE MARKETS
The top five business markets for the UK for visits in 2016 were Poland, Germany, France, USA and the Netherlands. The top five Business markets for the UK for spend in 2016 were the USA, Switzerland, Germany, the Irish Republic and France. VisitBritain is looking to grow traffic from its core markets in Europe and North America, as well as emerging growth markets.
2017 VIS-E-VIE 2016
The latest data from the International Passenger Survey for the first six months of 2017 shows that in the first six months of 2017, there were 4.65 million international business visits to the UK. Business visitors spent £2.65 billion while in the UK between January and June 2017.
BENEFITS FROM MICE
In 2016, UK business events led to £731million in visitor spend. Business visits accounted for 24 per cent of all visits in 2016, with a record 9.2 million business visits. Spending by those on business visitors reached a record £5.5 billion in 2016. In the same year, 3.5 million business visits were made by overseas visitors to attend small and medium sized meetings (less than 20 people). In 2016, 491,000 visits were made by overseas visitors to attend larger meetings, while there were 771,000 visits for conferences and exhibitions by overseas visitors.
MAIN EVENTS 2018
Cities across Britain are excited for a number of international events lined up for 2018, such as:
International Business Festival: The world's biggest business event – being held in Liverpool in June 2018. It is set to host 50 major events on 9 high-growth themes with 200 world-class speakers across the 10-day programme.
All Energy: UK's largest renewable and lowcarbon energy event with over 7,000 energy industry buyers and over 400 exhibiting companies from 16 countries, will return to SEC Glasgow, Scotland in May 2018.
ICE Totally Gaming: The event will welcome over 30,000 attendees from 150+ countries to ExCeL, London. It is a B2B gaming event that brings together the international online and offline gaming sectors.
INCENTIVES FOR INDIAN CORPORATES
Britain's convention bureaux (CVBs) offer free-of-charge assistance to corporate groups including offering programme ideas that are suited to their needs.
CVBs can assist planners by recommending the right venues, hotels and service providers that are tailored to their needs, and helping them achieve the best available deal. London recently hosted the Confederation of Real Estate Developers' Associations of India (CREDAI) for their 17th NATCON conference in August 2017. Over 800 Indian real estate developers were welcomed to the capital city by Rajesh Agrawal, Deputy Mayor who spoke at the opening ceremony. The conference was held at the heart of London at the Park Plaza Westminster Bridge. British destinations also work with many Indian MICE agents, welcoming many corporate event and incentive groups ranging from 150 – 250 pax.
(All figures and statistics are attributed to VisitBritain. Note: The International Passenger Survey [from which the above statistics are collected] classifies Journey Purposes into different categories: Holiday, Business, Visiting Friends and Relatives, Study, Misc. and Transit. Business visitors include all forms of business, including MICE.)
Robin Johnson, Director, VisitBritain, says, "VisitBritain is committed to growing the UK's valuable business visits and events sector and promoting its world-class destinations and venues to drive more inbound business tourism.

DID YOU KNOW

The highest point in Britain is the summit of Ben Nevis in Scotland at 4,406ft.
Britain has born great legends like The Beatles from Liverpool – biggest selling artists of all time with over 260 million record sales