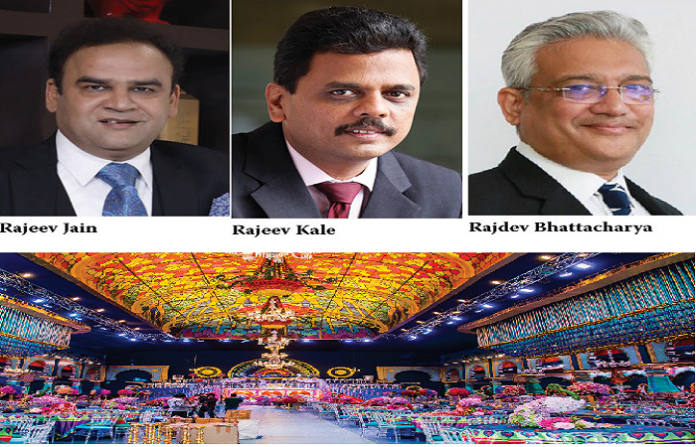 The third session of TravTalk Digital Conclave presented an opportunity for India to shine as a M!CE and wedding destination. More than 1,800 individuals were part of this session
The third edition of TravTalk Digital Conclave brought together three experts who deliberated on the topic titled 'Big-ticket business: When do we start looking at weddings, corporate and M!CE travel?' There can be no simple answer to this, of course. The readiness of not only the corporates but also the service providers such as hotels and event planners is a process.
Opening the session on an energetic and powerful note was Rajeev Jain, Director, Rashi Entertainment. He
said, "I don't know why there is such a hue and cry about this pandemic. Those companies that have cash reserves shouldn't have any problem right now. Let me tell you that hoteliers, wedding planners and wedding management companies have made their money until February 2020, after which we saw several lockdowns.
The last wedding we did was in Udaipur on February 29, 2020. We are now in the offseason, so there would have been no weddings in June anyway. By next year, the wedding industry will be up by 15-20 per cent. Anyway, nothing happens before November and December."
As per Jain's forecast, the wedding industry will bounce back between December 2020 and January 2021. He added, "It will return to normal by this time. Yes, I agree that the wedding size will get smaller with 100-200 guests as against the usual 1,000 guests. But from February 2021 things will be alright and business will be rocking as usual."
word from MOT
"We want travel to take centre stage with M!CE tourism as its component. For this to happen, protocols and SOPs have to be in place and every stakeholder has to be informed about it. We have to position ourselves as a country that is safe for M!CE" – Rupinder Brar, Additional Director General, MOT
QUICK BYTE The wedding industry will bounce back between December 2020 and January 2021
recovery will be in phases
Sharing his perspective from a tour operator's point of view keeping M!CE in mind, Rajeev Kale, President and Country Head – Holidays, MICE, Visa – Thomas Cook (India), said he would like to differ with Jain as far as this segment is concerned. "These are unprecedented times. But, whenever there is a disruption, there is also an opportunity. Those travel companies that can actually invest this interim time in re-imagining and re-inventing their business model will be able to survive this. Year 2020 is the time for companies to look at how their business will be in a post-COVID-19 scenario. If we are hoping that things will go back to being as they were until March 2020, the answer is a big no! It is going to be a completely different business going forward. I recommend everyone to invest in technology systems, knowledge-building and sharing, and building relationships," Kale said. He feels that the recovery will be in phases. "If we are thinking that M!CE will bounce back by July 2020, the answer is no. It will take time because today, the concern is about safety. There is fear in the minds of travellers. First, this fear needs to settle down and a vaccine needs to be in place," Kale stated .
What do corporates say?
With 22 years of experience in the travel and corporate sector, Rajdev Bhattacharya, General Manager, Global Travel & Hospitality Services and Way2go, Digital Operations & Platforms for Wipro, feels that starting today, the industry needs to change the narrative of the crisis. "The mindset is important. We are going to look at 2020 and say that it made us more resilient and stronger. We must work with our circle of influence. The rest is not in our hands," he said.
Weddings must take place in India
While weddings cannot stop taking place, Jain said that as an event planner, he wants to conduct every wedding in India this coming season. "As Indians, we have to ensure that all the revenue stays in India. We have to support our own hotels
and destinations first. The expense is not a hurdle as people have money to spend on weddings. They start saving for this one event 20 years in advance. So, they have enough savings. The wedding industry is here to stay! First, we need to fill Indian hotels. Anyway, right now we are scared to travel. Yes, there will be new norms for weddings. But we will adapt. I am very optimistic. about this. In fact, I'm sold out for November 2020!" claimed Jain.
Domestic M!CE will pick up
Taking this thought forward, Kale believes that domestic luxury M!CE will bounce back first. "It will  be affordable luxury as the hotels will be hungry for business due to low occupancies. The big chains such as Marriott will open first. And, by end of the year, short-distance M!CE destinations in India will be in demand. India will definitely be our focus and why not – it has everything to offer so why look elsewhere," he said.
Top Indian destinations for weddings
For Jain, India offers many options for destination weddings. "Rajasthan has always been a popular destination for weddings.Jaipur takes the biggest share of the pie, followed by Udaipur. We are also trying to develop new spots in Rajasthan such as Pushkar, apart from Jodhpur which has huge potential. We are also looking at newer destinations in othr  states such as Mahabalipuram in Tamil Nadu. It promises to have a huge share in the wedding market. And, of
course, Goa that has always been very popular," he said.In terms of M!CE travel though, Kale feels that cities like Hyderabad, Jaipur, Kolkata and Mahabalipuram will be great destinations that have good infrastructure. "In terms of exhibitions, our 'Make in India' programme and the 'Atma Nirbhar' scheme will give the sector a lot of opportunities for exhibitions within India. The government has also come up with certain policies for M!CE, one of them being extending monetary benefits to any exhibition organizer that has 20 per cent of foreign delegates. My view is that in the last quarter
of 2020, we will see a lot of RFPs for exhibitions coming up and those who are armed to handle it well amidst COVID-19 will stand to win," he said. In the end though, whichever city it is, the hotel brands that show huge emphasis on hygiene and sanitation will come back strongly as customers will choose them over others. Bhattacharya said, "There will be a willingness on the part of all corporates to pay a premium for brands which will showcase their high hygiene standards. This is the primary shift from the price point of view of corporates."
Rajeev Jain
The wedding size will get smaller with 100-200 guests
Rajeev Kale
Invest in technology & building relationships
Rajdev Bhattacharya
Corporates will pay a premium for brands focused on hygiene standards