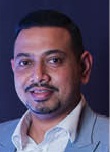 Among the incentives that the Penang Specialists can qualify for are special incentive for group sales of 100 pax and above, opportunities to attend PCEB's training and much more stats In 2019, 4 per cent of Business Events of Asia Pacific origin were from India
The Penang Convention & Exhibition Bureau (PCEB) has launched the Penang Specialist Programme designed for the Indian market. The programme will equip select outbound travel, M!CE, wedding and filming agencies with first-hand knowledge of Penang through a full day workshop conducted in each city concurrently with the B2B engagement session.
The Certification of the Penang Specialist Programme is valid for three years upon which qualifying members will be invited for recertification. The workshop is conducted by Katharine Chua, Managing Director, Penang Tropical Spice Garden. Sharing more information, Ashwin Gunasekeran, Chief Executive Officer, Penang Convention & Exhibition Bureau said, India is one of the top five markets for Business Events in Penang, and over the past years, we have received encouraging interest from event planners and conference organisers. In 2019, 4 per cent of Business Events of Asia Pacific origin were from India, contributing RM268.6 million or USD 65.89 million in estimated economic impact."
He further said that the number of Indian travellers to Penang has also increased in recent years. "The Penang Immigration Department reported that for the period between Jan to Dec 2019, 61,847 Indian travellers visited via the Penang International Airport and Penang Swettenham Port (cruise liners) compared to 43,537 in the same period in 2018. This is a 42 per cent increase, making it one of the healthiest growths we have experienced." PCEB has launched Penang 2020: BE UNFILTERED.
This is a campaign for Business Events Penang, complimenting the state's efforts in further boosting Penang's tourism and business events agenda. The campaign includes the launch of the PCEB App for Meeting Planners. Main features include information on Penang for delegates, a calendar showing upcoming events, and other supported Business Events happening in Penang. To further attract the Indian outbound meetings and conference market, PCEB introduced a new support package specially tailored for India. The support packages start from as low as sponsorship of souvenirs and welcome luncheon for the organisers valued at RM3,500 (for confirmed meetings/ conferences of 50 to 100 delegates) to hosted site inspections, welcome luncheon for organisers, cultural performances and souvenirs valued at RM10,000 (for incentive groups of 501 delegates and above)