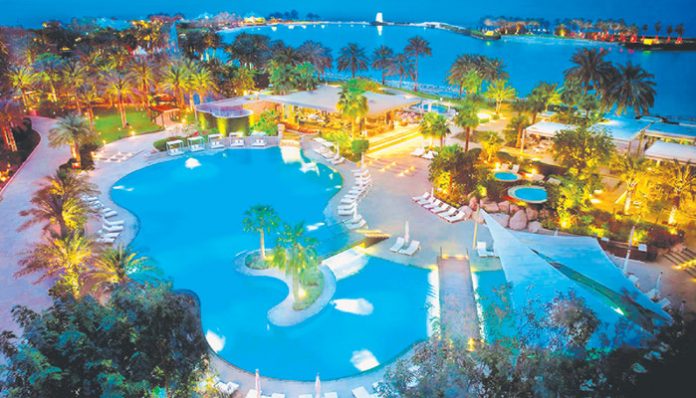 One of the most important things is choosing the right hotel to conduct the wedding ceremonies. Here is a list of handpicked venues to help planners arrive at that important decision.
FOUR SEASONS
Four Seasons Hotel Bahrain Bay offers a sense of privacy, exclusivity and grandeur – welcoming from 30 to 550 guests. Chic modern design meets local tradition in a combination of two ballrooms, and an expansive outdoor terrace and oval-shaped lawn with Manama skyline views.
Local customs:
Perfect for hosting traditional weddings in Bahrain, its two ballrooms can host separate men's and women's celebrations. An adjoining band room can pipe live music into both venues.
Function rooms:
The functioning rooms at the Four Seasons Hotel Bahrain Bay can host Bahrain events for 10 to 900 guests. The hotel features a total of 3,272 m2 (35,222 sq. ft.) of function space. Along with wedding professionals, the hotel offers over 3,750 square meters of banqueting facilities including a 1,195 square meter ballroom and a second 858 square meter ballroom to create an unforgettable occasion for any celebration.
Al Ghazal Ballroom: Exquisite crystal chandeliers cast a warm glow over the rich blue carpets in this elegant ballroom, which can seat up to 550 guests. The ballroom can also be sub-divided into four smaller rooms to accommodate more intimate celebrations.
Al Noor Ballroom – At 858 square meters and with seating for up to 600 guests, this is a ballroom fit for royalty.
Grand Foyer – The expansive Grand Foyer can accommode up to 500 guests in comfort and luxury.
Al Khayma (Tent): At more than 725 square meters, the contemporary-designed and thoroughly impressive Al Khayma offers a uniquely atmospheric setting for banqueting and receptions of up to 300 guests.
Rotonda: The wood-panelled Rotonda, with its signature golden wall coverings and exquisite glass chandeliers, is a favourite for groom's celebration in the region.
ART ROTANA
This beach resort offers guests the option to select from 311 opulent rooms and suites, including presidential and vice presidential suite.
WEDDING VENUES
Indoor Thuraya ballroom is designed with great flexible facilities that enables it to accommodate for large ceremonial parties with up to 700 attendees and to small parties with average of 80 attendees. Outdoor The open beach area provides all that is necessary to a stunning wedding ceremony at the beach. The private island is highly recommended. ART Rotana's terrace has an extended outdoor area that allows different arrangements to take place. It is able to accommodate 200 guests. Many couples choose this area for reception party in which the dinner is accessible through the restaurant.
SHERATON
Cuisine: Clients can personalise wedding menus created by their talented chefs.
Bride and Groom Arrangements: Their trained associates will assist you from the menu, flowers, lighting and entertainment.

Ballrooms: Al Taj Ballroom is the ideal wedding venue in Bahrain that boasts of a spacious prefunction area which can accommodate up to 400 people. Awali Ballroom can accommodate up to 200 people.
GULF HOTEL CONVENTION AND SPA
Al-Dana Ballroom at the Gulf Convention Centre provides the perfect setting for even the most lavish and extravagant weddings. With the capacity to host up to 2000 guests for a reception or 1200 for a banquet dinner, The ballroom presents several unique features including a VIP lounge for distinguished guests. The Mezzanine floor features a grand terrace overlooking the entire ballroom, and a dressing room for the bride. A lavish and delectable buffet dinner may be served outdoors on the terrace or indoors on the ground floor.
Timeless elegance: Awal Ballroom can host up to 400 guests for a banquet dinner.
Exquisite Events: Alternatively, for weddings hosted in Al Dana Ballroom, the dinner buffet may also be served on the convention centre's terrace or poolside overlooking The Gulf Hotel's gardens.
SPECIAL VENUES BAHRAIN INTERNATIONAL CIRCUIT
Bahrain International Circuit (BIC) is an ultramodern motorsport facility that is located in the heart of the Sakhir desert. Designed by the renowned German engineer Hermann Tilke, the circuit incorporates many features of local culture. Throughout the year, numerous corporate events take place at BIC. Social events such as weddings, music concerts and charity occasions are also hosted in the arena.
ROYAL GOLF CLUB
The Royal Golf Club, located just 20 to 30 minutes' drive from Manama and from the SaudiBahrain causeway, is a unique venue in Bahrain with its spectacular views of rolling fairways and sparkling lakes. The club offers three different event venues ideal for wedding and engagement parties of all sizes.
Venue Capacities:
Majlis can hold up to 120 guests, while Marquee can accomodate up to 160 guests. The poolside can cater to up to 300 guests.