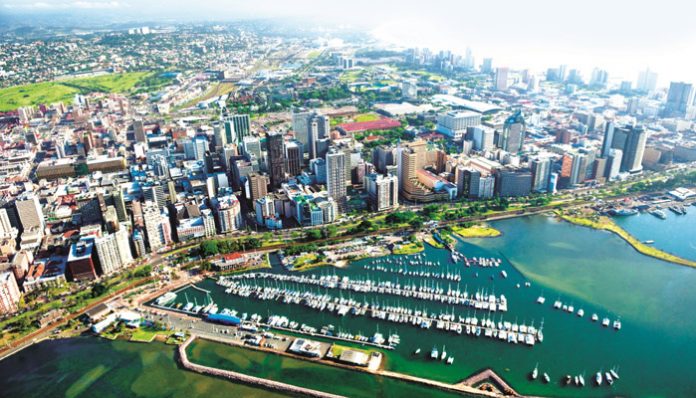 This country is brimming with options for MICE with superb infrastructure, exotic locales and a stimulating culture that can leave visitors in awe of the destination
South Africa understands business tourism. For years, it has hosted millions of delegates attending meetings, congresses, exhibitions, business events, and incentive travel. Its tourism industry, has become a key priority for the government in recent years, and it is hoping that by targeting business travel, the number of MICE events will increase over the next five years. SOUTH AFRICA NATIONAL CONVENTIONS BUREAU Founded in 2012, South Africa National Conventions Bureau (SANCB), acts as a onestop shop for meeting planners and MICE travel organisers considering an event in South Africa. SANCB's India office brings a similar focus and effort to support and boost MICE offerings in India, with a range of services such as bid support, destination expertise, building attendance, convention planning support, onsite event services, pre and post meeting itinerates. With the objective of 'Advancing Africa Together', Meetings Africa is the perfect platform hosted by SANCB. The trade show is designed to contribute to the growth of Africa's potential as the world's fastest growing and most sought-after business events destination. AMAZING ATTRACTIONS South Africa is an exciting option for meetings, with more than 1,700 conference venues including large convention centers located in top urban centers like Durban, Johannesburg, Cape Town and East London which effectively cater to events of any type. The main convention cities in South Africa are Durban (KwaZulu-Natal Province), Johannesburg (Gauteng Province), Cape Town (Western Cape) and East London (Eastern Cape).
Indaba 2017
Indaba 2017, one of the largest tourism marketing events on the African calendar will be held from May 16-18, 2017, at Durban's Inkosi Albert Luthuli Convention Centre (Durban ICC). It will spread to Durban Exhibition Centre (DEC) which is located in the KwaZulu-Natal province. A large Indian delegation of 35 agents and media will be participating in the exhibition this year.
Connecting it Right
Despite being long-haul, South Africa offers convenience when it comes to accessibility since most travellers choose to fly via Dubai and Abu Dhabi, which offer a wide choice of onward flights to South Africa.
This is especially significant for conferences that come in from multiple Indian cities because most Indian cities are wellconnected to the Gulf.
GAUTENG PROVINCE
Jo'berg hosted Africa's biggest conference to date, the 2002 World Summit on Sustainable Development. An estimated 40,000 delegates, including about 190 heads of state, were spread across three of the city's premier venues: the Sandton Convention Centre, the Expo Centre, and the Wanderers Stadium. Gallagher Estate in Johannesburg has a capacity of 5,000. The Ticketpro Dome (previously known as the CocaCola Dome and MTN Sundome) venue located in the north of Johannesburg has a seating capacity of approximately 20,000. It is currently managed by Thebe Exhibitions.
KWAZULU-NATAL PROVINCE
Durban's Inkosi Albert Luthuli International Convention Centre or popularly called ICC Durban is one of the largest in the country. It can handle conferences of up to 15,000 delegates. This venue hosts the annual Indaba travel trade show. In 2001, it was the venue for the United Nations' World Conference Against Racism.
WESTERN CAPE PROVINCE
A multi-purpose conference and exhibition centre in the hub of Cape Town's business and entertainment centre, the Cape Town International Convention Centre (CTICC) has an extensive range of premium venues, services and facilities. It is able to cater for conventions of up to 10,000 delegates. The CTICC is the first convention centre in Africa to gain three internationally recognised management system certifications simultaneously, and the first in the world to align its reporting to the sustainability requirements of the Global Reporting Initiative (GRI).
HOTEL OPTIONS GALORE
Cape Town
Taj Cape Town: It has 176 grand luxury rooms and suites. The rooms are of 355-527 sq ft (33-49 sq m) in size.
MEETING VENUES
ABC BAR is a unique bar with high ceilings and murals with a maximum capacity of 50. Adderley is accessible from another of its venue called Parliament and has a maximum capacity of 24. Cathedral can accommodate 54 pax. Another venue called Founder can host cinemastyle events and can fit around 50 people. Parliament can be used for boardroom set-ups or private affairs with a maximum capacity of 36. St-George's is ideal for elegant banquets or conferences with a capacity of 100 people. The Bankhall has a maximum capacity of 300, The Boardroom, with a grand maple table, can fit 12, The Vault can accommodate 80 people, and finally Wale which is is perfect for an intimate gathering can fit in eight.
Johannesburg
The Residence Boutique Hotels:
For business groups, it has conferencing venue that can seat 20 delegates and is well-equipped with projector and video conferencing tools.
Durban
Hilton Durban:
It has 327 rooms, and newly renovated executive rooms and suites that allows access to the Business Lounge. The hotel offers a dynamic business center, a fully equipped state-of-the-art fitness center and a grand ballroom for special occasions.
Suncoast Towers:
This boutique beachfront hotel is located close to popular attractions like uShaka Marine World, the Durban Convention Centre, and the city's Golden Mile beachfront. It offers 36 well-appointed rooms and suites. The Suncoast Towers caters for business needs and offers a choice of three conference venues and flexible meeting spaces that can accommodate between 16 and 450 delegates at the adjacent Suncoast Conference Rooms. Other nearby conferencing facilities include 14 conference rooms at Southern Sun Elangeni and Maharani, rooms at Garden Court Marine Parade and the newly renovated Garden Court South Beach. In Umhlanga the Beverly Hills also offers conference rooms in its luxurious beachfront setting.
East London
Premier Hotel EL ICC:
The East London International Convention Centre (EL-ICC) located on the East London Esplanade, incorporates the 260-roomed Premier Hotel EL-ICC, as well as the adjacent 175 rooms of the Premier Hotel Regent, offering a range of accommodation options to complement the ELICC. The Premier Hotel East London ICC is a contemporary designed hotel on the East London Esplanade.
EL-ICC features an auditorium, conference rooms, an exhibition area, a press room, restaurants and two boardrooms. The multifunctional conference rooms are designed for conferencing, conventions and trade shows, and are able to accommodate up to 1,500 delegates, where as the exhibition hall can accommodate up to 2,100 delegates.
Blue Lagoon Hotel & Conference Centre:
The hotel offers four well-equipped conference venues which are ideal for seminars, training programmes and executive meetings. Blue Lagoon Hotel, in association with an Eco Adventure company, conducts team building activities on the beach.
UPCOMING PROJECTS FOR MICE
Global Entrepreneurship Congress (GEC) in 2017 which is inter-disciplinary gathering of start-up champions from more than 150 countries and attracts over 4000 delegates.
The International Association of Gaming Regulators (IAGR) 2017 Conference at Johannesburg which will bring together representatives from gaming regulatory organizations throughout the world
2017 The Human Development and Capability Association (HDCA) Conference at Cape Town in September.
CONNECTIVITY WITH CONVENIENCE
Despite being long-haul, South Africa offers convenience when it comes to accessibility since most travellers choose to fly via Dubai and Abu Dhabi, which offer a wide choice of onward flights to South Africa. This is especially significant for conferences that come in from multiple Indian cities because most Indian cities are well-connected to the Gulf. Additionally, connectivity from India offers multiple options. At the moment, a lot of Indians are using Air Seychelles to fly to South Africa via Mahe and our sources tell us that an additional flight to Durban is likely to be announced soon, starting March next year. Ethiopian Airlines added Cape Town last year.
ENTERTAINMENT OPTIONS
MICE groups can explore South Africa's winelands with its magnificent views, splendid wine farms, and exquisite Cape Dutch architecture. Here, meetings and corporate workshops are combined with wine and olive tasting, vineyard tours, horse-back rides, hot air ballooning, culinary tours and many more exciting group activities. Corporate visitors can take to the skies at various drop zones like Mother City SkyDiving, Pretoria Skydiving Club, SkyDive Rustenburg and Durban Skydiving Club. To socialise with colleagues, V & A Waterfront is the place to be. They can head to Shimmy Beach Club for a Beach Club experience or Asoka to spend the evening over tapas and wine.