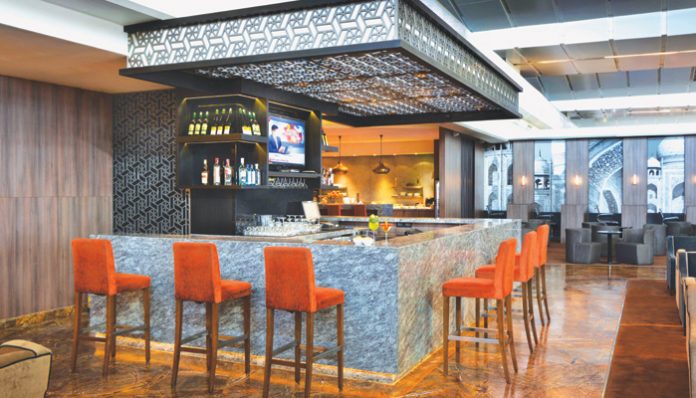 The advent of new-age business travellers has unveiled a new concept of having the privilege to relax, pamper oneself at airport lounges and then head for that deal, afresh three-hour wait at the airport (two in the case of domestic flights) always seems painstakingly long, almost like a lifetime for some. And access to a lounge involves big bucks, of course only a business or first-class ticket would secure you to the cool comfort of a lounge. However, these days you have the option to enter a lounge even with your economy ticket and the dent to the pocket won't make you bleed. Plaza Premium Lounge, the largest independent airport lounge network, offer travellers a chance to secure the benefits of a lounge without having to opt for a fancy business or First-Class ticket. And this is ideal for business travellers, who can use those 2-3 hours to get some work done.
FACILITATING AMENITIES
The world of travel is a dynamic one and as we travel the world starts shrinking. The Indian corporate traveller has seen a major growth over the years and with its upsurge, the demand for better facilities and a better travel experience is on the rise. Along with comfort and top-notch service, travellers also seek a convenient environment and private space for themselves to concentrate on the work at hand or to just relax. For that their needs may range from meeting rooms while on a business spree, a place to relax and unwind, a good Wifi service to be connected at all times, to of course good food. The Plaza Premium lounge provides the facility and amenities to ensure and enhance every experience at the airport. Comfortable seating, a great variety of fresh food and beverage selection, showers with amenities, private resting suites, VIP rooms, recharging stations, Wi-Fi, computer workstations are few of the other services offered to make one feel at home while making sure that the task at hand is completed. In addition, Plaza Premium Lounge also has Spa facilities that offer massage treatments tailored specifically to tackle travel ailments and fatigue, as well as speedy nail and salon services for a quick groom on the go.
UNIQUE PRICING
In Delhi Airport, Plaza has four lounge and caters to over 6,000 passengers everyday on an average. The company partners with various airlines and corporates wherein they accept business class traveller and other premium users. They also have a gift card system, where a guest can buy certain visits depending on their requirement. The airlines and companies with whom they have partnered to manage the lounges are Cathay Pacific Airways, China Eastern Airlines, El Al Israel Airlines, Lufthansa, Singapore Airlines, Thai Airways, SkyTeam and American Express. But that's not all, anyone who needs a lounge service is welcome at the Plaza premium Lounge. The rate for a walk-in guest in India starts at Rs. 1,200 plus taxes. Travellers can avail these facilities while departing, transiting and arriving at major international airports, including Abu Dhabi, Brisbane, Hong Kong, Kuala Lumpur, London Heathrow, New Delhi, Shanghai, Singapore, Sydney, Taipei, Toronto and Vancouver.
AWARDS AND ACCOLADES
For those who want validation from an external source, the lounge is also the first airport lounge network to achieve ISO 9001:2008 certification and the World's Best Independent Airport Lounge by Skytrax. As with everything that succeeds the company is consistently striving to apply the best ideas and practices from around the world to make sure that they deliver innovative and quality products and services.